On Christmas day, I visited the Jamia Mosque in Hong Kong, and it was a highlight of my day. It was my youngest son's idea. It began with his desire to try the world's longest outdoor escalator system in the Mid-Levels section of Hong Kong, where many consecutive escalators allow you to scale a steep section of town that is loaded with interesting restaurants and shops. Along the way up, he saw a mosque and suggested we visit. All of us were interested and hoped to learn a little more about an important world faith, so off we went.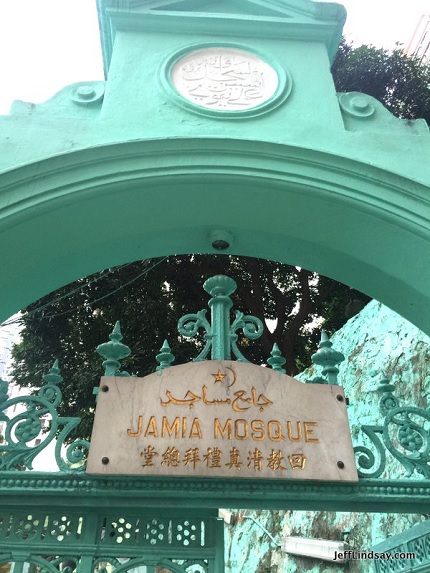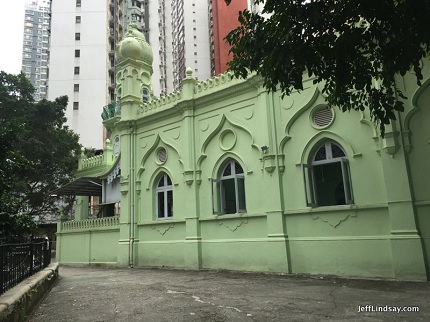 It was a Friday and an open-house day. My wife wasn't sure if she would be able to come in, but we were warmly greeted by a tall, friendly man who encouraged all of us to enter and have a look. I told him we'd like to learn a little more about his faith. He was so happy to share! Our new friend, Othman, comes from Yemen, and was passionate and eloquent in sharing his beliefs. I thought to myself that many of us could learn from him and his kind, enthusiastic manner in sharing his faith.
I was both pleased but saddened when he told us how excited he was about our visit, for in his years there at the mosque, he's never had people just come up and say "We'd like to learn more, please." He said Christians sometimes come to say critical things, like "Why did you people blow up our buildings in New York?" or "Why did you kill those people in France?" While he speaks Chinese, Chinese tourists don't want to talk and just come in to take photos and then rush away. So he was delighted to have curious people actually listening and asking questions. I was glad we did, but sad that we seemed to be the first. Sigh.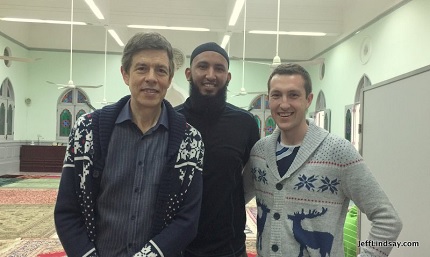 Since he was from Yemen, I also took a moment to ask about the Nihm Tribe in Yemen, the ancient tribe whose tribal area has been labeled as "Nehem" or "Nehhm" on some old maps. When I said "Nihm," I pronounced it incorrectly. Othman helped us with the correct pronunciation. I would transliterate it as something closer to "Nehem," with a hard, guttural "h". He confirmed that the tribe is ancient, prominent, and important in Yemeni history--something Book of Mormon students may already know since it relates to Nahom in the Book of Mormon.
Take time to visit your local mosque and say hello from Jeff and Othman!
Inspired by a meaningful visit to the mosque, our next stop for food was at a great Moroccan restaurant just a short walk away. Some of the most delicious food I've had in a while, and given the abundance of great food in my part of the world, that's a pretty significant statement. What a fun way to celebrate the global Christmas holiday.
Speaking of unusual twists on Christmas, take a look at this official government vehicle from the Communist Party of China.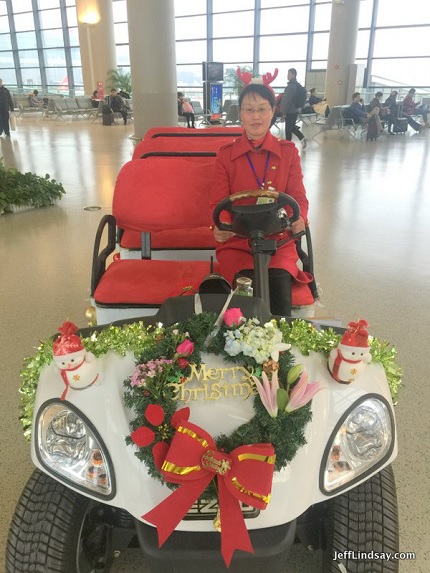 On Dec. 24, as we were at the Hongqiao Airport in Shanghai on our way to Hong Kong, I was touched by the abundant Christmas themes on display and the frequent use of the words "Merry Christmas"--not "Seasons Greetings," "Happy Holidays," or "Merry Xmas," but the greeting that sends frigid shivers up the spines of some folks because it reminds them that there is some kind of religious concept or religious figure that was once associated with Christmas, before it was fully incorporated (now owned as part of a joint venture between Amazon and Google). Fortunately, China's Communist Party, which owns and operates the airports and much more, apparently isn't afraid to spread a little authentic Christmas cheer. Here's a view of the passenger carts that scurry around the airport. Most adorable Communist Party ever! Just one of many interesting views we get at Christmastime in Asia. Hope you'll consider spending a Christmas here sometime.
Best wishes, merry Christmas, and happy new year from Shanghai and Hong Kong!