Oh dear. I don't quite know what to say about these little nuggets of joy.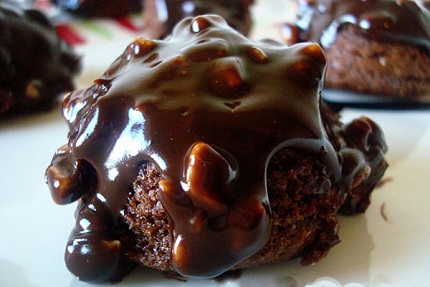 How about this? A chewy, dark, decadent brownie smothered in a silky, rich chocolate glaze that is studded with caramelly toffee pieces. AND, they are bite-size. You know, mini. Which means you can eat at least five without feeling guilty.
And trust me, you need to banish the guilt away if you are going to make these because it is utterly impossible to eat just one — or five.
Undoubtedly some of the best treats of the season. They satisfied all of my dessert cravings and left me only wanting one thing — to make them again.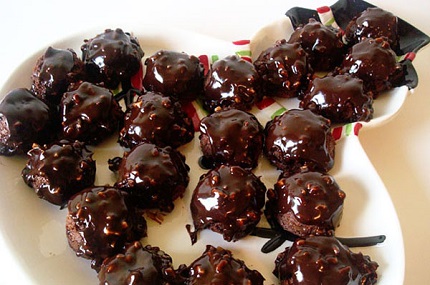 Chocolate Toffee Brownie Bites
Yield: Makes 24 brownie bites
Ingredients
Brownies:
½ cup butter, cut into tablespoons

2 ounces unsweetened chocolate, coarsely chopped

½ cup all purpose flour

1/8 teaspoon baking powder

Pinch of salt

1 cup granulated sugar

2 large eggs

1 ½ teaspoons vanilla extract

¼ teaspoon almond extract
Chocolate Glaze:
5 ounces bittersweet chocolate, coarsely chopped

½ cup plus 1 tablespoon heavy cream

1 tablespoon light corn syrup

1/3 cup toffee bits, such as Heath
Directions
Preheat oven to 325 degrees F. Grease two 12-cup miniature muffin pans well and dust them with flour. I find the best way to do this is to fold a square paper towel into fourths so you have a padded square and use the paper napkin to dip a dollop of shortening out of the can and coat each muffin tin with the shortening. Flour sticks to shortening a little better than to cooking spray, in my experience.

Combine butter and chocolate in a medium bowl and microwave until melted and smooth (being by microwaving for one minute at 50% power, stir, and then continue microwaving at 30-second intervals, also at 50% power until mixture is smooth). Cool the mixture until lukewarm, about 5-10 minutes.

Sift the flour, baking powder and salt together into a medium bowl. Stir until combined.

Stir the sugar, eggs, vanilla, and almond extract into the chocolate mixture until well combined. Add the flour mixture and stir until blended.

Spoon the batter into the prepared muffin cups, filling them two-thirds full. Bake the brownie bites for 14-16 minutes, until set but still soft in the center. A toothpick inserted into a brownie should come out with a few moist crumbs clinging to it. Let the brownies cool in the pan on a wire rack for 10 minutes, then invert the cookies onto the rack and cool completely.

Heat chocolate, cream and corn syrup until mixture is smooth (either in a bowl over simmering water or in the microwave). Remove bowl from the heat and stir in the toffee bits.

Place the rack with the cookies on it on a baking sheet. Arrange the brownie bites, still inverted, so they are no more than ¼-inch apart. Pour the glaze over the brownie bites, covering the tops and sides. Using a small offset metal spatula, smooth glaze over any exposed spots. Refrigerate until the glaze is set, about 10 minutes. Try to only eat one.
Recipe Source: adapted from The Good Cookie