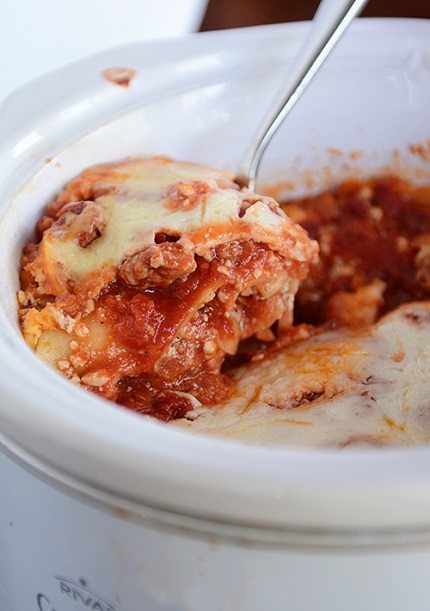 You know you've been hanging around here a long time if the phrase "seven weeks in a hotel" starts a'ringin' a bell. A few years ago after moving from Wisconsin to Minnesota, my sweet family of seven ended up living in a hotel for many weeks (with a few happy sob-inducing breaks thrown in there thanks to trips visiting family a couple states away and a kind coworker who let us stay in their unoccupied house for a few days).
Due to trying to stick to a budget with a largish family, limited dining out options in the very tiny community, and craving home-cooked food, I got really, really creative with my slow cooker, griddle and rice cooker in that home sweet home of a hotel room.
In hindsight, I'm not sure it was entirely legal for me to be plugging in and running these devices, but I guess in subconscious desperation, I never asked and no one ever noticed and/or said anything about the out-of-place aromas wafting down the hallways.
High five to super, super small town living.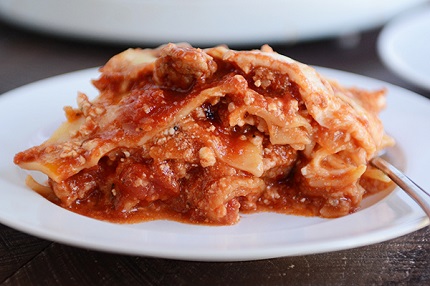 While many of the meals from that phase of life are not noteworthy (and quite honestly, some have just been blocked out of my memory due to the trauma of the disgustingness that resulted in emergency burgers and blizzards from DQ), this slow cooker lasagna is the hidden gem that almost makes me thankful for those weeks on end.
I have made it countless times over the years and what started out as a pretty decent hotel dinner has progressed and evolved and been perfected to be one of our family's favorite meals.
The majority of ingredients in that list down yonder are whisked together (without precooking) and the doctored up sauce goes a long way to a flavorful, delicious lasagna, helped along by the fact that the rich sauce slow cooks for four or five hours with all the creamy cheesy goodness and hearty noodles.
I've even assembled the lasagna in my slow cooker insert the night before and popped it in the cooker part (for lack of a better term) the next day. As if it really needs to be any easier. But there you go.
I know it seems like there are a lot of notes added to the recipe below. It isn't because this is a difficult or labor-intensive meal. It's just that when you've made something this many times, you want to share all the advice you have. And if I have one talent, it's giving advice. Just ask my kids.
Slow Cooker Lasagna
Yield: Serves 6
Slow cookers vary in size and shape. The only slow cooker I've ever made this in is 4.5-quarts and about 8 3/4-inches in diameter and 5 inches deep (the lasagna doesn't fill it up all the way; there's probably a couple inches left after layering). You could easily 1 1/2 or double the recipe for larger slow cookers (or decrease for smaller).
I've made this with several brands of no-boil lasagna noodles. I've found the Barilla brand needs hardly any water around the edges before cooking whereas the Target whole wheat lasagna noodles and Trader Joe's lasagna noodles need 1/4-1/3 cup water. It will vary based on brand.
It's a little counterintuitive to stack lasagna noodles on top of each other, but in the case of slow cooker lasagna, it's ok and actually helps give a nice, hearty layer of noodles after cooking. A single layer of noodles cooked this long in the slow cooker would be unnoticeable (and dare I say a little mushy) after cooking.
Speaking of noodles, I've only ever used no-boil noodles here so feel free to experiment with regular noodles (I'd suggest cooking them for a couple minutes but leaving them quite al dente).
The recipe as written is for a meatless lasagna but we've added meat now and again. Simply brown whatever meat (ground turkey, beef, sausage, pork) with a bit of salt and pepper and maybe some diced onion and minced garlic, drain any excess grease and stir the meat into the red sauce mixture before assembling.
And finally (phew!), I've tried this with ricotta and we much prefer it with cottage cheese. If you aren't a fan of the texture of cottage cheese, get over it. Ha! Just kidding. You can try blending the cottage cheese a bit to smooth out the texture.
I found that ricotta (no matter how much water I added around the edges) dried out the lasagna, probably due to the long cooking time, plus I'm steadfast in the cottage cheese loving camp so I prefer it here.
Ingredients
28-ounce can crushed tomatoes

6-ounce can tomato paste

1/2 teaspoon salt

1/4 teaspoon pepper

1-2 teaspoons brown sugar

1/2 teaspoon dried oregano

1/2 teaspoon dried basil

1/4 teaspoon dried thyme

1/2 teaspoon garlic powder,

1 teaspoon balsamic vinegar

2 cups (16 ounces) cottage cheese (drain off excess liquid if there's a lot)

1/2 cup (2 ounces) freshly grated Parmesan cheese

1 teaspoon dried parsley (or a couple tablespoons fresh)

Pinch of salt and pepper

9-12 no-boil lasagna noodles (about 10 or so ounces)

10 ounces mozzarella cheese shredded (2-3 cups)
Directions
Lightly coat the inside of a round 4- or 5-quart slow cooker with nonstick cooking spray.

In a medium bowl, whisk together the crushed tomatoes, tomato paste, salt, pepper, sugar, oregano, basil, thyme, garlic powder, and balsamic vinegar.

In another bowl, stir together the cottage cheese, Parmesan cheese, parsley and pinches of salt and pepper.

In the slow cooker, spread about 1/2 cup of sauce across the bottom. Add a double layer of noodles, breaking to fit. Spread 1/3 of the cottage cheese mixture (it's ok if the layer is spotty and not overly thick), followed by 1/3 of the remaining sauce and 1/3 of the mozzarella cheese.

Repeat the layers (noodles, cottage cheese mixture, sauce and mozzarella) twice more.

Drizzle 1/3 cup (more or less) of water around the edges (see note above).

Cover and cook on low for 4-5 hours. Turn off, remove the insert (if it's removable) to a heatproof spot or trivet and let sit for 20 minutes before serving (you can dig in before that but it might be just a tad soupy and lava hot).
Recipe Source: from Mel's Kitchen Cafe