Let me recall in a few words an ancient Chinese legend. You will smile and nod in recognition of a truth that touches you more deeply than anyone can measure.
I will change the legend slightly. Inescapably, you will agree with me that my version is the perfect allegory of our time.
Chronicled in Chinese folklore is the tale of a T'ang Dynasty monk who traveled West to study Liberty. He was accompanied by three disciples: a monkey, a white horse, and a pig. The monkey was a fabulous magical creature who could change himself into 72 forms — into smoke, a fly, a tiger, and many other shapes. One day he was boasting to Liberty. "I can fly away so far I can escape from anything."
To prove his brag he flew away abruptly and engraved his name on Five Finger Mountain. But Liberty said to him, "Here is your signature on my palm. It doesn't matter that you can fly. You are always in my power."
I used these five same paragraphs to start my lead essay in the second book I wrote about Tsing-fang Chen and his art: The Spirit of Liberty.
I went on to say: The driving desire of all human beings to make choices cannot be taken away, nor can it be ceded successfully. The craving dwells innately within the heart and spirit of man. Whatever our circumstances, as long as we are rational we are all in Liberty's power, forever.
Like the monk of the T'ang Dynasty, there is chronicled in contemporary reality the adventure of a young Taiwanese artist who also left his homeland to travel West. Like the monk, he found more than he bargained for.
After initial frustrations of trying to reconcile his Eastern spiritual roots with the art of Western material outcry, Chen discovered an artistic glue — Neo-Inconography — for binding together the cultures of the world. Like the monkey, he found himself inescapably in Liberty's hands.
In 1976, the Statue of Liberty was 100 years old. The towering sculpture was a gift from France to the United States. (A much smaller version later was installed on an island in the Seine River in Paris.) To celebrate its 100th birthday, a three-day festival was staged: "Liberty Weekend."
The celebration required a master organizer. That torch was given to David L. Wolper, one of the most qualified television and motion picture producers.
Festivities began, 3 July 1986, on Governor's Island in New York Harbor. The opening speech was delivered by President Ronald Reagan. French President François Mitterand was on hand, as was Lee Iococca, chairman of the Statue of Liberty-Ellis Island Foundation, and other luminaries. Elizabeth Taylor and Frank Sinatra gave moving speeches about how much the statue meant to them.
In preparation for the centennial the statue had undergone extensive restoration. The restored statue was unveiled by President Reagan. Neil Diamond performed, dancer Mikhail Baryshnikov spoke and Ted Koppel of ABC News presented the Medal of Liberty to outstanding naturalized Americans.
That was only the beginning.
Chen was born in Taiwan when it was known as Formosa, studied art and painted for 12 years in Paris, where he also obtained a doctorate from the Sorbonne, and then emigrated to America, where he and his wife become naturalized citizens and where their son and daughter were born.
At the time Chen was part of an international agitation by ex-pat Formosans to bring democracy to their homeland, which was governed ruthlessly by the million Chiang Kai-shek mainland Chinese army who took over the island after being defeated by the Communists.
Democracy was deeply imbedded in Chen's psyche. So when the planned Statue of Liberty Centennial was announced, he decided he would glorify the occasion by creating 100 paintings inspired by the Lady. In doing so, he would summon the full range of his Neo-Iconographical art, about which I have written several times.
Wolper himself purchased several of these paintings.
Any visual image, from any time, from any culture, from any media, from any source is fair game for Chen's interpretations and manipulations. To warm this column, I have selected several of these The Spirit of Liberty paintings.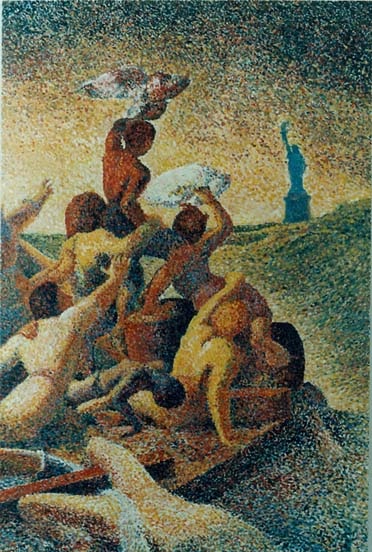 She Saves
In an early "Moments In Art," (25 Feb. 2013) I wrote about The Raft of the Medusa: "One of the most gruesome shipwrecks of the nineteenth century became the grisly gruel for what became arguably, the single most important painting of the century, a painting by Géricault that changed art history.
After Napoleon's defeat at Waterloo, the French recovered possession of the West Africa territory of Senegal. Colonizers and occupiers were dispatched, led by incompetents. The Medusa, carrying 450 passengers, became shipwrecked on sand shoals off the coast of the Sahara.
Not having enough lifeboats, 150 people crowded on to a raft. After 13 days adrift, only 15 people remained alive. Gericault painted the moment when rescuers discovered the raft.
Chen has adapted The Raft of the Medusa image to show distraught voyagers being rescued and welcomed by Liberty. Interestingly, he has used a Pointillist technique developed by Seurat, so that the subtext to the painting is both Gericault and Seurat.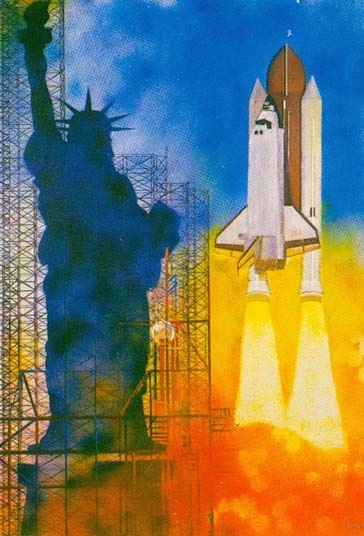 Challenging Free Frontiers
Chen sees the world as a mixture of spiritual and material and often juxtaposes images of the contrasting realities. Liberty is the ultimate of spiritual values. The rockets are the ultimate in material technology. He conceived this painting when the statue was in its restoration stage, with the scaffolding, another technological symbol, much a part of the picture.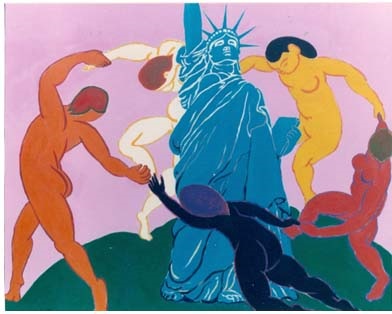 They Dance. They Harmonize.
The statue's presence provides reasons for this festive jubilee. The source is Matisse's Dance, The Hermitage, St. Petersburg. Chen has depicted the dancers in five different colors to symbolize the five races of man.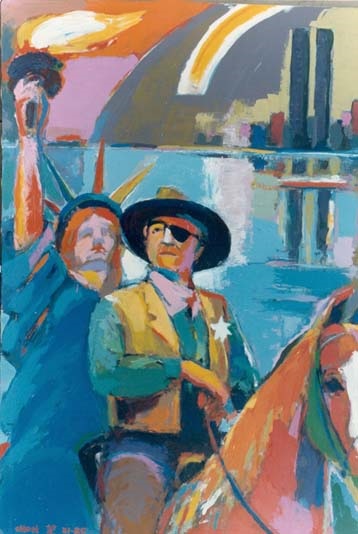 Perfect Companions
At the time Chen said, "Perfect partners of the spirit, John Wayne and Liberty Lady. Each signifies freedom and independence." With the doomed World Trade Center Towers in the background and an arc that might suggest a rainbow, from current viewpoint this painting is painfully ironic. Chen said, about the two figures, "Manhattan seems so much safer now. There's time to ride horseback along the shore."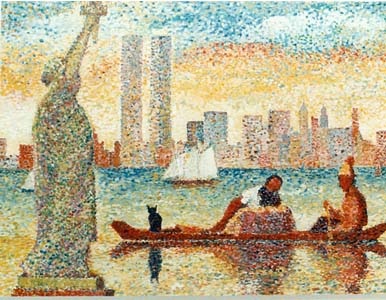 Contemplating Liberty
Here again Chen has Liberty looking at a very American image, the frontier Fur Traders Descending the Missouri, by George Caleb Bingham, the Metropolitan Museum of Art. Again, the technique is pointillist.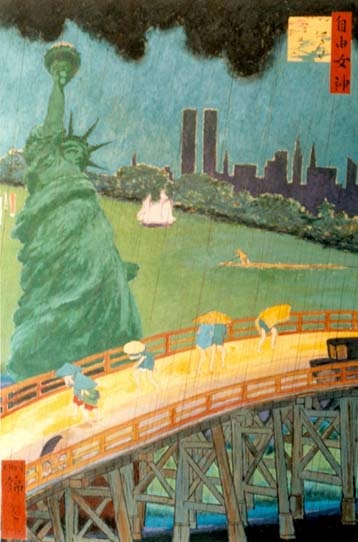 It's Raining, But It Doesn't Matter
Chen again mixes images from far-apart worlds: the Manhattan skyline in the distance and a Hiroshige woodblock print from Japan. "It is a gracious rain. Workers still go to work. Boats in the river work and play. Again the East and West converge." (Chen)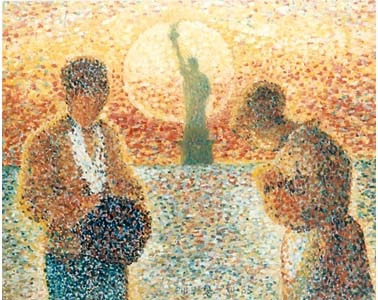 Praying in the New Land
Using Seurat's Pointillist technique again, Chen hits a spiritual depiction, adapting two peasant figures from Jean François Millet's popular Angelus. I prefer Chen's depiction. Bad copies of the original Millet hung in my grade-school classrooms, and I didn't like them. They were much too dark and somber.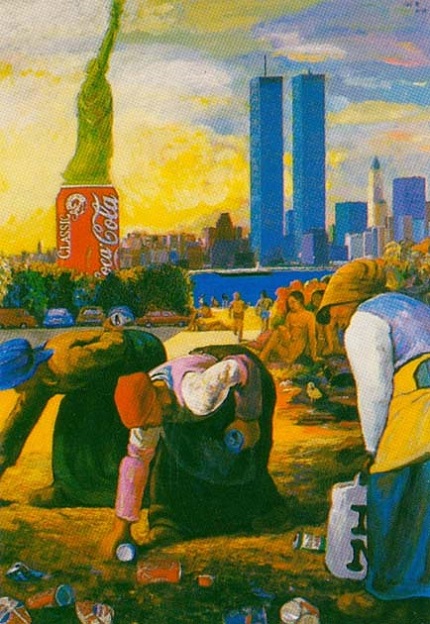 City Gleaners
This is my favorite of Chen's The Spirit of Liberty. I think it is an esthetic masterpiece. It also is loaded with iconography. And commentary about the human condition.
Putting Lady Liberty on a Coca-Cola can pedestal is an acknowledgment of Pop Art. The city gleaners, humble and stooped, hands wrinkled and brown (the words of Kathy Lee), grip empty soda cans to sell. In the middle ground are bathers, some suggesting the Tahitian paintings of Gauguin's And the Gold of Their Bodies, and a very blue river.
The World Trade Center towers seems co-existent with Liberty, in fact, challenging her. But "The lady stands proud and erect. The torch of Liberty held high in her hand. A symbol to the world, an embodiment of freedom, peace, and justice." (Lee)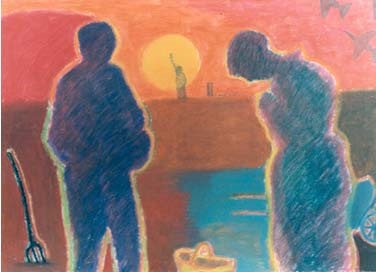 Praying in the New Land
This second version abandons Pointillism and Impressionism in favor of an Expressionistic use of paint and brush. The figures have no individual characteristics; in this rough form they can stand for any man and woman. Liberty is far off, but she stands in front of the sun, a combination of innate truth, faith, light, and warmth.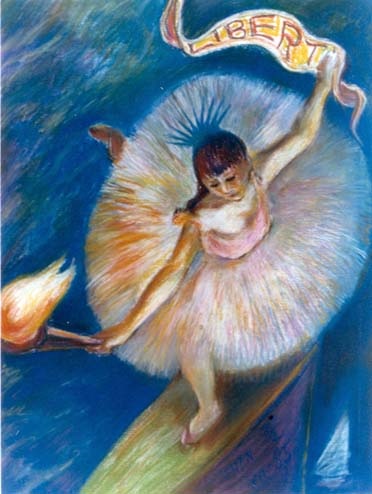 Degas's Statue of Liberty
For this oil pastel on paper, Chen has made one of Degas's beautiful ballerinas stand in for Lady Liberty. Firm and poised, she stands on a platform surrounded by blue water, just like the original Liberty. She holds a blazing torch in her right hand. And less there be any mistaking of whom she represents, her other hand hangs high a banner inscribed "Liberty."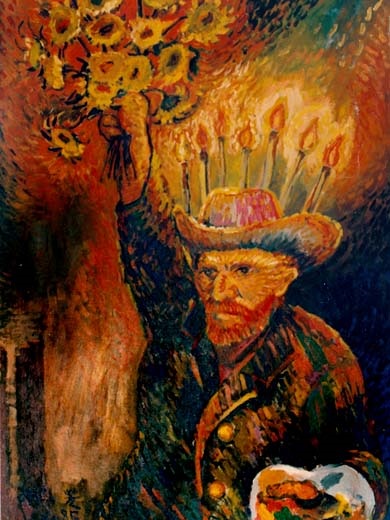 Van Gogh as the Statue of Liberty
. Sources: Van Gogh,
Self-portrait with Gray Felt Hat
, Rijksmuseum, Amsterdam;
Fourteen Sunflowers in a Vase
, Tate Gallery, London;
Twelve Sunflowers in a Vase
, State Museum, Munich.
In my previous column I showed Chen's painting of Van Gogh as the Pope. This is a much more savage depiction — Van Gogh is an impassioned defender of Liberty.
The Lady's crown has been fired up, not as a piece of placid regal costume but as a battery of shooting Roman candles. Liberty will be defended. The upthrust torch, Van Gogh's sunflowers, though held defiantly, is a symbol of welcoming peace and promise.
As Chen observes, "Vincent unwaveringly speaks without uttering a word."