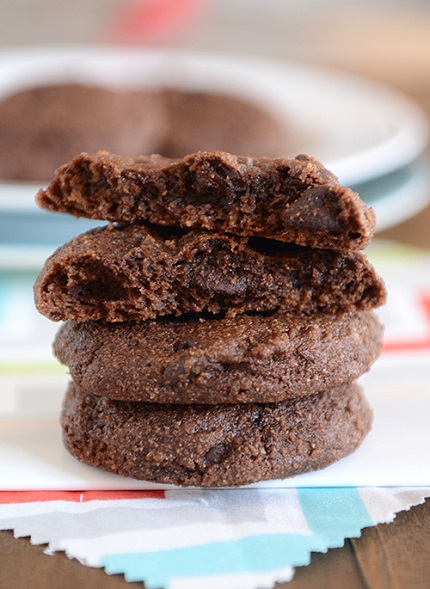 A long, long time ago (like, last month), I hatched a brilliant plan to rope my Aunt Marilyn into doing an eCookbook with me — sharing some of our lightened up, healthy comfort foods and desserts. Ah, it was the grandest of plans.
Until one day, buried under a load of recipes and staring at a sink filled to the brim with dirty dishes while my kids stood by me asking if there were any clean clothes available, I said to myself "in what world did you think you'd have time to create an eCookbook, little missy?" And so the plan was abandoned.
But not the recipes!
These double chocolate Greek yogurt cookies are one of the winners (among a few losers, if I'm being totally honest) that came out of the one-month eCookbook endeavor. They deserve to be shared.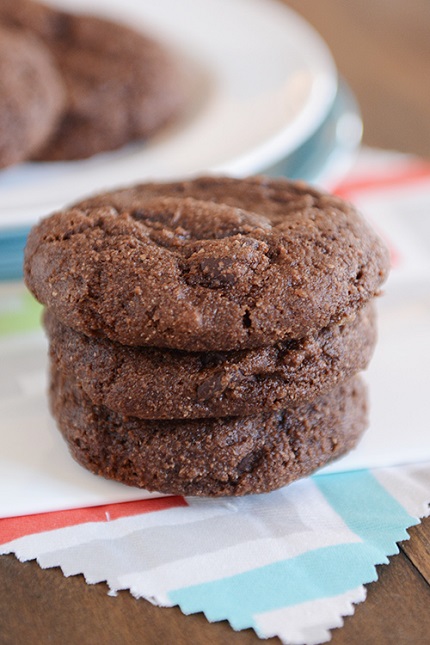 Lightly sweet and extra chocolatey, they are soft and a bit fluffy-ish without being too fluffy-ish (thanks to the Greek yogurt) and the perfect little solution to a cookie craving, if you ask me.
Made with 100% whole wheat flour and a very minimal amount of oil (2 tablespoons coconut oil in case you don't want to exercise the scrolling action downward), they are definitely on the spectrum of healthy cookies without being too healthy, if you know what I mean.
Please read the notes below the recipe title about using freshly ground whole wheat flour vs. store bought (or home ground flour that's been sitting long enough to compact a bit). The cookies have a slightly nutty taste from the whole wheat and you can see the itty bits of whole grain in the texture. Yum, yum.
Double Chocolate Greek Yogurt Cookies
Yield: Makes about 2 dozen cookies, depending on the size
Let's talk for a second about measuring whole wheat flour. If you are using the weight measures in the recipe, you don't need to worry about this but if you are using cup measures, keep in mind that freshly ground whole wheat flour is much fluffier than whole wheat flour that's been compacted when sold at the store or even stored in your freezer (if you've ground it yourself).
If you are measuring freshly ground whole wheat flour, dip your measuring cup into the bowl of flour and gently shake to level (normally this is a no-no when measuring flour but in this case you want to slightly — not a lot, just slightly — compress the fluffy flour).
If using store-bought wheat flour or flour that's been sitting long enough to compact, fluff it up really, really, really well before scooping the cup in and using a straight edge to level or instead of stirring it up, consider spooning the compacted flour into the cup and then leveling with a straight edge. Basically, you don't want to over-flour these cookies.
All-purpose flour can be subbed for the whole wheat if desired.
For the yogurt, give it a good stir before scooping it out so the whey/liquid can be evenly mixed throughout before measuring.
Ingredients
1/2 cup (3.25 ounces) brown sugar

1/2 cup (3.25 ounces) granulated sugar

2 tablespoons coconut oil or butter, softened but not melted

2 large eggs

1 cup plain nonfat Greek yogurt (see note above)

1 teaspoon vanilla

1 2/3 cups (8.5 ounces) white whole wheat flour (see note above)

1 teaspoon baking soda

1/3 cup (1.25 ounces) natural, unsweetened cocoa powder

1/2 teaspoon salt

1 cup (6 ounces) chocolate chips
Directions
Preheat the oven to 375 degrees F.

In a large bowl with a handheld electric mixer (or in the bowl of an electric stand mixer fitted with the paddle attachment), mix together the brown sugar, granulated sugar, coconut oil or butter, and eggs until light and creamy, about 2-3 minutes.

Add the yogurt and vanilla and mix until combined.

In a separate bowl, whisk together the flour, baking soda, cocoa and salt. Add to the wet ingredients with the chocolate chips and mix until just combined. Let the batter rest for 10 minutes.

Drop by heaping tablespoonfuls (I use my #40 cookie scoop) onto parchment- or silpat-lined baking sheets.

Bake for 7-9 minutes until just set (don't overbake or the cookies might be dry. Err on the side of underbaking).
Recipe Source: from Mel's Kitchen Cafe