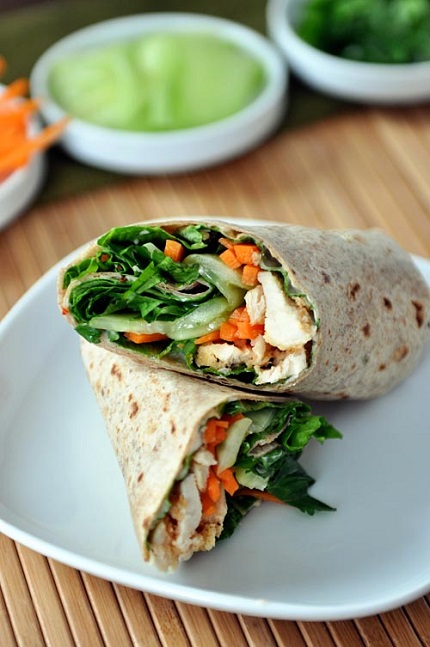 Lunch is my nemesis. While I love to eat and have never been one to skip meals willingly, most days, I dread the thought of finding something to eat for lunch that a) actually sounds good and b) I won't regret later (like, five chocolate chip cookies staring me in the face and looking much more appealing than a boring PB&J).
My problem is that I refuse to spend more than about 10 1/2 (but usually more like three) minutes putting a quick lunch together. Cooking and slaving over lunch? Ugh, no thanks. I want something light and healthy but still filling and fast — is that too much to ask?
Well, these wraps? They are my lunch salvation. What's easier than rolling up a bunch of stuff in a tortilla wrap? Not a lot, that's what, especially since I keep all the ingredients prepped in little containers in the fridge.
These wraps are fantastic. Like, I want to reach through the screen and shove half of one in your mouth so you know what I'm talking about. The crunch factor is crazy-in-a-good-way thanks to the quick, 10-minute homemade pickles, fresh lettuce and crisp carrots and the simple sweet and slightly spicy spread takes these from ordinary chicken and veggie wraps to unique and tasty Thai chicken wraps.
If you are feeling anger toward the lunch hour, like me, or you simply need an idea for a quick, easy dinner, these wraps will be your salvation, too.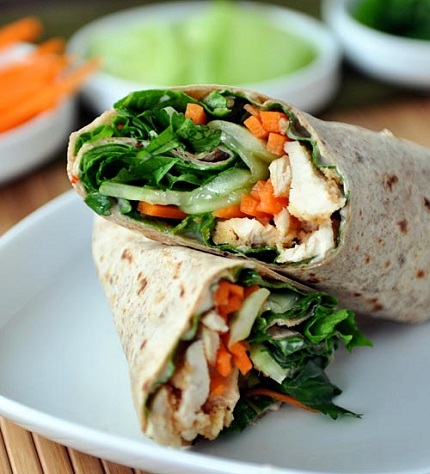 Thai Chicken Crunch Wraps
Yield: Makes 2-3 wraps (can be increased as needed)
The cucumbers (i.e. quick pickles) can be made several days in advance. All the other ingredients can be prepped ahead of time, too, making this a super easy throw-together lunch or dinner.
Ingredients
1/2 cup rice vinegar

1 tablespoons sugar

1/2 teaspoon kosher salt

1 english cucumber, halved and cut into thin ribbons

1/3 cup light mayonnaise

2 tablespoons sweet Thai chili sauce

2-3 burrito-sized tortillas (white, wheat, spinach, or whatever you prefer)

4 leaves romaine or green lettuce

1-2 cups cooked, sliced chicken or turkey

3/4 cup thinly sliced or julienned carrots (1-2 large carrots)

1/2 cup packed cilantro leaves
Directions
In a pie plate or other shallow dish, whisk together the vinegar, sugar and salt. Add the cucumbers, tossing to cover with the liquid. Let them stand for 10-15 minutes while you prepare the other ingredients (they can be made several days in advance and covered in the refrigerator).

In a small bowl, combine the mayo and chili sauce. Spread a couple tablespoons evenly on the tortillas. Top with lettuce, chicken, cucumbers (lightly patting dry, if needed), carrots and cilantro (just eyeball the amounts for each tortilla depending on how many wraps you are making). Roll the tortilla up tightly like a burrito so the ends are enclosed. Serve immediately.
Recipe Source: adapted from Cuisine at Home Issue 103 (used a different type of chili garlic sauce — sweet Thai — adjusted ingredient amounts, reduced mayonnaise, etc.)