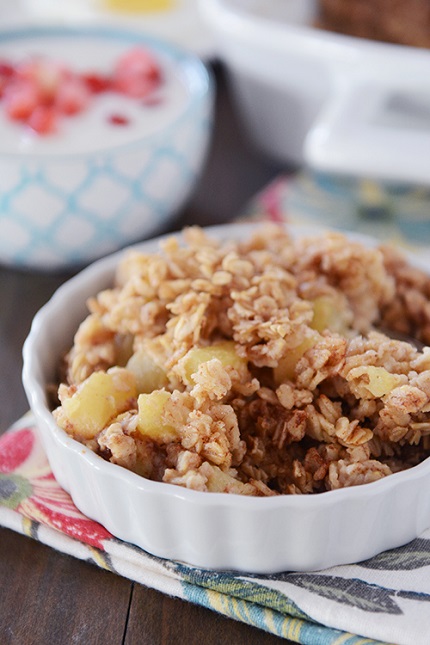 In my rush to talk about packing school lunches, I've neglected to talk about another important component of our back-to-school mornings: breakfast. I may or may not do an official post later on about our go-to morning breakfasts, but for today, I'll say that this version of baked oatmeal is a worthy addition to the lineup.
I have a couple other overnight or baked oatmeal recipes that we make quite often but when my cousin-in-law, Julianne, emailed me about this Amish-style baked oatmeal, I think I tried it that minute (no, like really, that minute — at 3:53 in the afternoon or sometime thereabouts).
We ended up eating it that night for dinner with hard-boiled eggs and yogurt (per Julianne's suggestion since they had enjoyed it for dinner, too) and it was delicious, assuming breakfast-for-dinner is one of your vibes. Which it is for me and mine.
The dreamy part is that not only can this oatmeal be baked right away, but it can also be assembled, covered and refrigerated overnight to bake in the morning. Even though it only takes minutes to prep, I'm never one to get up any earlier than I have to. I've made this already as part of our back-to-school routine.
Because it needs 35-45 minutes to bake, I took one for the team and dragged myself out of bed a little earlier than the general wake-up call. And I'm not looking for extra bonus points, not-really-ok-kind-of, but instead of rolling back into bed while the oven did its work, I even begrudgingly exercised while everyone else enjoyed the last few minutes of precious sleep.
I know. Oatmeal miracles: bringing back exercise routines that somehow disappeared over summer.
Also, keep in mind you can omit the apples for a regular baked oatmeal variation. Whether or not you eat it for breakfast, dinner or anytime in between, it's some seriously delicious oatmeal — a little crunchy on top and creamy and warm and hearty all throughout.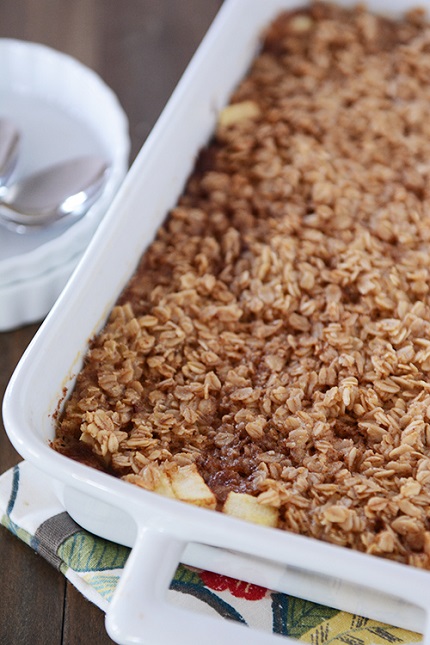 Amish-Style Apple and Cinnamon Baked Oatmeal
Yield: About 8 servings
I'm not a nuts or raisins in my oatmeal kind of girl, but if you are, you can add one or both to the dry ingredients before mixing in the milk/egg mixture.
If you are making it ahead of time and refrigerating overnight, some of the apples may pop up to the top and brown slightly. It doesn't affect the taste.
For just a standard Amish-style baked oatmeal, you could omit the apples. If baking in a smaller pan (like a 9X9-inch pan), you might only want to use two apples instead of three. Pan size can really be varied with this recipe. Smaller pans will result in a thicker oatmeal; just keep an eye on baking time.
Ingredients
3 cups old-fashioned rolled oats

1 1/2 teaspoons baking powder

2 teaspoons ground cinnamon

1/4 teaspoon ground nutmeg

3/4 teaspoon salt

1/2 cup lightly packed brown sugar (more to taste if you like things a bit sweeter)

2 1/2 cups milk

2 large eggs

1 teaspoon vanilla extract

4 tablespoons butter or coconut oil, melted

2-3 large tart, sweet apples (like Honey Crisp or Gala), peeled, cored and diced
Directions
Lightly grease a 8X12-inch or 9X13-inch baking pan or 9X9-inch (for super thick oatmeal) with nonstick cooking spray and set aside. Preheat the oven to 325 degrees F (don't preheat the oven if making ahead of time and refrigerating overnight).

In a large bowl, whisk together the oats, baking powder, cinnamon, nutmeg, salt and brown sugar.

In a large liquid measuring cup or medium bowl, whisk together the milk, eggs, and vanilla.

Pour this mixture over the dry ingredients and add the melted butter or coconut oil. Stir or whisk to combine.

Arrange the diced apples evenly over the bottom of the baking dish and pour the oatmeal mixture over the top. You can cover and refrigerate overnight at this point or bake right away (uncover before baking the next morning).

Bake for 35-45 minutes until the top is golden and the mixture is setup and not super jiggly.

Serve warm or at room temperature with a little milk poured over the top, if you want.
Recipe Source: adapted from a recipe at Once Upon a Chef (after my cousin Julianne emailed and raved about it)