As the clouds of another World War deadened Europe, some dealers closed their galleries and even shipped their paintings to America.
Daniel-Henry Kahnweiler had become naturalized French, no longer an enemy alien. His American agent was another German, Curt Valentin, who was especially strong as a dealer in French art. While Kahnweiler did not close his gallery, he did ship some paintings to Valentin.
Most of Daniel-Henry's artists were too old for mobilization. André Beaudin, who had fought in the first war, was conscripted for the second and dug trenches in the northern lines until some wise official decided that an artist of his age could be better employed in the camouflage service.
In the six confused, cataclysmic days of French capitulation (June 1940) three million people quit Paris. Kahnweiler, with his wife and the older of his wife's sisters, Louise Leiris, piled every piece of baggage they could into the dealer's car and left on the last day.
When the war broke out he had shipped a truckload of his Galerie Simon stock to Repaire-l'Abbaye, a small rural house he had rented two miles from Saint-Léonard de Noblat, 16 miles from Limoges. This was the trio's destination.
Of the three million refugees it seemed a million had crowded onto National Highway 20, the narrow main route to Limoges. Kahnweiler's car chugged away from his Paris apartment at 6:00 Wednesday morning. Tangled in the Saragossa sea of panicked Parisians, they had reached only Croix-de-Berny, just a few miles from Paris, three hours later.
"We can't go on like this," Kahnweiler complained desperately to his wife. He turned to a man standing nearby who seemed to be of the area. "Do those small roads over there lead into the country?"
"Oh, not that one," the man replied. "But the one two hundred meters back does."
Kahnweiler pulled his steering wheel, ran his car over the curb, and turned back along the sidewalk. Once on the back roads he encountered no cars — these roads were quieter than in peacetime. But he was repeatedly stopped by gendarmes, who repeatedly plied him with the same question.
"Why aren't you on the main highway?" But they all knew he was better off being there.
By nightfall they were at Saint-Léonard, having traced a path via Pont de Sully and Bourges. His brother-in-law, Elie Lascaux, and his wife (the other sister of Kahnweiler's wife) had been settled there since the war started, though both of them disliked the severely bucolic existence. Later they moved into Saint-Léonard itself and were happier.
After the 1940 Armistice was signed by Hitler in the railway car at Compiègne, demobilization freed Beaudin, and he and other of Kahnweiler's friends, including Michel Leiris and a daughter of Masson, gravitated to Saint-Léonard.
The family faced grave decisions. Paris was occupied. Kahnweiler might be considered by the Nazis as a turncoat German. Far worse in their eyes, he was a Jew. And furthermore, he was a dealer and leader in the judged-decadent artforms Hitler so violently reviled.
The Nazi confiscation of degenerate art in Germany in 1937 had taken four van Goghs, five Légers, seven Braques, nine Derains, 19 Picassos, 57 Kandinskys, 59 Chagalls, 72 Jawlenskys, 102 Klees, 326 Pecksteins, 378 Feiningers, 381 Barlacks, 417 Kokoschkas, 639 Kirchners, and 1052 Noldes.
Nazi specialists in artistic questions who were posted to Paris knew all this, but the first ones, as I have written in previous "Moments in Art," tended to be secret defenders of Kahnweiler and his art. Nonetheless, there was exceeding danger, and the dealer's friends kept his whereabouts a secret.
For the moment at least, Kahnweiler appeared to be safe, but the brutal reality of the locked gallery in Paris and its stock still faced the family. Admittedly the gallery did not go by Kahnweiler's name, but this was no help, because his associate Simon was also a Jew.
After desperate hours of trying to judge every known factor and weigh as many unknown contingencies as they could imagine, Louise and Michel Leiris and Madame Elie Lascaux decided they would return to Paris and reopen the gallery.
Soon afterwards, the Nazis posted their anti-Jewish edicts. By then Simon had escaped to Brittany with friends. The Nazis moved to seize the gallery and its priceless stock, whereupon Louise Leiris stepped forward to tell them that she had previously purchased the gallery and the Nazis could make no claim to it!
Though she bravely gained the first skirmish, the Nazis received an anonymous letter composed of letters cut out of newspapers and glued down: "Madame Leiris is the sister-in-law of Kahnweiler; so the transfer is a fiction!"
Not to be intimidated, but not knowing if she would ever walk the once-happy streets of Paris again, Madame Leiris entered the Bureau of Jewish Questions, demanded to see the highest official she could reach, and declared icily, "It is true that I am the sister-in-law of Kahnweiler, but on the other hand I am what you call Aryan, and I have worked in this gallery since 1920 — that is, for 21 years. Who would buy this gallery if it weren't me?"
It was tough talk the Germans could understand. The transfer to her was certified, and the gallery ever after has been known as the Galerie Louise Leiris.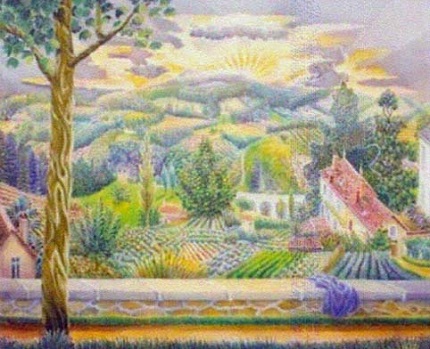 Elie Lascaux (Kahnweiler's brother-in-law),
View of Noblat
For three years Daniel-Henry Kahnweiler lived in Saint-Léonard-de- Noblat, and in spite of everthing, "These three years were three years of happiness for me and my wife." In a nostalgic echo of that other period of supreme happiness in the 1920's, here he wrote his monumental book on Juan Gris.
But the gas chambers were ever in the background, and if he didn't know about them specifically, he did know the Nazis were rounding up Jews. Every day Kahnweiler's danger increased.
One of his intellectual friends, Raymond Queneau, had a Jewish wife, whom he hid at Saint-Léonard. So Queneau came to the village whenever he could. During one visit he persuaded the Kahnweilers that they should have false identity papers to use in emergency, and on a Sunday afternoon, while they made ridiculous jokes about what they were doing, Queneau filled out papers and forged appropriate signatures and seals.
"What name do you want on these documents?" the counterfeiter asked.
"Henri-Georges Kersaint." A surname beginning with K was necessary because all the dealer's shirts carried the single monogram.
The fake papers were hidden inside a hand buffer used to polish shoes.
In February, 1942, Michel and Louise Leiris made their way down from Paris with a warning for their brother-in-law. "All our friends say that you are going to be arrested one day or another. You must leave. We have found you a hideout in Lot-et-Garonne with friends. You must go there."
Kahnweiler started to pack, but halted. "No, I will not leave. We are happy here. Come what may." He unpacked.
But later, in 1943, someone sent the Gestapo another anonymous letter.
The Leirises happened to be on the farm when the Gestapo swooped down in a daytime raid with a warrant to search for arms. The informant was the daughter of a neighboring farmer, towards whom the Kahnweilers had been especially friendly. She had become the mistress of the Gestapo chief in Limoges.
The raiders searched everywhere, even to the bottom of the well, but of course the Resistance was not so stupid as to have hidden arms with a Jew.
One of the rummaging Germans picked up the shoe buffer.
"What is this thing?" he asked.
Mrs. Kahnweiler answered unhesitatingly, "It's for cleaning shoes."
And she mimed a vigorous brushing action. The soldier cast it aside.
Had he found the papers the household would have gone off to a concentration camp or worse with no more questions asked.
The Gestapo left — only to come back at four in the morning.
"You lied," they spat. They pillaged the house — what little silver there was, the jewels of Madame Kahnweiler and Madame Leiris, but no paintings, for these were of no interest to them. Previously Kahnweiler had moved the best of his paintings into the home of a nearby unimportant farming squire.
Kahnweiler and his wife left when darkness fell again. They slept in Limoges with a niece of Lascaux, who kept them that night, and at four in the morning they headed for the little hamlet of Lagupie, resting for several hours with friends in Agen and arriving the next day at their destination, which was between Marmande and Le Réole, up the Garonne river a safe distance from Bordeaux, where a gentile family named Petit, whom the Lascaux had met in 1940, took them in.
They stayed for a year. In this part of France the maquis was virulent, and on one occasion a German contingent encircled the hamlet and burned a house, but no one was shot.
Kahnweiler's artists were having their own problems. Picasso's studio had been sacked, and to his anger the Germans had taken all his bed linen but none of his paintings. He had also been attacked savagely in the press by Vlaminck, but the motivation was largely esthetic rather than political, and Vlaminck had spared Kahnweiler the invective.
André Masson and his Jewish wife escaped France; six weeks later they arrived in Martinique and eventually went to America. From there they were able to write letters to Kahnweiler until the United States entered the war.
Masson's presence had much to do with unleashing the American Abstract-Expressionist movement, and Jackson Pollock himself acknowledged Masson's influence.
Kermadec took refuge in his wife's house in Cotentin and kept in touch.
Poet Max Jacob, who became one of Kahnweiler's closest friends, was nearly 35 when, in 1909 or 1910, he came back to his room from the cinema. He had had a vision of Christ which converted him to Christianity. When he got around to being baptized during the war in 1917, Picasso was his godfather and he took the name of Cyprien.
Modigliani,
Max Jacob
The Jacob-Picasso parties became notorious. Max, whose "eyes were of an extraordinary tenderness but had in them the same time all the sadness of Israel," simultaneously droll and spiritual, could sing verses to La Grand Frisé all night.
Unlike his painter friends, Jacob never emerged from poverty, and perhaps he never really tried: he seemed pledged to being poor. He mixed saliva, tobacco, and a few colors to make a gouache which he used to paint Paris street scenes and views of the theater. These he sold to his friends to eke out his existence, and finally he moved to the country where it was cheaper to live.
Hidden in Saint-Benoit-sur-Loire, Max was denounced. The Germans took him to Orleans and then Nancy, where sudden death from pneumonia may have saved him from worse horrors.
Once Kahnweiler went into hiding at Lagupie he lost all direct contact with his circle, except for communication with Louise Leiris, who by grit and intelligence kept her gallery open, bought a Picasso now and then as they were painted and when she had the means, and as best she could supported the gallery's younger artists.
Not a single painting was ever sold to the Germans.
The few German soldiers interested enough to visit the gallery were usually artists themselves. Even if they could have bought something they could not have shipped such degenerate merchandise back to the Fatherland.
But the Nazis did steal art, trainloads full of it. Though they never managed to loot a single painting from the Louvre, they did pillage the libraries and art collections of Jewish victims. Much of the admirable collection of Alphonse Kann, for example, disappeared, and Paul Rosenberg — whose resources before the German conquest included an estimated 300 Picassos and 200 Braques — lost heavily.
Though Rosenberg's paintings could not be sent into Germany, they were sold after being stolen ... and vanished.
As soon as Paris was liberated, American soldiers on leave began to frequent the gallery on rue Astorg. One American major, who later became a professor at Yale, returned each week with a few chocolates and cigarettes for Madame Leiris. Although he had very little money, almost every week he bought a small something. For the gallery at this time these purchases were big indeed.
The Kahnweilers were not able to begin their return to Paris until October, 1944. Daniel-Henry was then 60. The maquis had blown up so many bridges and trestles that there was scarcely any rail transportation.
His wife was already ill. They went via Limoges to pick up their niece, Germaine Lascaux, so she could go to school in Paris. They crossed the Loire on a rowboat, and after a complicated bits-and-pieces journey, arrived in Paris about three in the morning, only to have to walk across town to find their fifth floor apartment on Quai des Grands-Augustins.
Madame Leiris had been holding it for them for two years.
Then they began the joyful process of finding old friends and plunging into the universe of art once again.
France was plagued with shortages and restrictions, and Picasso, "whose art is always an art of circumstances," Kahnweiler said, undertook a string of lithographs because in the workshop of Mourlot, the printer, where Picasso worked, there was heat.
Picasso was honored with a whole room in the Salon d'Automne, much to the scandalization of his enemies. There Kahnweiler encounted Roger Dutilleul, his first really wealthy collector, and as the two men embraced, so great were their emotions over finding each other, a welling up of friendship and memories going back nearly 40 years, that they could hardly contain themselves.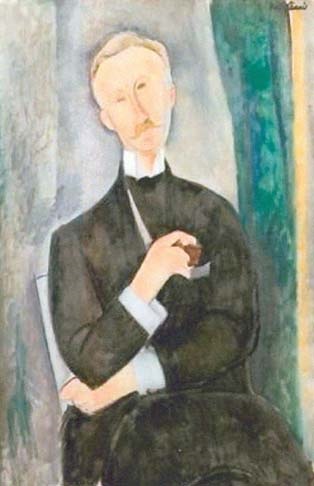 Modigliani,
Roger Dutilleul
Such encounters were common occurrences those years throughout Europe.
Kahnweiler was well along in years when I met him in his Galerie Leiris. I asked him if he had successors trained to take over the gallery when he died.
He replied that when he died, the gallery would die with him. There would be no successor ownership.