I moved from Monticello, Utah where I lived at the Baker Ranger Station to the big city (Salt Lake City) when I was 12. I had lived one mile out of town with four brothers and had longed to have a friend that lived next door. I imagined that we would have so much fun talking about all the things that were just interesting to kids.
I only had one problem, which was that I felt really shy and even a little like I was still a bit of a country hick. That did not stop me from wanting to find new friends.
After I had been in the big city for a few months, I asked my mother one day how I could have more friends. She gave me a huge key to success and a tool that I have used all of my life. She told me the key for me to have more friends was to take an interest in the people that I wanted to connect to.
She told me to ask them questions about themselves, and not to be worried about telling people about me unless they asked. This gold nugget that I gleaned from my mother has taken me to places where I have met people I never dreamed of meeting.
Today on the phone a very good friend, Lin Sandstorm, said, "You must write about this because you have the most unusual experiences even with people that you do not speak their language."
This spring, when I was riding my bike through the Netherlands, a group of us stopped at and ATM to get money. There was a tall elderly man that smiled at us. One of us said hello, and he answered back.
We learned that he was 75 years old and had worked for the government and was high up in the Health Department. I knew he would have been a young boy in World War II, so I used my mother skill and asked him if he had ever been hungry. He then began to tell us the most incredible story of when he was 5 years old and he and his sister were starving.
He took his three-year-old sister into the German army camps and asked for food. He told us that the German soldiers gave them bread. He said that they, too, had small children at home and seemed to have a lot of compassion for him and his sister.
We must have listened to his fascinating stories for about 10 minutes. In that time were connected at the heart. I will probably never see him again but I will never forget that moment when he shared his precious experience. At the end of our brief conversation we ask him if we could have a photo with him.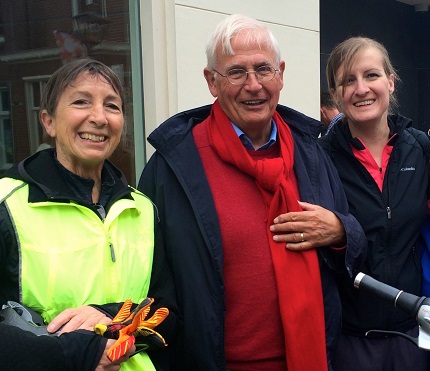 The man at the ATM.
I would say of all the things that I have learned in life, this one simple tool has brought me more joy and happiness than anything else that I have learned.
Because I travel so much alone, if I did not talk to people I would have been very lonely. I have learned when you ask people about themselves it is like opening up an interesting book or even opening up the "Book of Knowledge." This has also added so much spice to my life. It has given me the opportunity to enjoy people and I have learned to savor their wonderful life experiences.
I often tell people if you just ask individuals where they are from when you detect an accent you will travel the world right in your own city. Thank you, Mother, for teaching me to glean knowledge and connect with the amazing people that I met along the path of life.

Dian Thomas's idea books are ideal for you to get great ideas to do with your kids and grandkids. They are on special at www.dianthomas.com.