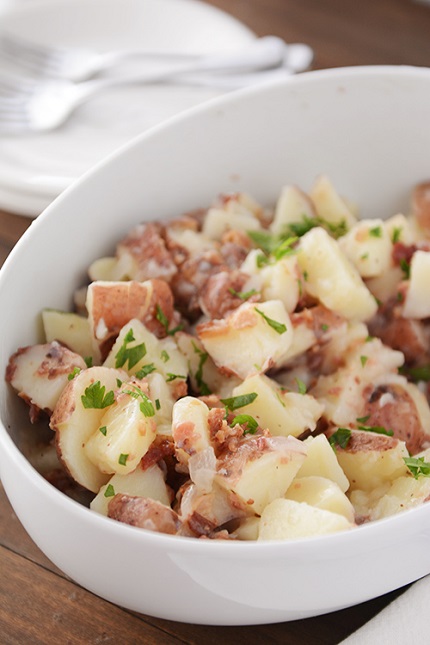 If potato salad could be life changing, this German potato salad would be it. I have a tried-and-true classic potato salad. Itís Brianís all-time favorite. And I like it. I really do. But one little scoop is pretty good for me and my plate and then Iím fine until the next summer when potato salad makes its BBQ debut again. Or in other words, it doesnít necessarily fill my dreams.
But this. This German potato salad. Itís a whole different animal. Despite the fact that I have some serious German heritage, Iíd never had German potato salad until Kate, a kind MKC reader, took it upon herself to share her familyís favorite recipe. The fact that her family has been enjoying it for years and years made me, well, a little jealous. So I made it.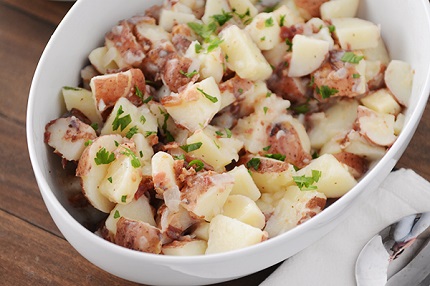 And I realized that this is what Iíve always wanted potato salad to be. It is the perfect potato salad. Iím not even kidding. Tender red potatoes (or Yukon Gold but donít mess with russets here) are coated in a delightfully tangy, slightly creamy dressing thatís whipped up in a skillet while the potatoes cool.
Thereís no dairy or mayo or eggs ó like traditional potato salad (and itís much easier!). Instead, the simple, cooked sauce adds flavor to the hearty potatoes. Well, that and bacon. So, you know, itís pretty much perfection.
Iíve made this several times in the past few weeks and yeah, I mean, what else can I say, Iím a completely changed woman when it comes to potato salad, thatís for sure.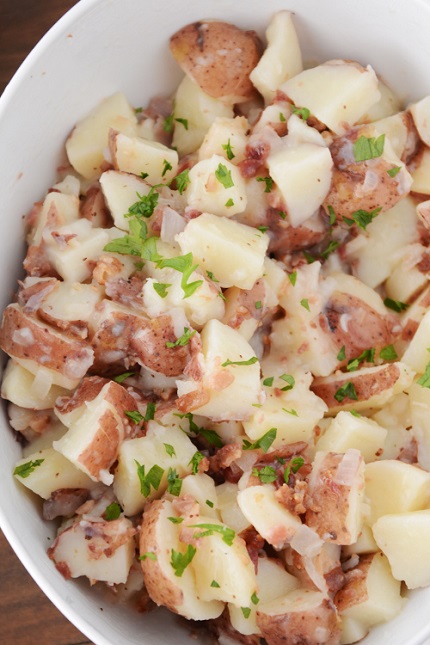 German Potato Salad
Yield: Serves 6-8
So a time or two when I've made this I haven't had real, live bacon on hand (and another time I was just too lazy) so instead of frying bacon at the beginning, I used a tablespoon or two of butter to cook the onion in and proceeded with the recipe that way ó using the precooked crumbled bacon (from Costco in my case) to add to the potato salad at the end (I used about 1/2 cup and gave the bacon crumbles a quick 20-second round in the microwave to crisp up a bit).
You may not get as much bacon flavor but the salad is still very delicious varied this way.
Ingredients
3 pounds red potatoes (about 8-9 regular-sized potatoes)

4-6 slices bacon (see note for a slight adaptation)

3/4 cup chopped white or yellow onion

2 tablespoons flour

2 tablespoons sugar

2 teaspoons salt

1/2 teaspoon celery seed

1/8 teaspoon black pepper

3/4 cup water

1/3 cup white or apple cider vinegar

Chopped fresh parsley for garnish
Directions
In a large pot, add 2-3 inches of water and a teaspoon of salt. Wash the potatoes and add them to the pot (the water doesn't need to cover the potatoes). Bring to a boil over medium high heat, cover the pot with a tight fitting lid and cook for 20-30 minutes until the potatoes are tender. Drain the potatoes and set aside to cool for a few minutes.

While the potatoes are cooling, in a large nonstick skillet, fry the bacon until crisp. Remove the bacon to a paper towel-lined plate and drain a bit of the grease from the skillet, leaving just a tablespoon or two.

Heat the skillet over medium heat and add the onion to the reserved bacon grease, cooking until translucent and slightly golden. Stir in the flour, sugar, salt, celery seed and black pepper. Cook over low heat, stirring constantly, for 1-2 minutes.

Combine the vinegar and water in a liquid measuring cup and slowly add it to the skillet (still set over medium heat), whisking constantly so the mixture doesn't get lumpy. Bring the mixture to a simmer, whisking or stirring constantly, and cook for 4-5 minutes. It should be thick and creamy.

Slice or cube the potatoes and add them to a large bowl. Pour the hot dressing over the top and gently stir to combine. Crumble the bacon over the top and give it another light stir. Top with fresh, chopped parsley, if desired. Serve warm or at room temperature.
Recipe Source: adapted slightly from Kate, a sweet MKC reader who sent her familyís fave recipe to me