The World War I reparations aftermath devastated German-born art dealer Daniel-Henry Kahnweiler. He had discovered and nourished Cubism, one of the most far-reaching, influential art movements of the century, and supported its artists.
Now, everything was gone. Five enemy-property auctions wiped out his accumulated gallery stock and his personal possessions.
The auctions dumped so many paintings on the market that their values were totally destroyed, not just for those confiscated paintings but for new works their artists were producing.
By law, Kahnweiler was forbidden to buy back any of the pieces at auction. Friends acquired a few cherished pieces.
Daniel-Henry was an art dealer. That was the only profession he knew, the only one he could pursue.
He had to start over. A new gallery.
When he opened his first tiny gallery, he had no artists, no stock, no knowledge of how to be an art dealer.
This time, however, he benefitted from experience, from what he had learned. Again, however, he had no stock and no roster of artists, not immediately.
Kahnweiler endeavored to gather back his artists. He had discarded the idea of written contracts in favor of verbal understanding, mutual trust, and a handshake. Gris replied, "You write me on gallery letterhead, what a joy for me, at last!"
They all came back except Picasso, who, once having gone over to Paul Rosenberg, stayed there.
The willingness of Picasso to begin selling to Kahnweiler again in 1923 only partially softened a series of losses of other stars. In that year Derain and Vlaminck both quit him, not over money but because of esthetic differences. Complained Vlaminck, referring to a Picasso collage:
"When I think, Kahnweiler, that at rue Vignon you showed me a sheet of paper with some charcoal lines and a bit of newspaper stuck to it and that you said it was pretty ... And the saddest, Kahnweiler, is that I believed you!"
Paul Rosenberg outbid Kahnweiler, and Braque defected. Léger then came to Kahnweiler.
"Rosenberg offers me double what you are paying me."
Kahnweiler replied sadly, "Listen, I'll give you the same amount."
Three months later Léger said, "Paul Rosenberg offers me twice what you are now giving me."
"My dear friend, I believe it is a gross error to jump prices in this fashion, and I cannot do it. Go to Paul Rosenberg."
Gris came to Kahnweiler. "This is what Paul Rosenberg offered me, but believe me, for me it's out of the question."
Gris, "An admirable man from every standpoint, the purest man, the most loyal friend that one can imagine," turned what otherwise would have been black days into one of the happiest periods in the picture dealer's long life.
Gris was a formidable dancer and instigated strenuous dancing parties. Mrs. Kahnweiler's two younger sisters, Louise and Berthe, married, Louise to poet Michel Leiris, and Berthe to sculptor Elie Lascaux.
These three couples were frequent participants in the gaiety, as were the poets Satie (whom Kahnweiler published), Cingria, Limbour, Tual, Artaud, and Desnos; his stockbroker friends and gallery partner Simon; the new painters in the gallery family, Masson, Roger, Beaudin, Kermadec; critics Salacrou, Raynal, and André Malraux and their wives.
To my American readers, these are just a meaningless string of unfamiliar names. If you were one of the 187,000 18-year-old French students who took their dreaded baccalaureate tests last June, you would recognize some of them.
When Gris died, at 40, this exuberant epoch in Kahnweiler's life came to a sudden end. Though not so popularly recognized as Braque or Picasso, says Robert L. Herbert, "Gris was a seminal force in modern art. His penchant for crisply defined forms and exquisite geometry placed him in the tradition of Ingres and Seurat." His influence was widely felt, even by Braque and Picasso.
To Kahnweiler, the loss of Gris's companionship was as great as the esthetic loss was to the rest of the world.
During Kahnweiler's wartime exile in Berne he had tried as best he could to keep up with the world of painting and sculpture through correspondence and reading.
Very little had been published, but he became aware of Henri Laurens and even saw some photos of the sculptor's work. Laurens was only a year younger than Kahnweiler and though the men were of different nationalities, they bore some of the same characteristics: optimism, modesty, gentleness.
Laurens was the only man Kahnweier ever heard say, "If I were asked to begin my life all over again with its difficulties and everything, I would say immediately — Yes."
Laurens suffered tuberculosis of the bone and lost a leg while in his twenties. Yet he never complained, though he lived in poverty and tasted success only in the last two years of his life.
He flirted with anarchism and knew some of the circle of the Bornot Band, a bunch of gangsters, but never took part in their crimes. He once had a modest contract with Léonce Rosenberg but came over to Kahnweiler as the first of the dealer's new postwar artists.
In later years, after there had been some success, the French government sought to bestow the Legion of Honor upon Laurens.
Kahnwoiler was asked to determine Laurens's attitude. "Would you be willing to accept?" Kahnweiler asked.
"Oh no," Laurens replied. "That would make Marthon [his wife] laugh too much."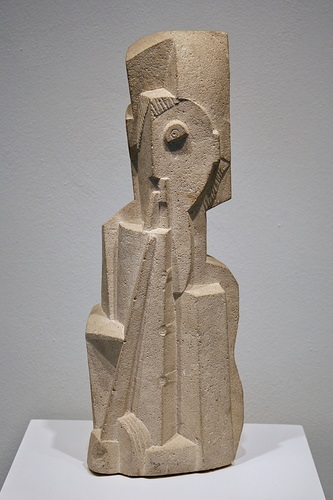 Henri Laurens,
Man with Clarinet
Among Kahnweiler literary friends was Max Jacob; in fact the dealer was Jacob's first publisher, as he had been of the deceased Apollinaire.
Jacob introduced Kahnweiler to Elie Lascaux, who had a ground-floor studio planted between a mossy garden and a paved courtyard, a place so humid that his paintings sometimes fell to pieces.
Elie Lascaux,
Port en Basin
, Yale, Donald Galley Collection
Lascaux became a part of the Simon Gallery team, as well as Kahnweiler's brother-in-law. One day when Kahnweiler was coming to visit the studio, Lascaux hung two paintings by a friend among his own. Kahnweier liked them and immediately sought out their painter, André Masson.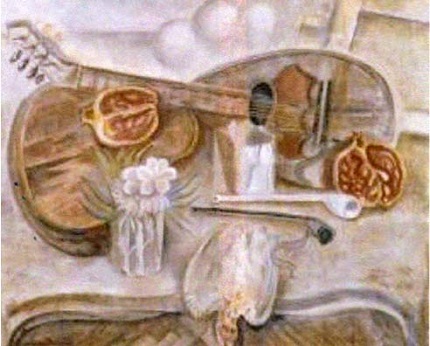 André Masson,
Pedestal Table in Studio
This was in 1921. Masson lived among the poets, particularly Roland Tual, who later became a film scenarist but who then recited esteemed poetry that he never wrote down.
In the milieu of poets' poverty, Masson was among the most impoverished. His studio on rue Blomet was "absolutely miserable." It was located on the side of a factory which grumbled all day and shook the painter's easel until the machines, as exhausted as he, were stopped for the night.
Masson lived in the studio with his wife and small daughter, but after he became friends with Kahnweiler the girl often stayed with the Kahnweilers in Boulogne because sanitary conditions in the studio were miserable for a baby.
In 1924, Kahnweiler organized Masson's first one-man show, and it stunned Paris's three dreaming founders of Surrealism: Andre Breton, Paul Eluard, and Louis Aragon, who gathered their newly discovered Masson to their bosoms. Five years later, however, Masson broke away with a group of dissident Surrealists, most of them from rue Blomet.
From time to time, an Alsatian painter named Adrion called on Kahnweiler. His style of painting was nothing the dealer could support, but he was droll and picturesque and always welcome. In 1924, Adrion brought in an artist friend with a pair of heavy impasto still lifes. The new painter was Kermadec, and his work was something of a cross between Soutine and Vlaminck.
Kermadec was a short man with broad, strong shoulders and a pear-shaped head. Kermadec's father was a retired headmaster of a girls' school in Guadaloupe. Kahnweiler thought he looked Caribbean. Nothing came of the encounter.
About three years later Adrion said to Kahnweilor that Kermadec's work had changed completely — in the dealer's words, "very clear, very little impasto, and a relatively difficult reading." Kermadec lived high up in an old apartment house on rue de Seine, which today is one of Paris's main art-gallery streets.
In astonishing contrast to the rest of the building, the apartment was painted in white throughout, contained the latest in comfort and sanitary facilities, even to boasting of things like a vacuum cleaner, and accommodated few but modern pieces of furniture, some of which had been made by Kermadec himself.
Above the door like a good-luck trophy sat three tennis balls. Kermadec was one of France's best tennis players. After his own game slowed he continued to referee for many of the big matches in Paris. The painter's wife knitted and sold sweaters, and perhaps the couple was helped by the painter's father.
An old dealer, Charon, on rue de Boëtie had once bought some Kermadecs, but he had disappeared from the scene.
Kermadec's new paintings, Kahnweiler discovered, "were at the limit of abstraction without breaking through this limit." The dealer recalls, "They conquered me immediately. I must say that there was something almost physical in this attraction of his painting on me and which still continues."
Immediately Kahnweiler arranged to purchase Kermadec's entire production.
The artist proceeded to turn out a series of erotic canvases: women in corsets and stockings, women undressed, "very acute and very pretty."
They shocked at least one of Kahnweiler's conservative Swiss client.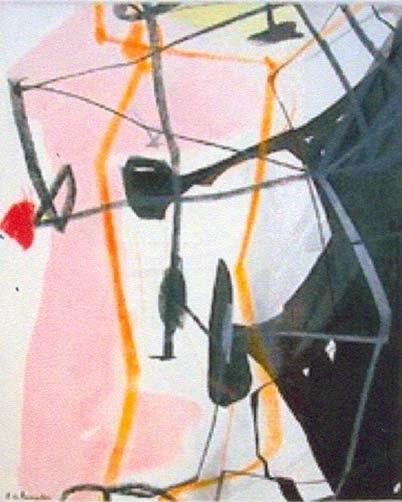 Kermadec,
Torse de Baigneuse
Kermadec then did a series of landscapes: he painted every building and angle in a part of the 14th arrondissement near Parc Montsouris over and over and then painted an area near the English Channel close to Contentin, Normandy.
(On many occasions when I was in Paris I stayed not far from that park in a studio belonging to painter Nat Leeb.)
"The landscapes he painted are striking in their resemblance when you have found the key," Kahnweiler explained. "They are very difficult to read on first glance, but when you've seen a photo of the same landscape, you are struck to see how it is, the least little gable, nothing is missing."
So even Kahnweiler had to learn Kermadec, just as he had to learn the Impressionists that first day he passed into the dazzling Caillebotte room in the Luxembourg. He was obliged again and again to explain to his clients, as he had thousands of times since opening his first gallery, "It is always necessary to learn to read painting ... painting is a form of writing; but all writing is convention, and it is necessary to learn that this convention is accepted and that you want to learn how to read it."
One of Gris's friends was Suzanne Roger, also a painter, and Kahnweiler began to buy her oils. Later he added to his team Suzanne's husband, painter André Beaudin, like Gris "a classical painter, deeply sensitrive, certainly, but who submitted his discoveries of passion to lucid reasons, and his concerns to order, clarity, and purity."
Husband and wife used the same studio.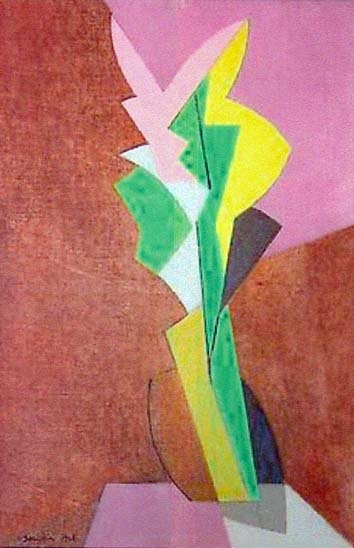 André Beaudin,
Purple Gladiolas
Slowly Daniel-Henry recovered from his loss of Derain and Vlaminck, who had been his best sellers, and the destruction of market levels for Cubism by the disastrous forced auctions.
He admired Matisse enormously and would have liked to have had Matisse in his gallery, but Matisse was bound to others. Kahnweiler obtained the production of Léger again, and of course Picasso, but his best painters sold slowly, and his new ones were far from being established.
Then, like every other dealer in high-cost, discretionary articles, Galerie Simon was clobbered by seven years of famine, 1929-36, when nothing was worth anything!
The years were unbelievably difficult. Kahnweiler and his sister-in-law, Louise Leiris, who had joined him in the Galerie Simon when it opened in 1920, sat in it, alone, day after day. It would have been less devastating psychologically if Kahnweiler and Madam Leiris had not had the artists to worry about. But they did.
Established giants like Picasso and Braque could wait out the crisis: even in the worst of times they'd have an occasional sale. But the others needed help, and Kahnweiler could not abandon them, as so many other dealers did to their artists.
Among some of his friends Kahnweiler organized a modest syndicate of artistic welfare. Each contributed monthly, and the gallery passed the money on to the artists who needed it most. At the end of each year the donors had the right to an appropriate number of paintings.
The gallery retained a minuscule percentage of the fund, but then itself contributed to the fund to acquire a few paintings for its own stock. The system lasted into 1936, when affairs began picking up and America came back into the market.
At this time Kahnweiler took into his gallery his last new painter, Yves Rouvre.
"Kahmeiler plays with dolls!" Picasso scolded when he heard about Rouvre.
Daring the dark years Picasso had sold to both Kahnweiler and Paul Rosenberg. Because Kahnweiler could only occasionally buy the Spaniard's paintings, Picasso had been willing to consign a few others. Kahnweiler had more paintings than he could sell and had no need — and Picasso might think, no resources — to add any new painter: he had enough artists already to support.
"Of course I play with dolls," Kahnweiler admonished Picasso. "Now you explain something to me: if someone like me doesn't take Rouvre, who will? You know as well as I that for a very young dealer it would be too hard to begin now as I did. Moreover, who is it now who keeps Rouvre alive? It's not I, it's you! It's the profits from your pictures that enable me to take on a young painter."
"By golly, you're right," Picasso laughed.