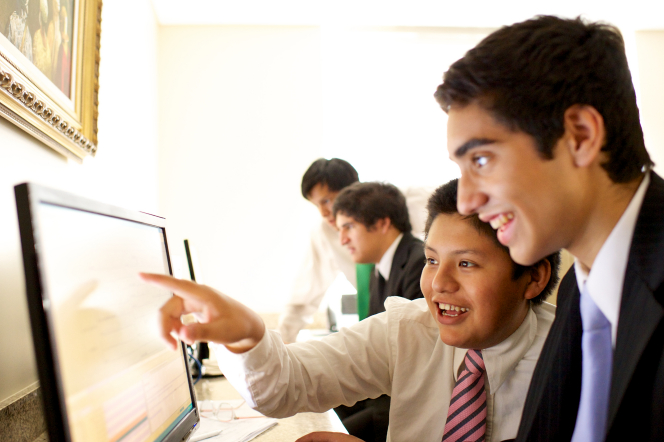 Have you been looking for a simple, quick way to get involved in family history? Do you want to become familiar with documents that help you find your ancestors? Would you like something more meaningful than social media or the latest online game to fill those random bits of spare time?
FamilySearch indexing may be just what you're looking for.
So what is indexing? As you might know, the LDS Church has a vast collection of digital images of genealogically-valuable records, such as census or birth records, and it's growing all the time. But these images aren't searchable.
So volunteers transcribe key information from the images (names, dates, places, and so forth) to create an index that is searchable — enabling anyone to use these records, at no charge, to find their ancestors.
Indexed records can be accessed on the FamilySearch Historical Records site. They're searchable because a volunteer like you helped create an index for them.
The great thing about indexing is that pretty much anyone can do it. You don't have to be an expert in family history. You don't even have to have a lot of time. In fact, you can learn the basics in just a few minutes on the indexing web site.
And there's never been a better time to get involved: from August 7-14, 2015, FamilySearch is sponsoring an exciting worldwide indexing event they're calling Fuel the Find. Why is it called "Fuel the Find"? Because historical records really are the fuel that help us find people to add to our family tree.
FamilySearch is looking for at least 100,000 volunteers during Fuel the Find to help break the current one-week record of 91,721. In order to be part of the record-breaking group, a volunteer must index or arbitrate at least one complete batch. There's a special need for those who are familiar with languages other than English.
And even if you are reading this column after Aug 7 – 14, 2015, you can still index. The need for indexers is not going away in the near future. In fact, we learned at the recent BYU Conference on Family History and Genealogy that records are being digitized faster than they are being indexed. Currently we're falling behind.
You can keep up with indexing news on the FamilySearch blog and on the Indexing Facebook page.
There's also an active, helpful Facebook group you can join to ask questions, discuss challenges, and share successes.
So come join the fun! If you're not already an indexer, check it out. If you haven't indexed for a while, consider coming back. And if you're a regular indexer, bless you. Many, many people have indexers to thank when they find those missing people that belong in their family tree.