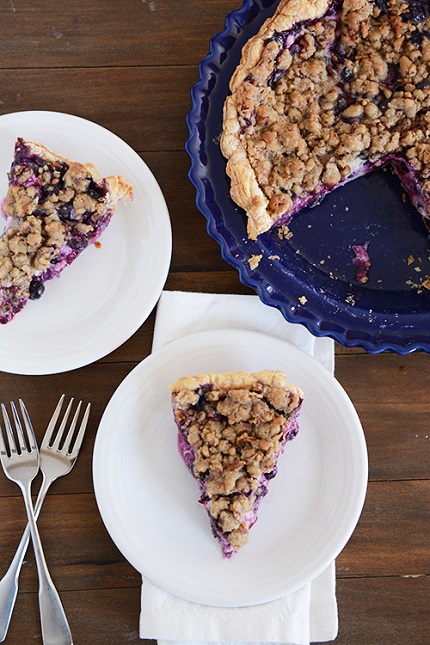 Since fresh blueberry season lasts for approximately two seconds (at least where I live), you better get your hands on some of those little gems asap and make this pie.
It takes blueberry pie to all sorts of new levels.
Blueberries (of course). With a creamy custard-like filling. Topped with a very healthy dose of buttery, toasted pecan streusel. If your brain thinks like my brain, when it comes to streusel there's only one clear choice: go big or go home.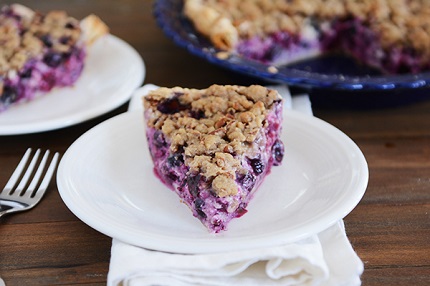 This pie is insanely delicious and so easy to prepare. No blind baking pie crusts. No fancy shmancy ingredients. Just a whole lot of fresh, juicy blueberries sitting under the perfect crumbly, crunchy topping and a creamy filling that warms my soul.
Speaking of warm, this pie is delicious served warm. Or chilled. Or room temperature. And if you think there's no way I tried each of those scenarios, you are dead wrong; you and I probably need to spend more time together eating desserts in every fathomable situation. Because, research and friendship require it.
A perfect summer pie, that's what this little blueberry number is. I mean, how can you go wrong with blueberries and cream smashed into a pie crust and topped with streusel? Goodness gracious.
Blueberry Custard Pie with Buttery Pecan Streusel
Yield: Makes a 9-inch pie
I've never tried this with frozen blueberries but I think you should! And then report back, pretty please. If you've washed the blueberries, make sure they are very well dried (pat them gently with paper towels) before using in the filling. If they are wet, they'll make the filling too soupy and thin.
Ingredients
Blueberry Filling and Pie Crust:
1 cup (8 ounces) sour cream

3/4 cup granulated sugar

1 large egg

2 tablespoons all-purpose flour

1/4 teaspoon salt

2 teaspoons vanilla extract

3 cups (about 18 ounces) fresh blueberries

1 (9-inch) unbaked pie crust, rolled out and placed in 9-inch pie plate (my favorite pie crust recipe + tutorial here)
Streusel Topping:
1/2 cup lightly packed brown sugar

1/3 cup all-purpose flour

Pinch of salt

1/4 cup (4 tablespoons) butter, softened

1/4 teaspoon vanilla extract

1/2 cup chopped pecans
Directions
Preheat the oven to 375 degrees F.

Freeze the pie crust (rolled out in the pie plate) for 30 minutes to help it hold its shape while baking.

For the blueberry filling, in a large bowl, mix together the sour cream, sugar, egg, flour, salt, and vanilla extract until creamy and smooth. Gently fold the blueberries into the sour cream mixture. Spoon the filling into the unbaked, chilled pie crust.

Bake for 25 minutes. While the pie bakes, make the streusel topping by combining the brown sugar, flour and salt in a medium bowl. Mix in the softened butter and vanilla with a couple of forks, a pastry blender or with your hands until the mixture is evenly combined and has the texture of wet sand. Toss in the chopped pecans and combine until they are evenly mixed into the topping.

Crumble the streusel topping over the pie after the first 25 minutes of baking. Return the pie to the oven and bake for 15-20 minutes until the filling is set. Cover the outer edges of the crust if needed to prevent over browning.

Let the pie rest for 15 minutes or so before serving warm. The pie can also be cooled and refrigerated up to a day and served chilled or at room temperature (or lightly warmed in an oven or microwave).
Recipe Source: pie and streusel adapted lightly from Christy at The Girl Who Ate Everything by way of AllRecipes (changed up the method just a little, used slightly more blueberries, added a pinch of salt and vanilla to the streusel)