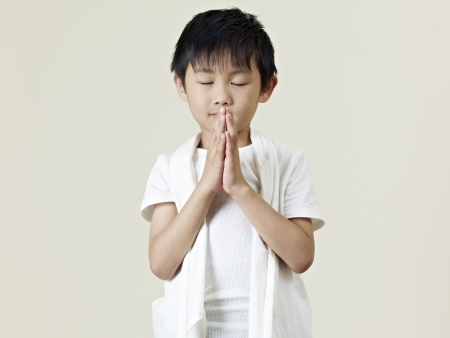 Last Sunday I attended church in Hangzhou, where I met old friends and made new ones. I learned much in listening to that small but diverse group.
One young man, a keen intellectual who has learned how to achieve some very significant things in China, shared an experience from his childhood. He was at a family outing in the woods and went his own way, enjoying a little solitude while imagining he was Spiderman and other superheroes.
Eventually he realized he was lost with no idea how to get back. I think he was ten years old.
For the first time he can remember, he had a serious, urgent need for personal prayer. He had prayed before, but this time he really needed help to overcome his problem. He prayed to God saying something like, "God, if you are there, if you are listening, I really need help now. I'm lost and don't know where to go, Please help me find my family."
After saying this, he had a strong impression to "follow the wind." This didn't make a lot of sense because the wind wasn't blowing. But quickly after recognizing that puzzling impression, the wind began to blow. The leaves around him began moving in a distinct direction, and he decided he had better follow them.
He followed the blowing leaves as they took him toward a hill and then up the hill. As he followed them to the top of the hill, he suddenly found his family.
So simple. Follow the wind. Follow the leaves. Family found. This made a lasting impression on him about the reality of prayer. How glad I am that he was able to listen and that the Lord saw fit, in this case, to provide such obvious help.
Of course, not all sincere prayers are so pleasantly and so clearly answered, but may we be grateful for each small miracle that occurs and not complain when we must suffer greater challenges with miracles that seem withheld.
That story came during Sunday School. I also learned much during sacrament meeting from two new friends, a young couple from Ukraine who were speakers in the program.
The talk by the young Ukrainian woman was uplifting and beautiful. My favorite part was her story of an LDS man in her congregation in Ukraine who was born with some severe physical problems that made it difficult for him to walk.
In fact, she told me after the talk, the doctors had said that he would never walk, but as his faith grew while still a young child be believed that he could and needed to, and taught himself to walk around age five.
His physical limitations were still so severe, though, that it seemed unlikely that he could serve on a regular mission, but he really wanted to serve and applied to serve anyway.
If I understood correctly, it would require special permission from Salt Lake, and he was elated when it came and his application to serve was accepted. He served in Russia, as I recall, and inspired everyone by being one of the hardest-working missionaries.
He helped bring people into the Church and inspired members and missionaries in his mission and at home. He continues to inspire others today. She asked the man why he wanted to sacrifice so much to go serve a mission. His answer: "I want to be useful to the Lord."
Those words struck me deeply. Many times I find myself struggling with the wrong goals, struggling to know which direction to pursue. I think that Ukrainian perspective could help bring more clarity by asking, "How can I be more useful to the Lord?"
I was also inspired by her husband's talk. I had spoken with him before the sacrament meeting and was impressed with how kind and friendly he was. But I knew he was uneasy with English. His English is excellent, but sometimes he struggles. As he began speaking, it was clear that the pressure of speaking to a group added to his burden.
After a couple of minutes, he turned to a woman on the front row and said something to her. I was surprised to see her jump up and hand a baby to her husband on the stand, the same man who would share the story of being lost and following the wind. With no hesitation or discussion, he took the baby and walked to the back of the room as his wife stood next to the speaker.
I had met the woman before and had recently seen her and her husband in a video that a non-LDS Chinese man is making to help bring lessons from their positive example of parenting and family love to strengthen other families in China. From that video, I knew she could speak Chinese pretty well in addition to her native English.
But then the Ukrainian man began speaking in Russian, and she translated into English. Suddenly a good talk became much more interesting. Subtle points and emotion were more easily conveyed. She even choked up at part of his talk, and so did I. Yes, she had served a Russian-speaking mission in Georgia, near Chechnya. Her Russian is still pretty good, it seems.
When I talked to her afterwards, I learned that I was not the only one who had a prayer in their heart for this good man as he spoke. She had been praying in her heart for him, for she knew of his fears and nervousness. She prayed that his message might be conveyed, that people might understand and be touched.
As with many prayers on behalf of others, those offering the prayer frequently become part of the miracle.
Many thanks to the beautiful Latter-day Saints of Ukraine. May we all pray for Ukraine. May we pray for others around us as well. Imagine what life would be like if the people next to us on the subway, in the halls at school, on the streets, in our homes, and in our congregations were more likely to be praying for us than ignoring, mocking, or criticizing us.
I had intended this week to share more about Hannah Ronning, missionary to China, but I think I will save that for a later post.
If you have never been to Hangzhou, it's a city worth spending a couple of days or more to visit. It is near Shanghai, just an hour away by train, but very different.
Suzhou, where we also have a branch of the Church, is another beautiful city worth visiting that few Western tourists ever see. I think they offer much more than some other spots that are on typical tourist itineraries.
Come visit the great cities near Shanghai and also visit the branches of the Church while you are here. You may be surprised how much you'll learn and experience. The Church is really beautiful here!