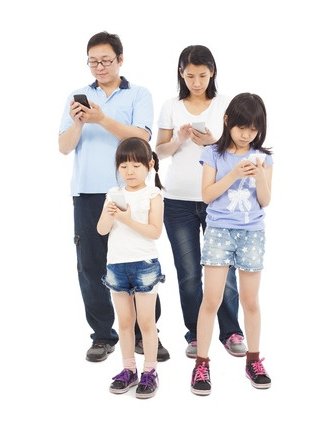 Everyone with a smart phone or tablet has apps that get used more than others. There are four that I find myself using often for my family. They help me find good media, know where everyone is, and keep them reading. So here are my favorite family apps in no particular order.
Kids-In-Mind: This app, designed for iPad and iPhone, will give you an opinion-free analysis of movies and videos. There are no reviews either condemning or praising the movie. It is an emotion-free report so that you can decide whether you think the movie is worth watching.
I like this approach because even parent reviews vary widely in their interpretation of what is appropriate. By reading the lists of specific instances you will know exactly what is in the film and can make a more informed decision.
We use the free version, which allows you to see what is in recent releases, movies new to video, and an archive of more than 3,000 older movies. You can search by app ratings, theater ratings, or by title. Many of the older movies I searched for were not in the database, but the majority of what I'm looking for is there.
The paid version ($1.99) is ad-free, allows you to save a list of favorites, and offers a year of new movie reviews.
Each report contains a summary and includes a list of incidents for three categories:
Sex/nudity

Violence/gore

Profanity
Based on the number and severity of instances in the film, each category is rated from 1-10. These are pretty in-depth and some lists can be quite long. As a simple example, a G-rated movie might have a rating of 1.3.2, meaning there are may be things like (1) kissing or innuendo, (3) falling down stairs, face slaps, yelling, and property damage, (2) anatomical references, name-calling, and a religious exclamation.
Instances are briefly described, and while names of characters are not in the description, you may uncover some spoilers by reading through it.
Kids Media: This is a free app offered for iPhone, iPad, and Android. You will find reviews of movies, apps, games, TV shows, books, music, and apps for learning. Each review offers a suggested age between 5+ and 17+. I have often found that I disagree with the age suggestion though.
Each of the following categories is ranked from 1-5 without specifics on why it is given that rating:
I have found that the reviews should be considered carefully since they tend to give opinions with words like good, charming, strange, fun, poignant, or terrible, and may not reflect what you value for your family. Parent and kid reviews can be submitted but aren't always helpful as the same PG-13 movie reviewed by parents can say everything from, "I watched this with my 10-year-old and we loved it!" to "This was a disgusting movie that should have been rated R."
A useful feature is the option to make a file for each of your children with the age range you feel is most appropriate for them. By just tapping "Picks for My Kids" then on their picture, you can scroll through the suggested media options. You can also search by age range without using a child file.
What I like most about this app are the "Best Lists" for all sorts of categories. Some examples are: Travel movies, Books turned to movies, Movies with incredible role models, Apps for toddlers, Common Core-friendly apps, TV Dads we love, Fitness TV, Funny books, Books for reluctant readers, Non-violent video games, Facebook games for teens, and Websites that help kids do good.
I have found many suggestions helpful and discovered things I would not have come across on my own.
Find My Friends: This is a free app offered for iPhone and iPad. It allows you to see the location on a map of any person's device who has given you permission to track them, so if the person has the device with them, you will know where that person is.
My family jokingly refers to this as "the stalker app," but it isn't really because you cannot follow anyone's location without approval. It's great when you want to know where someone is or, if a device is stolen, where it is.
The only "friends" I follow now are my husband and children. I have not had much need to branch out beyond that. You can also follow friends or extended family for a brief period of time, like a vacation, which can be handy. I use this when I want to know if my husband left work yet, or when I want to check where my kids are when away from home.
There is also a "Notify Me" option if you don't want to constantly check the app but want to know when your husband is on his way home so you can have dinner ready or if your child arrived safely at the mall, for instance. The app will send you a message when that person leaves or arrives at the location you indicate.
When setting this up on the kids' phones you can keep them from turning off their location by going to password protected parental controls in Settings >Restrictions >Location Services >Don't Allow Changes.
BookScanner: This app is for iPhone and iPad and costs $1.99. The cost is a real bargain because we use this app all the time. It is designed to complement the Accelerated Reader program that my kids use at school.
Their teachers require that they read books on their own and then take a quiz on the computer at school to see if they understood it. The app is also useful for anyone wanting to find books at the correct reading level for their child.
It is a pretty simple app. You open it and tap "Scan Barcode." Then you use the camera to scan the barcode on the back of the book. The only books we have had trouble finding in here are those that are part of a collection like Children's Illustrated Classics, for example.
A picture of the cover of the book will pop up on your screen along with the Title, Author, AR Quiz #, Word Count, Reading Level, Points (possible points available when you take the quiz), and Interest Level (such as lower, middle, or upper grades).