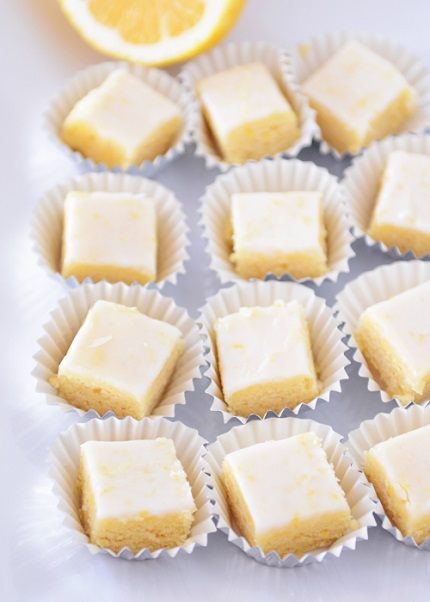 I know, I know, technically I could get in a lot of trouble (you know, from the food blogger police) calling these non-brownie treats brownies. But every once in a while I like to throw caution to the wind — and let that be today.
These little lemony brownie bites are so utterly amazing, it won't really matter what they are called once you fall in love. The texture is everything soft and cakey and chewy and a little dense. The real lemon flavor comes through in the tart and sweet glaze and complements that subtle lemon brownie layer in magical ways. It really is like a bite of sweet, fresh, lemony heaven.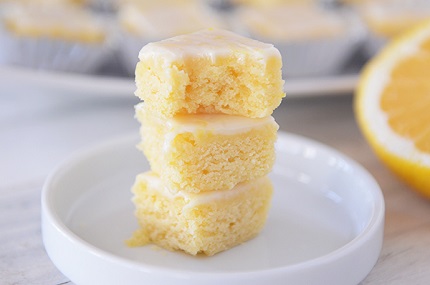 Easy and quick to whip up, you can serve them at room temperature. But if you decide to chill them first, be prepared to hand them out to neighbors, friends and strangers immediately or else all self-control may be lost. They are so good chilled, I want to weep. Consider yourself warned.
I was a little caught off-guard at how these lovely but simple lemon treats won me over, but win me over they did. As in, after tasting 12, I hurriedly cut them into tiny squares, stuffed them in mini muffin tins and sent them straight in to Brian's office. And then I missed their presence so deeply, I went and made another batch. They are impossible to resist.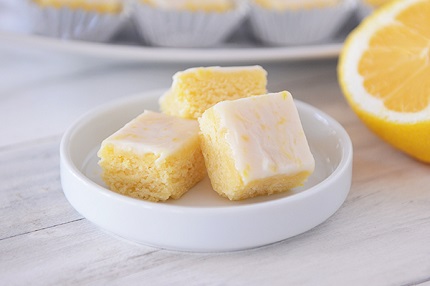 Lemonies
Yield: Makes 25 small squares
The glaze recipe makes a very thin, light layer of sweet, lemony glaze on top of the soft, chewy lemony brownies. If you want more glaze, consider doubling the recipe (just make sure the glaze doesn't overpower!).
Altogether, you probably need 2-3 large lemons for the recipe to get the 4 tablespoons juice and 1 tablespoon (plus 1/2 teaspoon) zest.
These bars are delicious at room temperature, but try them chilled and you may never go back.
Ingredients
Lemon Batter:
1 cup (5 ounces/142 grams) all-purpose flour

3/4 cup (5.5 ounces/155 grams) sugar

1/4 teaspoon salt

1/4 teaspoon baking powder

1 tablespoon lemon zest (from 1 large lemon)

1 stick (8 tablespoons) butter, melted and cooled

2 large eggs

1 large egg yolk

3 tablespoons fresh lemon juice

1 teaspoon vanilla extract
Lemon Glaze:
3/4 cup (2.75 ounces/75 grams) powdered sugar

1 tablespoon fresh lemon juice

1/2 teaspoon lemon zest
Directions
Preheat the oven to 350 degrees F. Line an 8X8-inch aluminum baking pan with parchment so that it hangs over two of the edges (to lift out the bars later — alternately, you can just grease the pan really well and slice them in the pan) and lightly coat the pan and parchment with nonstick cooking spray.

In a large bowl, whisk together the flour, sugar, salt, baking powder and lemon zest.

In a separate bowl or in a large liquid measuring cup, whisk together the butter, eggs and egg yolk, lemon juice and vanilla.

Stir the wet ingredients into the flour mixture and mix until combined.

Spread the batter evenly in the prepared pan.

Bake for 18-20 minutes until a toothpick inserted in the center comes out clean or with moist crumbs (the top of the bars should spring back lightly when gently pressed). Don't over-bake or they might be dry.

For the glaze, whisk together the powdered sugar, lemon juice and lemon zest until smooth and combined.

After the bars have cooled completely in the pan, drizzle the glaze over the top (since the glaze layer is thin, it helps to pour it all across the bars instead of in one puddle before spreading) and use an offset spatula or knife to spread evenly over the bars.

Place the bars in the refrigerator for 1-2 hours to let the glaze set before lifting them from the pan (using the parchment overhang) and cutting into small squares. These taste best chilled, in my opinion, but can be served at room temperature also.
Recipe Source: adapted from Bakerella (cut down the butter, added weight measurements, used an extra egg yolk for super moistness, cut the glaze in half, etc.)