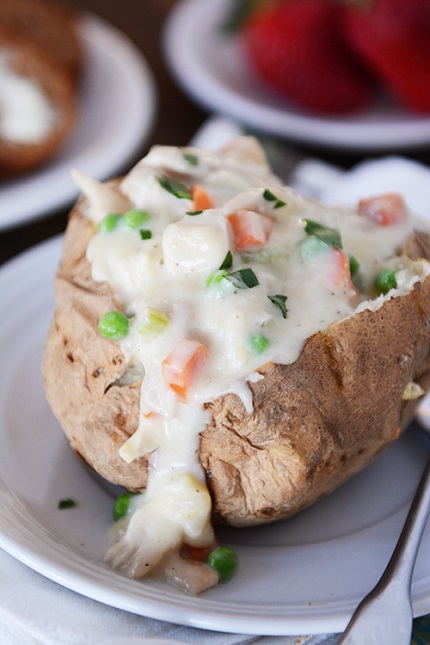 Approximately every 7 1/2 days when I was growing up, my mom would make baked potatoes for dinner and we'd load them up with hamburger gravy and all sorts of toppings. Easiest meal ever (or so says my mom, I was the oblivious kid who never helped out with dinner until I was a senior in high school and my mom put me through college-readiness-boot-camp).
Even though we ate it often, I don't remember ever getting tired of it. I mean, if it started to feel boring, I'd channel my inner wild child and put olives on top instead of just sour cream and cheese. A little life on the edge never hurt anyone.
Even today, baked potatoes are a solidly comforting delicious meal for me. A month or so ago, Rebecca, a longtime reader, emailed me to say that she had seen a recipe for chicken pot pie baked potatoes but it needed a facelift and she was challenging me to do it right.
And then, she says: "Can you imagine carrots, peas and a creamy sauce poured over a baked potato? Delish idea." That sold me right there. I couldn't get the idea of a chicken pot pie baked potato out of my head (thanks, a lot, Rebecca!).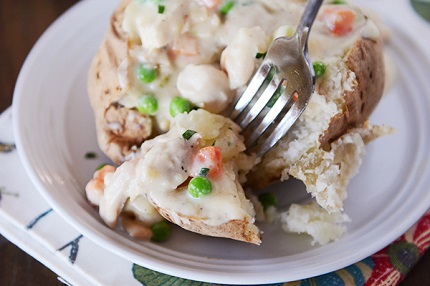 I took some notes from this delicious chicken pot pie crumble and went to work. I'm happy to report that not only are chicken pot pie baked potatoes easy (like, really easy — the toughest part is waiting for the potatoes to cook), they are tremendously yummy. How can you go wrong with a tender baked potato loaded with all the best parts of chicken pot pie?
Crisp-tender veggies, light and creamy sauce, and juicy forkfuls of chicken. Of course, it'll be even better if you buck chicken pot pie tradition and throw some cheddar cheese and bacon on top, but I'll leave that to your own discretion.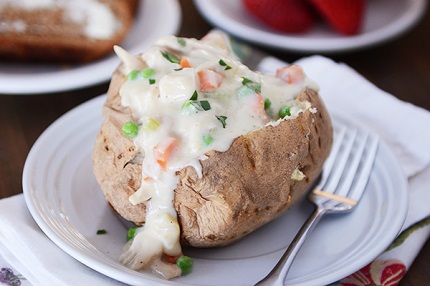 Chicken Pot Pie Baked Potato
Yield: Makes 6 baked potatoes
This recipe calls for already cooked chicken so plan ahead. If you are working with uncooked chicken, here's a simple way to cook it up quickly (or you could try cooking it with the vegetables in the first step).
I used to think it unnecessary to wrap the potatoes in foil and/or rub lightly with olive oil and just bake them unwrapped on the oven rack. But we hated how thick and inedible the skins became after baking. If you want soft, tender potato skins, a very, very light rub with olive oil covered in foil and you're good to go. It's worth the extra step.
If you like things extra saucy (or your baking potatoes are humongous) you might consider 1 1/2-ing or doubling the sauce.
Ingredients
Chicken Pot Pie Sauce:
3 tablespoons butter

1/2 cup small diced carrots

1/2 cup small diced celery

1/2 cup finely chopped onion

2 garlic cloves, finely minced

1/2 teaspoon salt

1/4 teaspoon pepper

1/3 cup flour

1 cup low-sodium chicken broth

1/2 cup milk

1/2 cup frozen peas

2-3 cups cooked, diced chicken

Salt and pepper to taste
Potatoes and Toppings:
6 medium russet baking potatoes, scrubbed clean

Cheddar cheese for topping, optional

Cooked, crumbled bacon for topping, optional
Directions
Preheat the oven to 400 degrees.

Lightly rub the potatoes with olive oil and wrap each potato in tin foil. Pierce through the foil and skin of the potato with a fork a couple of times.

Bake the potatoes for an hour or until tender.

Toward the end of baking time, make the sauce by melting the butter in a large, 12-inch nonstick skillet over medium heat. Add the carrots, celery, onion, garlic, salt and pepper and cook, stirring often, until the vegetables are crisp-tender (but not mushy), about 5-7 minutes.

Sprinkle the flour over the vegetable mixture and cook, stirring constantly, for 1-2 minutes. The mixture will be crumbly.

Slowly add 1/2 cup of the chicken broth whisking quickly until thick and combined (adding a little liquid at a time will help avoid lumps). Continue adding 1/2 cup of the broth and milk at a time until it has all been stirred into the skillet and the sauce is smooth and creamy.

Cook the mixture at a low simmer for 5-7 minutes, stirring often, until the vegetables are tender and the sauce is thickened.

Stir in the peas and chicken and heat through. Season with salt and pepper to taste.

Serve over baked potatoes with cheddar cheese and cooked bacon, if desired.
Recipe Source: from Mel's Kitchen Cafe (after a reader, Rebecca L., challenged me to take on the chicken pot pie baked potato task!)