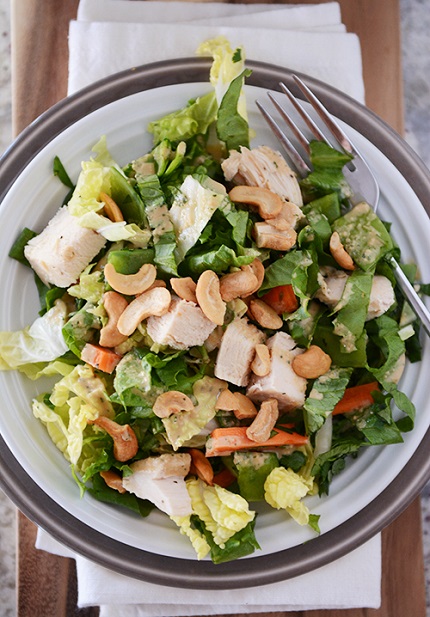 Oh, you know, nothing much going on around here except for THE BEST CASHEW CHICKEN SALAD IN THE UNIVERSE. And if online shouting offends, I'm sorry, but I have to get my point across somehow.
If fresh, flavorful salads that are hearty enough to fill you up for dinner are your kind of thing, you don't want to pass over this amazingly delicious chopped cashew chicken salad. After you power through the carpal tunnel effects of chopping all the fresh ingredients (it's really not that bad, you guys, promise + the end result is so completely worth the repetition), it's a matter of tossing the crunchy salad with the simple, blended homemade cashew dressing, piling it up on plates and calling it good.
Oh, and don't forget the extra sprinkle of roasted, salted cashews. They kind of make everything right in the world, those cashews.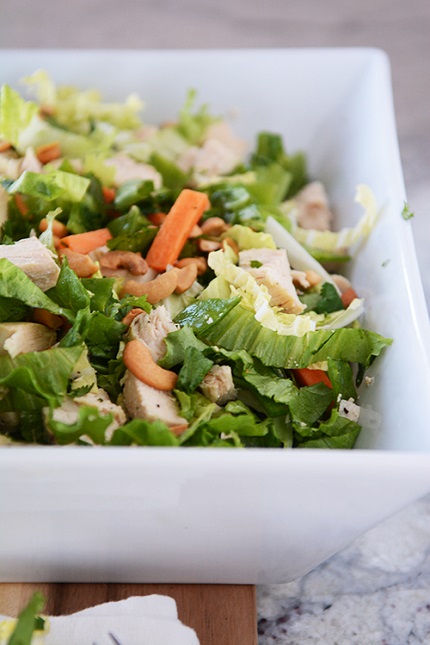 We've eaten this for dinner several times in the last couple of weeks. The dinner repeats have been for only one purpose: to provide a lunch I can look forward to.
I hold my family to one dinner serving each so that I can pull out the deliciously fresh leftovers the next day (if heaven is smiling down upon me, for a couple of days) and eat in absolute crunchy cashew salad bliss alongside my sweetie toddler (who's most likely smashing grilled cheese and yogurt all over the place).
Cashew chicken salad…good cashew chicken salad…is a very beautiful thing.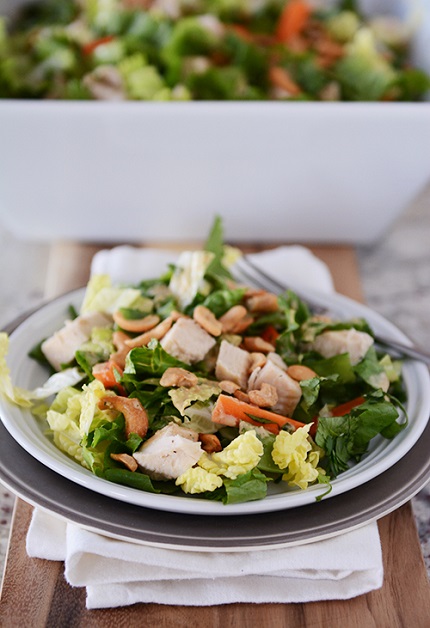 Chopped Chicken Cashew Salad with Homemade Creamy Cashew Dressing
Yield: Serves 4-6
If you don't have cooked chicken (a rotisserie chicken works great here), this simple, flavorful method for cooking chicken to shred or chop is a great alternative. If doing the above (cooking the chicken to use in the recipe), try rubbing the soy sauce + sesame oil mixture on the chicken before cooking instead of tossing with the cooked chicken like called for in the recipe.
Ingredients
Dressing:
1/2 cup roasted, salted cashews

1 tablespoon chopped fresh ginger

2 tablespoons chopped fresh cilantro

2 tablespoons chopped shallots

2 tablespoons rice vinegar

1 tablespoon fresh lime juice (from about 1 lime)

2 tablespoons low-sodium soy sauce

1 tablespoon toasted sesame oil

2 cloves garlic

1 teaspoon honey

2 tablespoons canola, olive or avocado oil

Salt and pepper to taste
Salad:
3-4 cups cooked, chopped chicken (see note above)

1/2 tablespoon low-sodium soy sauce

1/2 tablespoon toasted sesame oil

4 cups shredded Napa cabbage

2-3 cups chopped romaine lettuce

1 cup chopped snow peas

1 cup chopped carrots

2 green onions, white and green parts thinly chopped

1/2 cup chopped fresh cilantro

1/2 - 1 cup chopped roasted, salted cashews
Directions
For the dressing, pulse the 1/2 cup cashews in a blender or food processor until the texture is like a paste. Add the rest of the dressing ingredients and process until well-combined and mostly smooth. Set aside or refrigerate for up to a couple of days.

Toss the cooked, chopped chicken with the 1 tablespoon soy sauce and 1 tablespoons sesame oil. In a large bowl, combine the cabbage, lettuce, snow peas, carrots, green onions, and cilantro. Add the chicken.

Toss the salad with the dressing (add a bit at a time; you can serve any extra alongside if you don't use it all to dress the salad). Sprinkle the cashews on top and serve. If you are planning to have leftovers, don't toss the salad with the dressing as a whole. Serve the dressing on the side and store the dressing and salad leftovers separately in the refrigerator.
Recipe Source: adapted from a recipe in "Cuisine at Home" April 2015 (altered and increased the dressing amounts, changed a few ingredients in the salad lineup and used cooked chicken)