To be like the world's coolest people when it comes to dealing with the Book of Mormon, there's an important style accessory that you need before you even look at the text. Not only will it keep you in style, but it will also help you in properly evaluating the text the way leading critics do.
With this accessory on, you will more easily recognize just how little literary value the Book of Mormon has.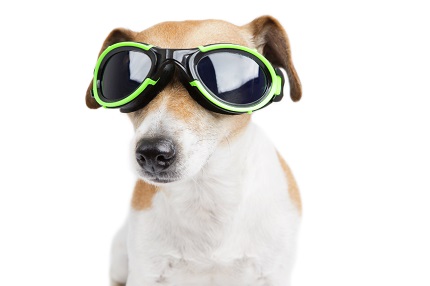 Literary value? Rich, uplifting text? Authentic ancient scripture? I just don't see any of that in the Book of Mormon.
It's cool, it's sophisticated, it's eco-friendly and green, and it's 100% opaque. Makes the Book of Mormon much easier on the eyes and the cerebellum. (Helpful tips: please remove when driving.)
With the help of high-tech fashion, critics can stay cool about the Book of Mormon and quickly dismiss the text as wooden, unimaginative, ridiculous, a slavish copy of the Bible and many dozens of other text (without slavishly copying any of the literary value of those texts it is plagiarized from) — the easily exposed work of a weak mind.
Those who are less conscious of the world's fashion standards face a more difficult and complex adventure with the text.
Without that fashion accessory, reading the book can become much more difficult. They face complex literary issues that bring out rich meanings and connections. They face confusing topics like chiasmus and Hebraic poetry. They face hidden wordplays that abound in the text, showing strong Hebraic influence.
Simple little details, like use of the word "directors" or the mention of Abish in the Book of Mormon, can become fascinating detours with high literary value.
And then there's the task of correlating Book of Mormon settings and culture with Old World and New World places, such as the many "direct hits" between First Nephi and the Arabian Peninsula, and the many "correspondences" between Mesoamerica and the Book of Mormon in the work of John Sorenson and others. Too much work! Keep up with the latest styles and your reading will be much easier.