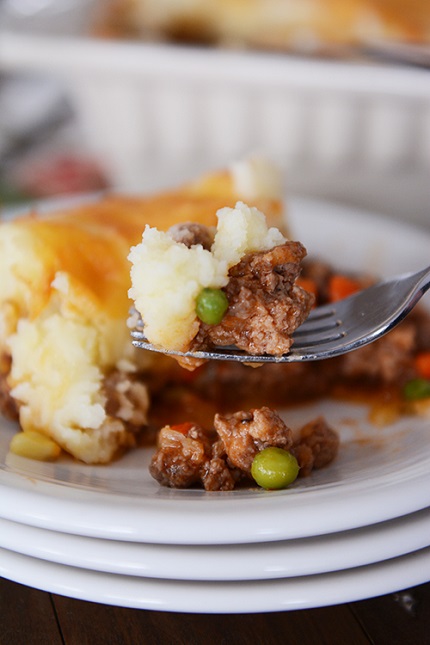 There are about a hundred reasons I should not be posting a recipe for Shepherd's Pie, the least of which is how many times I've badmouthed it over the years. I'm sure if you've read this blog for any amount of time, you've heard me lament.
I'm not sure who I am and how I got here, but I'm doing a complete 180 today. I can honestly say that I never, ever thought I'd be posting a recipe for Shepherd's Pie. For that reason alone, you know it has to be good.
Thanks to Danielle, a sweet reader who emailed me and nicely, but forcefully, told me I needed to give Shepherd's Pie another shot, I think I've been converted. Danielle, like me, had been traumatized by the instant mashed potatoes, canned green beans and microwaved hamburger Shepherd's Pies of her youth.
However, when a friend of hers brought "the most delicious Shepherd's Pie" she had ever had, Danielle knew Shepherd's Pie needed to be part of her life (and mine, too).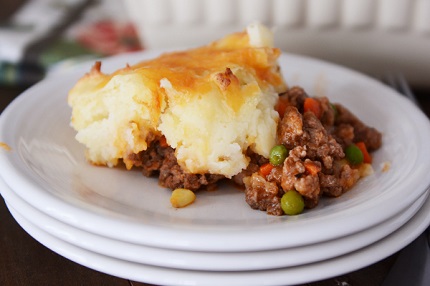 So here's the deal, this version of Shepherd's Pie might look like a bit more work than using a lot of instant products, but I'm going to go out on a limb here to say that homemade mashed potatoes is the first step to reinventing this classic.
And unless you have an egg allergy, don't skip stirring in that egg yolk. It might seem unneeded, but it lends such a delicious, rich creaminess to the mashed potatoes that you'll be wanting to eat Shepherd's Pie every night for the next decade.
And the meat filling. Flavor. FLAVOR! Hearty and delicious, it's fabulous and doesn't take that long to put together. I have a hard time finding ground lamb in my neck of the woods, but I've made this several times with different varieties of ground meat and it is stellar each time (I've included some notes below the recipe title).
I wasn't quite sure what the fam would think about Shepherd's Pie. My kids had never eaten it before but they had heard me talk about how they should never, ever make me Shepherd's Pie on my birthday. They knew the history, and my baggage had become their baggage.
Surprisingly, they liked it. A lot. I knew it wasn't just a matter of being nice, like sometimes happens: "yeah, mom, this experimental recipe filled with olives and eggplant is greeeaaat except let's not ever have it again ever, ok?" when I spotted this on my 9-year old's annual birthday survey: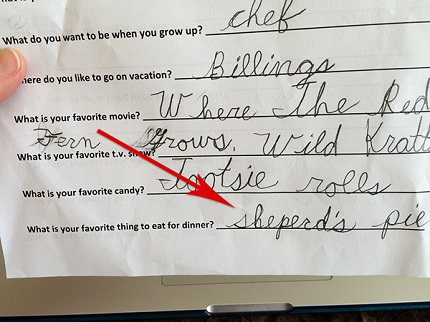 For pure comfort food at its best, this Shepherd's Pie can't be beat.
And on a completely random side note, little Cam (2 1/2 years old) thinks it's called "Cow's Pie" and we have been unable to convince her otherwise. You can imagine how the boys still giggle over that one, especially when she asks: "We having cow's pie for dinner, mom?"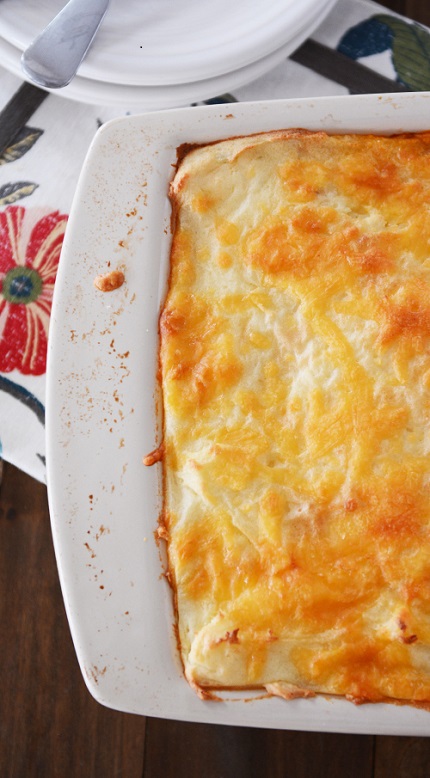 Shepherd's Pie
Yield: Serve 8
The ingredient list looks daunting but I promise this all comes together quickly. While the potatoes are boiling, I start the meat and vegetable mixture. Multi-tasking is your friend. You can use a variety of different ground meats here. I've made this once with just ground turkey and another time with a combination of ground beef and sausage. Yum! Danielle, who sent me the recipe, uses ground lamb and sausage which would also be delicious (ground lamb is a bit hard to find where I live).
Ingredients
Potato Layer:
3 medium russet potatoes, peeled and chopped (about 4-5 cups)

2 tablespoons butter

1/2 - 1 cup milk

1/2 cup Parmesan cheese

1/2 cup shredded sharp cheddar cheese

Salt and pepper

1 teaspoon garlic powder

1 egg yolk
Meat Filling:
2 - 2 1/2 pounds ground beef, turkey, lamb, or sausage (or a combination of any)

1 cup chopped onion

2 large carrots chopped small (about 1 cup)

2 cloves garlic, finely pressed

1 teaspoon salt

1/2 teaspoon black pepper

3 tablespoons flour

1 tablespoon tomato paste

1 1/4 cups low-sodium beef or chicken broth

1 teaspoon Worcestershire sauce

1/4 teaspoon dried oregano

1/4 teaspoon dried thyme (or 1 teaspoon fresh)

1/4 teaspoon dried rosemary (or 1 teaspoon fresh)

1/2 cup frozen corn kernels

1/2 cup frozen peas

1 cup shredded sharp cheddar cheese
Directions
Preheat the oven to 375 degrees F. Lightly grease a 9X13-inch pan with cooking spray (I've also used a slightly smaller ceramic casserole dish with good results, too, just makes the layers slightly thicker).

Place the potatoes in a medium saucepan and cover with 1-2 inches of water. Add a teaspoon of salt. Bring to a boil and cook for 15 minutes or so (it will depend on how large or small the potatoes are cut) until the potatoes are tender.

Drain the potatoes and return to the pot. Mash the potatoes lightly. Add the butter, milk (start with 1/2 cup and add more if needed), Parmesan and cheddar cheeses, salt and pepper to taste, and garlic powder. Mash together until smooth and creamy. Stir in the egg yolk until combined.

For the meat and vegetable mixture, in a large 12-inch nonstick skillet over medium heat, add the ground meat, onion, carrots, garlic, salt and pepper. Cook, breaking the meat into small pieces, until the meat is no longer pink and the vegetables are starting to soften, 5-7 minutes or so. Drain any excess grease from the mixture.

Sprinkle the flour over the meat and cook over medium to medium-high heat for a minute or so, stirring constantly. Stir in the tomato paste, broth, Worcestershire sauce, oregano, thyme, and rosemary. Bring to a simmer and continue to simmer gently for 10 minutes.

Stir in the corn and peas.

Pour the meat mixture into the prepared pan. Spread the mashed potatoes over the top all the way to the edges of the pan creating a seal over the meat mixture. Sprinkle the 1 cup cheddar over the top of the potatoes.

Bake for 35-40 minutes until the edges are golden and the casserole is bubbling. Let it rest out of the oven for 10 minutes before serving.
Recipe Source: adapted from a recipe sent to me by a reader, Danielle, who got it from a friend and convinced me I needed to give Shepherd's Pie another shot (I reduced the butter and cheese a bit and changed up the spices and meat based on what I had on hand) — it looks very similar to this recipe by Alton Brown; no wonder it's good!