On a recent flight in the US, I sat next to an officer of Covenant Transport, a publicly traded trucking company (NYSE: CVTI). I was impressed to see this man reading a Bible as he was preparing for some of his ministering to impoverished families in trailer courts in his community in Texas.
On that flight I learned a lot about a very good Christian man, a remarkable trailer park ministry, and a courageous company.
Covenant Transport is respected and despised, depending on your stance, for daring to put a simple message on the back of its trucks: "It's not a choice, it's a child." What a surprisingly bold action for a company that has to answer to stockholders.
Mock them if you will, but that simple statement takes real courage in a society that is increasingly intolerant of religious and conservative speech.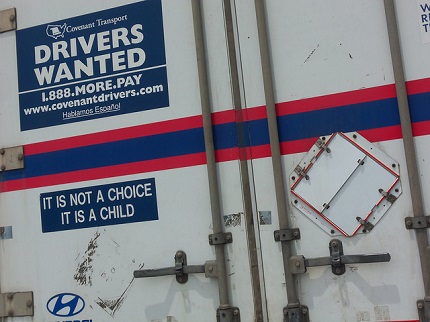 Untitled by Daniel Oines, on Flickr
The company has apparently received many testimonials from people saying that their message came at a critical time and helped a woman make the right decision, sparing an unborn child from a violent end.
My use of the word "violent" is not just rhetoric. For all the talk about choice and rights, for all the misinformation about the nature of the fetus, the final brutal reality of abortion is that it is an act of violence, sometimes gruesome violence, against a distinct and vulnerable being.
The more we learn about prenatal development, the more we learn just how ignorant and primitive the science was that was used to justify the decision in Roe vs. Wade.
To argue that the fetus is not human and lacks rights because it may not yet be viable outside the womb massacres sound science and moral reasoning (and paves the way for satires such as my old Planned Unparenthood organization with retroactive abortion rights for parents of teenagers who still don't seem very viable on their own).
Even if the Court's viewpoint was somewhat excusable in light of the primitive and often highly questionable information it relied on for its 1973 decision, it is utterly inexcusable today.
What a shame that our children grow up carefully insulated from the scientific information that would devastate the foundation of this ugly ruling. Rather, they are frequently told that an unborn baby is just a clump of pink cells that is part of the mother's body. Removing it is not much different than removing a mole or trimming toenails.
For an eye-opening review of the bad science and bad legal reasoning applied by the Supreme Court in Roe v. Wade, see Abuse of Discretion: The Inside Story of Roe v. Wade by Clarke D. Forsythe (New York: Encounter Books, 2013). Chapters 4 and 5 deal with some of the medical and scientific flaws in that decision.
Among the key scientific flaws, the Court relied on seven "studies" that allegedly proved that abortion was safer than delivering a child. None of these was an actual peer-reviewed study or a legitimate source of real date. One was just an editorial written for a magazine.
Others were largely assertions and opinions rather than presentations of hard data. But this line of reasoning morphed into "established scientific fact" that was then used to justify the compelling interest of the State in enabling abortion rights to protect women.
The issue remains a complex one. The common claim that abortion is safer than childbirth relies upon an apples-and-oranges comparison since abortion mortality statistics are voluntarily reported and notoriously underreported, with strong financial incentives to underreport, while childbirth statistics are subject to well-developed mandatory reporting and if anything are inflated by the way numerous other sources of mortality (e.g., deaths of pregnant women by homicide, abortion, accidents, etc.) can be grouped together into childbirth mortality statistics.
But a great deal of evidence, both available in 1972 and more abundantly available today, undercuts the scientific and medical arguments made by the Supreme Court on multiple issues such as safety, viability, and personhood.
Apart from the poor science used to erase the human rights of the victims of abortion in Roe v. Wade, even many liberal legal scholars agree that the decision was also highly flawed in its legal and moral reasoning. Forsythe's book further exposes this case as one of the most atrocious in legal history.
I applaud Covenant Transport for having the courage to remind people of the truth about the unborn. I am not saying their approach is for everyone who treasures the miracle of life as a divine gift to be respected, but their example is one we can all learn from.
There are times when a simple but bold statement of truth can overcome years of misinformation and touch a soul for good. May we have the courage to speak truth in this and other fields in appropriate ways, when moved upon by the Spirit, without fear of what others will say.