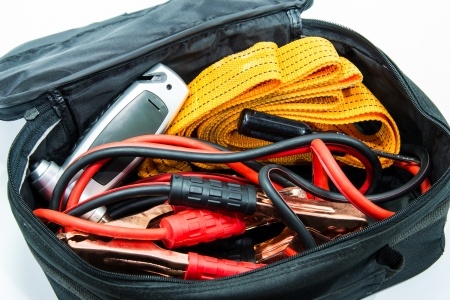 Whether living in the city or commuting a distance, you should always be prepared with a good kit in your car. For city dwellers we all know we can be stuck at work for the night due to power outages, civil disruptions, weather, or a variety of other reasons. Having a good kit in your car can make this overnight an adventure rather than a drudgery.
If you should have to, or choose to, leave the city due to a disaster of any kind, having a kit already to go in your car may save valuable time as you attempt to beat the inevitable traffic nightmares.
Imagine trying to flee a dangerous situation, only to have a hose burst. Imagine being stuck on the road in an hours-long traffic jam during a blizzard or heat wave. Your car(s) is an important part of any emergency plan. Boring maybe ó essential,yes.
This week gather as many of these items as possible from around the house and make a list of items you will need to purchase. These may include:
Flare and/or Emergency 12-inch glow sticks/emergency triangles.

Two quarts of oil.

Gallon of antifreeze.

Jumper cables.

Extra hoses.

Extra fuses.

Multi-purpose tool.

Tire inflator (such as a Fix-A-Flat).

Tire pressure gauge.

Tools appropriate for working on the vehicle.

Work gloves.

Set of maps marked with evacuation routes.

Emergency contact phone numbers.

70 feet of rope. Use to help tow your car out of a snow bank or to make a shelter.

Tarp. A tarp is great for creating shelter or placing on the ground when putting on chains

Plastic trash bags for sanitation and protection from the rain and snow.

First aid kit including basic medications.

First aid guide.

Wool or wool blend blankets or sleeping bags. Wool blankets will keep you warm even after they get wet.

Number ten can to be used to scoop snow or water, build a fire, heat food, etc.

Waterproof matches or lighter.

Fire starter.

Mylar emergency blanket. Several. They are small, cheap and can be used in dozens of ways. Great for warmth, shelter, lining shoes and boots to keep feet dry, signaling to rescuers, and on and on.

Flashlight and extra batteries (not stored in flashlight).

Glow sticks. These are wonderful for light at night inside the car, because they won't run down batteries.

Roll of paper towels and/or rags.

Spray bottle with washer fluid

Rain poncho. Light colors are best, yellow or white, because they allow you to be seen in the dark.

Ice scraper.

Small folding shovel.

Set of tire chains or traction mats.

Kitty litter or a bag of sand (to give traction if you get stuck in snow or ice)

Pen and paper to leave message.

Help sign.

Survival energy bars or other longer term food. Emergency energy bars that are rated with a five-year shelf life are perfect. They taste great and the cold weather won't affect them. Nothing with salt should be stored.

Survival packaged water. Emergency water pouches are perfect for this. Should they freeze they will not burst. Glass containers are dangerous, plastic bottles may burst.

Water filter.

Bright orange safety vest.

Sewing kits.

Whistles. Whistles are great to signal rescue workers and also to keep track of anyone who is leaving the car to look for help. Plan to blow a whistle every few minutes if someone is leaving the car to look for help. This will help those venturing out find their way back to the car and also let them know when they are getting too far away and should return to the car. Do not leave the car to search for assistance unless help is visible within 100 yards. You may become disoriented and lost in blowing and drifting snow. It may be necessary to search for firewood or to signal rescuers. Tie the rope around your waist and once the rope is "used up" it is time to return to the car. Consider developing a family whistle pattern that can be recognized when you become separated. Think morse code as an example. A unique whistle pattern will help you to recognize each other and as you keep blowing you will be lead to each other.

Change of clothing and sweater and/or jacket.

Hat, and gloves and/or mittens.

Sunglasses and sunblock.

Cash in small denominations, nothing bigger than a $10.00 bill.

Car cell phone charger.

Moist towelettes. You need for washing hands after meals and after a potty break.

Umbrella.

Hygiene supplies/feminine supplies.

A book, games, cards to keep you busy and calm in the event you get stuck.
Are you in need of help learing to save money? How about determining which non-food items are essential to store? Visit Carolynís facebook page today https://www.facebook.com/TotallyReady.