Tommy was a mentally retarded man who crossed paths with us many years ago. He was a ward of the state, growing up in the state school for the mentally retarded. I told his story last year, here.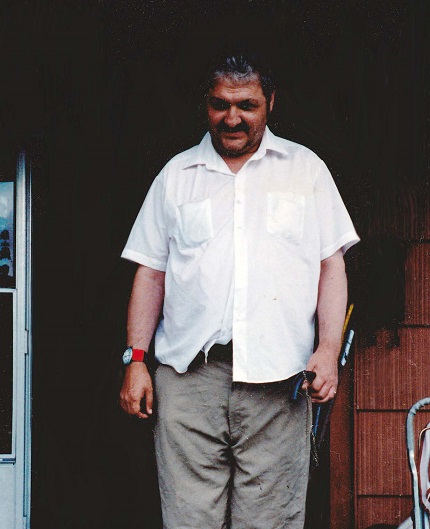 Tommy
We had no legal tie or obligation to Tommy, except as we accepted one. We were not related, and we were not required to take care of him, but my husband was the only person he consistently had through the years. Every file at social services or group home or hospital included Bill's name and number.
There were numerous ups and downs with this connection; it could be maddening, frustrating, and wearing, yet it also made a visible difference in this one life. My husband settled into a definition of what he could do and what he could not do, and did all he could to make good on his personal commitment.
Tommy had public transportation service on the handicapped shuttle. About seven years ago, he was a passenger when there was an accident, and suffered minor injuries that required some treatment. My husband stepped in and took care of all the insurance issues and inquiries, and kept track of the bills.
He explained to Tommy that he was entitled to a small settlement above the actual bills, emphasizing the word "small."
"Is there anything you need to buy that you don't have the money for on your disability check? Is there anything special you'd want to do if you had a chance?"
"Yes," Tommy answered. "I want to go to Disneyland. I've never been to Disneyland, and I want to go."
"You'd need to go on an airplane, and you'd need to stay somewhere and have a way to get around. How would you do that?"
"You can come with me. Can we go to Disneyland?"
Well, my husband is a kid at heart, who will jump at any chance to go to Disneyland. We took our kids twice, once before our youngest was born, and then once when the older ones were grown and gone. It was something he had done before, but that in no way diminished his desire to go again. So the quest was on.
Once all the bills were in, my husband started negotiating. He had priced a package with airfare for two, tickets to the theme park, a rental car and a hotel, and factored in the cost of meals. The case wasn't worth the time of a law firm, but he was doing this as a service.
When the insurance adjuster tried to push for a firm line that wasn't quite enough, he explained the situation. He was an attorney, but he wasn't taking a fee; this was a personal service. Here was a fellow who just wants to be able to go to Disneyland, something he will never be able to do otherwise. The settlement amount was bumped up just enough, and Bill made the reservation when the check arrived.
He hadn't quite bargained for the weariness of pushing someone in a wheelchair for three days; he exercised patience with the incessant small demands that Tommy bombarded him with. He was worn out, happy to be done and get home, but he was glad he had been able to make the trip happen because Tommy had the time of his life.
He got to go to Disneyland. He got to see the various characters — he was especially excited with the Disney princesses like Sleeping Beauty — and have his picture taken with them. There were people and things going on everywhere, and rides that had been built to accommodate wheelchairs. That trip was undoubtedly the best thing he ever got to enjoy on this earth.
Tommy eventually was placed too far away for my husband to see him and do the movie and a burger routine that had been running for so many years. He was not back in our county until he was hospitalized because his health had seriously deteriorated.
When Bill talked with him near his last crisis, Tommy had come to terms with the fact that he was near the end. Tommy wanted his temple work done, and Bill promised to do it.
The year ran through its months, and summer came again. The required year's wait was over, but Bill was uncertain of just how to set it up, and there were a lot of other things to deal with. I bit my tongue sometimes when I wanted to press; I knew my husband had not forgotten. I imagined Tommy waiting, but I knew it would happen.
Summer was past, and the months of fall were marching forward. Tommy was on my husband's mind, and I assured him that all he had to do was go to the family history center where someone would be happy to help him. His schedule and their schedule just seemed to be at odds every week.
Then the ward announced another temple trip with a chartered bus. An endowment session for adults, and a baptism session for the youth and new members. The date? It was Tommy's birthday. We couldn't let that pass, he agreed.
He got to the family history center at the beginning of the week with Tommy's information and a good brother there entered it and set it up. Now there was one concern on the scheduling — there were preliminary ordinances to take care of before the endowment session could be done.
Normally that would not be a problem; we would just go early and do it all on the same day , but with a bus running on a schedule, we weren't sure if that would work. Bill called the temple, and their answer was that "probably" it could be done within the time frame. Probably, but not certainly.
Bill had been dragging for two or three weeks, not becoming really ill but not feeling well, and I worried a little that he would end up not even being able to go on Saturday. Also, he kept getting crisis calls from all sides, eating up his time. Satan was trying to push buttons and set stumbling blocks, I'm sure. We prayed for help for Saturday's need.
He came home in the early afternoon on Thursday and told me that he had solved the problem of the day and he had two more things to do, after which he would take off for the temple and go do the preliminary ordinances. His head was clear, he felt well, and he was already dressed because he had been in court.
He would be home when he was home, because he knew he would be hitting rush hour traffic going up. (The temple is forty-five minutes away plus traffic; without being able to use the carpool lane traffic could be at a slow crawl.)
He was home about eight o'clock that evening, and it was a sweet experience to join our ward friends on Saturday's bus and tell some of them the story. I was given a family name from one of our friends and temple students, who was going to the baptistry with the youth instead of on the session. I got to stand in where she would have served, so I had a tender service of my own to offer.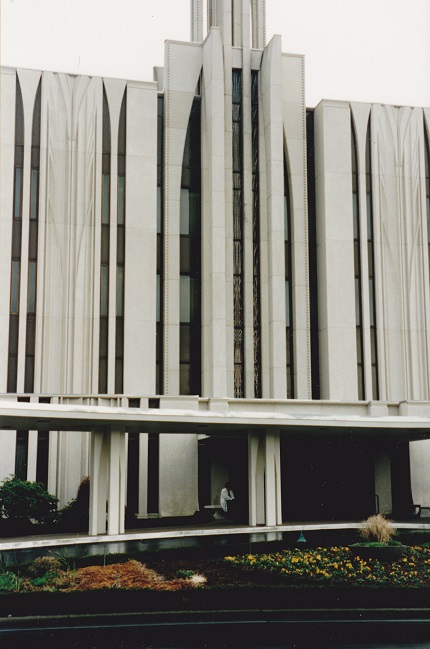 Seattle Temple
We had a good session, and a sense of completion. Promises made, promises kept, and the process was complete in all that it was possible to do for this man who had labored under such deficits in his earthly life.
I heard echoes in my mind of the inevitable phone calls every year as December approached. It's almost my birthday, don't forget my birthday is December 13. What are you going to do for my birthday? The response was always, we'll go do our movie, I know it's your birthday, I haven't forgotten.
What are you going to do for my birthday, Bill?
I'm going to take you to the temple, Tommy, just like I told you I would. I didn't forget you.
And when we do meet again, it will be for the first time with Tommy's truest self, unimpaired, and with joy unrestrained.