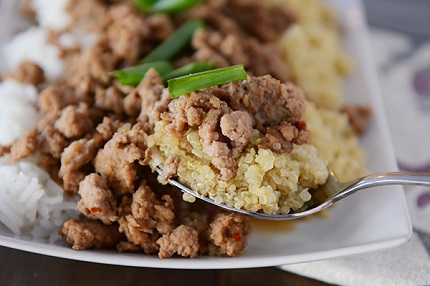 Anyone else playing major catch up after the holidays? I haven't even thought about New Year resolutions (snore), I'm seriously still trying to crawl out from piles of laundry and chocolate.
If you are like me (high five?? or not…), let's all give a little cheer for this 20-minute meal that most likely will save your bacon sometime in the near future. It has for me, that I know. I've been making it for months now, tweaking it here and there, and the fact that it can be thrown together in 20 minutes nearly makes me weep.
We love the simple, Asian flavors; it's delicious served over rice or quinoa but let me tell you, it's equally divine as a lettuce wrap or a combo of all (see the notes below the recipe title).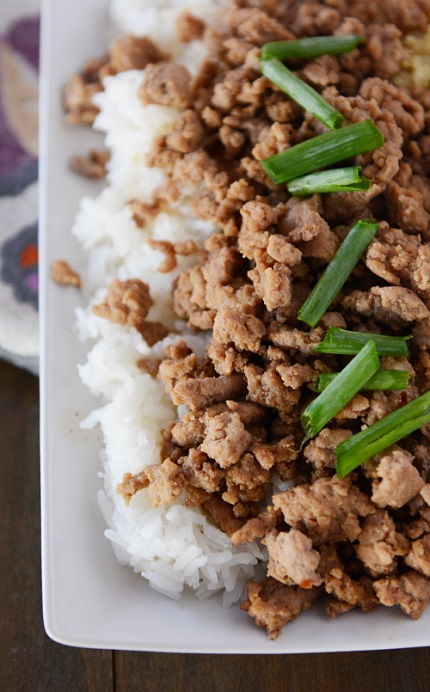 Interestingly enough, I've actually been to Korea (in a past lifetime, more than 16 years ago when my brother dragged me there to go backpacking and I ended up with a really, really bad stomach issue after eating raw cow liver; delightful experience, really) and it should come as no surprise that I didn't taste anything in Korea remotely close to the recipe I'm sharing today. That may be a good or bad thing, depending on how you view life.
And since we are talking false advertising here, I should probably mention that "beef" is used loosely as I alternate between ground beef, ground turkey and have even used ground chicken with super stellar results. Any way you look at it, this quick, weeknight meal is a staple in our dinner rotation. Fast, easy, tasty and healthy! As I like to say: no better way to bring on 2015 than a meal that could save your sanity.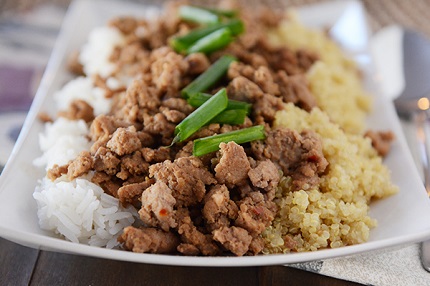 Korean Beef and Rice (Or Quinoa)
Yield: Serves 6 (or more as an appetizer)
I've made this dozens of times and it can be varied in a lot of ways for serving: use rice, quinoa — or both. We also love it in lettuce wraps or we line our bowls with romaine lettuce, scooped in some quinoa/rice and a spoonful of the meat mixture. Delicious!
Ingredients
1 1/2 pounds ground turkey or ground beef or ground chicken

3 cloves garlic, finely minced

Salt and pepper

1/4 cup brown sugar

1/2 cup low-sodium soy sauce

1/4 cup low-sodium chicken or beef broth

1 tablespoon sesame oil

1/2 teaspoon red pepper flakes plus more to taste or 1 teaspoon chili-garlic sauce

1/4 teaspoon ground ginger or 1 teaspoon finely chopped fresh ginger

3 green onions, chopped

Hot, cooked rice or quinoa for serving
Directions
Start the rice or quinoa, cooking according to package directions (usually about 15-17 minutes cooking time).

While the rice/quinoa cooks, in a large, 12-inch nonstick skillet over medium heat, add the meat, garlic and 1/4 teaspoon salt and pepper. Cook, stirring to break the meat into small pieces, until the meat is cooked through and crumbly, about 7-10 minutes. Drain any excess grease.

In a liquid measuring cup or bowl, whisk together the brown sugar, soy sauce, broth, sesame oil, red pepper flakes (or chili-garlic sauce), and ginger.

Stir the sauce into the meat and simmer over medium heat for 5 minutes or so.

Serve over hot, cooked rice or quinoa, topped with the chopped green onions.
Recipe Source: adapted from Damn Delicious (used less sugar, took out the cooking oil, increased meat slightly and added more liquid so it wasn't dry, varied the other ingredients)