Editor's note: Okay, so it's the day after Christmas. You're still eating leftovers, aren't you? There are still cranberries in the supermarket, aren't there? This recipe is too good to pass up.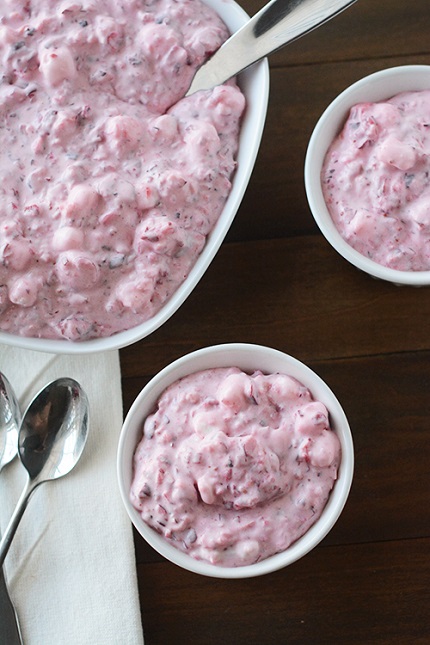 Special occasion. That's what this salad is screaming. If you can't hear it, just take my word for it. I made it last year and have spent approximately 11 1/2 months waiting to share it with you. To me, it belongs to Christmas, but you really could make it anytime you can get your little hands on fresh cranberries.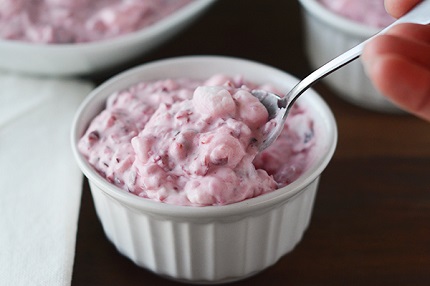 I don't generally use mini marshmallows in anything but the occasional rice krispie treat for the kids and was skeptical last year when I made this that I could justify the marshmallow-effect, but after making, loving and devouring, I've decided that once a year, mini marshmallows belong in my salad and on my table.
The entire combination — tart cranberries, sweet pineapple, marshmallows, a touch of cream cheese, and rich cream — is so amazing, it almost defies words. Make sure to plan ahead as the salad tastes worlds better after hanging out in the refrigerator for a while (at least 4 hours but up to 12 is even better) — the texture goes from ordinary to fluffy, creamy, fruity magnificence.
Beautiful, festive and delicious!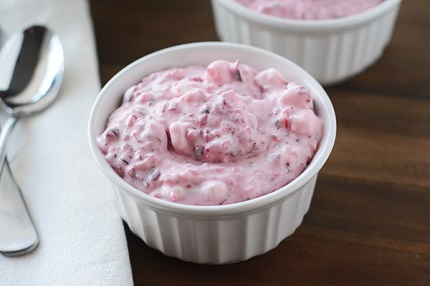 Cranberry Fluff Christmas Salad
Yield: Makes about 10 or so 1-cup servings
The salad may seem a bit liquidy when you first stir it all together. Don't worry — that's why it's important for it to chill for a while (and to make sure your cream is beat to stiff peaks when you add it) before serving. It will set up perfectly and the flavors will have a chance to blend together.
Ingredients
12-ounce package fresh cranberries

1 cup sugar

8-ounce can crushed pineapple, undrained

2 cups mini marshmallows

4 ounces cream cheese, softened

2 cups heavy whipping cream
Directions
In a food processor (you can use a blender or by hand, also), pulse until the cranberries are coarsely chopped. I don't like really large pieces so I chop them until they are somewhat finely chopped without turning to complete mush.

Add the sugar and pineapple, pulse once or twice, and pour into a container. Cover and refrigerate for at least an hour to let the flavors blend.

Stir in the marshmallows.

In a medium bowl, beat the cream cheese until smooth. Pour in the cream and whip until stiff peaks form. Fold the creamy mixture into the salad.

Cover and refrigerate for four hours or up to overnight. It tastes best, in my opinion, if it has at least 8 hours to hang out before serving.
Recipe Source: adapted from Sally at Good Dinner Mom (omitted the nuts, added cream cheese for texture and to stabilize the whipped cream)