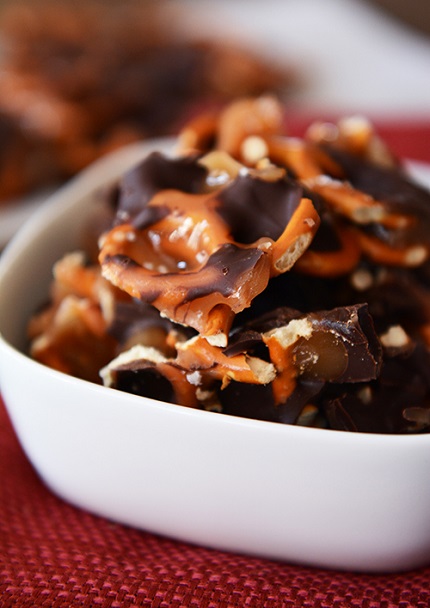 A while ago, while wandering the aisles of Samís Club back when I had to drive two hours to get there and I took full advantage of looking at every.single.item, I spotted a little package of chocolate yumminess basically consisting of pretzels doused in caramel and chocolate with a sprinkling of sea salt.
And I knew I had to try it.
Admittedly, Iím a total sucker for anything dark chocolate packaged up in a little bag and marketed to seem specialty or gourmet. Those people know exactly who I am and how to get me to buy their stuff.
This pretzel caramel concoction (to the commercial world, called Snappers) is insanely delicious. I literally had to force the bag into other willing hands in order to stop before the point of no return and ruin every workout I might (key word being might) undertake for the next six months.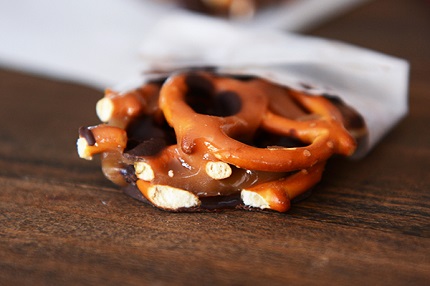 Of course, before handing off while devouring piece after piece, I had a lot of time for research and I realized that the ingredients + the cost = me totally making this one at a home.
Itís so simple, it almost defies a recipe but here you go. Chocolate, pretzels, caramel, chocolate, sea salt. And most of those lovely ingredients are basically just dumped on each other in a very unfancy-like manner.
Itís salty and sweet and chewy and rich and totally amazing.
I took my delicious, buttery classic caramel recipe, cut it down and adapted it for this recipe. Easy, peasy. This is definitely my new favorite holiday treat. Iím well aware of my weaknesses and this divine treat is right up there. The minute I made it, I packaged it up and gave it far, far away.
For the past several years, Iíve done a fun and sweet Sugar Rush series. You can check out all the festive Sugar Rush recipes HERE Ė this list is filled with the best holiday baking recipes plus some gift-giving and packaging tips! Iíll be unofficially adding to it this month, as well as giving you some fabulous savory (and even a few healthy!) recipes for the holidays, too.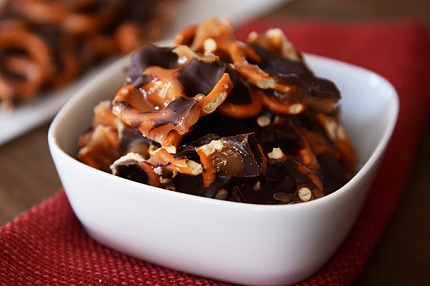 Dark Chocolate Sea Salt Caramel Pretzel Bark
Ingredients
Caramel:
6 tablespoons butter

1/4 teaspoon salt

1/2 cup light corn syrup

1 cup granulated sugar

1 cup cream, divided (you'll use half at the beginning and the other half later on)

1/2 teaspoon pure vanilla extract
Other:
8 ounces pretzel twists (half of a regular 16-ounce bag)

12 ounces chocolate chips or chopped baking chocolate, divided

Sea salt for sprinkling
Directions
For the caramel, in a medium heavy-bottomed saucepan, add the butter, salt, corn syrup, sugar and 1/2 cup cream. Set the pot over medium-low heat and gently melt the ingredients until the mixture is smooth and the butter is completely melted (don't rush this step by cranking up the heat).

Increase the heat just slightly to bring the mixture to a simmer. Clip a candy thermometer to the side of the pot and simmer on medium-low (or whatever temperature needed to maintain at a simmer without burning) without stirring until the caramel reaches 236 degrees.

Pour in the remaining 1/2 cup cream and again, without stirring, cook the mixture until it reaches 245-248 degrees on the candy thermometer. Off the heat, swirl in the vanilla.

Let the caramel rest for 10-15 minutes before using.

Meanwhile, line a large, rimmed baking sheet with parchment paper.

Melt 8 ounces of the chocolate gently in the microwave or in a double boiler until smooth (don't overheat or it will seize or bloom, which is when it gets the white, grainy streaks throughout). Spread the chocolate evenly over the parchment. Before it sets while still wet, sprinkle about 8 ounces of the pretzel twists over the top. It's ok if the pretzel twists are overlapping a bit. Gently press them into the chocolate (the caramel will act as the glue that keeps everything together).

Once the caramel has cooled just slightly, drizzle it across the top of all the pretzels. Let the entire mixture rest for an hour or so until the caramel and chocolate have cooled and set.

Melt the remaining 4 ounces chocolate and drizzle it over the top of the caramel/pretzels. Sprinkle with sea salt. Let rest until the chocolate on top has hardened.

Tear or cut into pieces to give as gifts or to eat (be careful not to devour the entire batch!).
Recipe Source: from Melís Kitchen Cafť