Two recent reads give voice to LDS members who may or may not be what others consider "Mainstream Mormons." Yet both are legitimate reflections of the culture.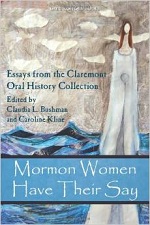 If you're looking for a sense of present-day attitudes of LDS women toward practically anything, you'll find it in Mormon Women Have Their Say, a collection of essays from the Claremont Oral History Project that demonstrates how we employ our faith in grappling with life every day.
(Claremont Graduate University is home to the first Women's Studies in Religion program in the U.S.)
Editor is Claudia L. Bushman, a hero of mine almost since the birth of Exponent II, a modern version of the periodical heralded by Eliza R. Snow in the late 1800s. Bushman has guided many grad student interviewers in recording the lived experiences that have shaped not only a woman's life, but the lives of those around her.
For this book, they've asked women how they incorporate the teachings and lifestyle of the Church. Then, they listened. The answers are as individual and unique as the women themselves.
In a more scholarly manner than the title would suggest, the writers have gleaned from the histories as they've examined LDS women's thoughts and expression on varied and sensitive topics such as singlehood, patriarchy, revelation, and infertility. These women speak frankly on how their religion informs their lives and vice versa.
In this carefully documented and caringly written collection of current histories with potential to be "put to multiple uses by multiples minds," Bushman has observed "more individual thinking and less conformity" than in the past. Noting that many of the narrators here don't ordinarily speak out, she reminds us in the introduction, "Writing our own stories empowers us."
Hooray for the Claremont Oral History Project for giving Mormon women another voice (Greg Kofford Books 2013, 313 pages in soft cover, $31.95).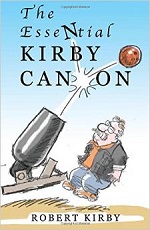 About as unscholarly as you can get and reeking with attitude is the latest collection of Salt Lake Tribune columns by Robert Kirby, once a beloved cohort of mine at a newspaper. (He's still beloved, just no longer a cohort.) The Essential Kirby Canon reflects "20 Years of Shooting from the Hip" in 140 pages (Zion Book Works, paperback, $9.95).
He's still lampooning the Utah Mormon culture, but this Kirby is a softer and more version of the one in previous volumes (and years). While there's still wry humor (launching bowling balls from cannons — really?), there's also a lot more introspection and philosophizing ("One of the toughest jobs in life is to be yourself when you're stuck in the middle of everyone else").
Deeper threads are woven as he explores dressing the part for a pioneer trek, his wife's penchant (and his disdain) for vegetable gardening, the essentials of an emergency kit, the dogs that have "peopled" his life, and coping with "faithful" members who see him and his Trib column as a tool of the devil.
There's a tender essay on seeing friends lose a son to murder, and an open letter to anyone contemplating suicide. The caring that followed a serious car accident involving neighbors demonstrates the "positive side to the congregational microscope my ward lives under."
This Kirby reflects a connection with humanity while recognizing human beings — himself included — as unique individuals.