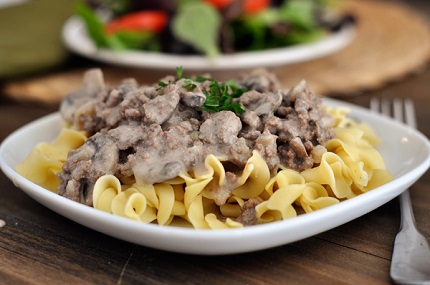 There is absolutely nothing fancy about this meal. But man, it makes for a great, quick weeknight meal.
My kids love stroganoff. Whenever we have it (and we have several recipes that are made often, including this one), statements like the following are rampant, "Mom, I love stroganoff" and "I'm totally having stroganoff for my birthday dinner" and "Stroganoff is the nectar of the Gods."
Ok, so they've never said that last one but I'm pretty sure they'd agree if they had any idea what it means. To be honest, I think they just like saying the word "stroganoff." Pretty fun and exciting if you are 6 years old and get a kick out of saying random words over and over.
The stroganoff version today is a remake from the classic creamy ground beef stroganoff I grew up eating. Nothing against that version (promise, Mom!) but we greatly enjoy this equally fast and yummy stroganoff made with a simple homemade sauce instead of cream of mushroom soup.
It's such a perfect weeknight meal and the flavors are down-home delicious. Here's my disclaimer: this meal will not win you awards and fame for gourmet cooking, but it will provide a wonderfully tasty, hearty meal for the enjoyment of all. Sometimes that's about all you can ask for and I'm totally ok with that.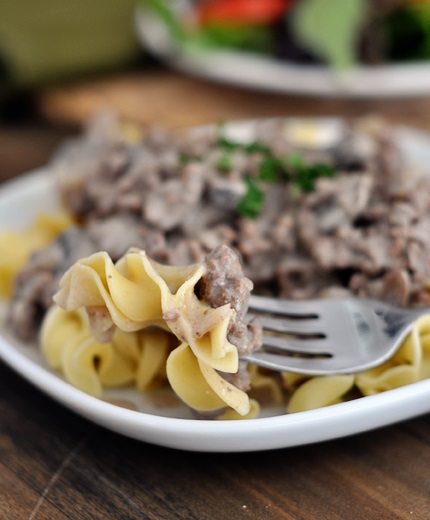 Delicious Ground Beef (or Turkey) Stroganoff
Yield: Serves 4-6
Ingredients
1 1/2 pounds lean ground beef or turkey

1 small onion, chopped (about 1/2 cup)

1 clove garlic, finely minced

1 teaspoon salt

1/2 teaspoon pepper

8 ounces sliced white button mushrooms

4 ounces light cream cheese, cubed

2 cups low-sodium beef or chicken broth

1/2 cup low-fat milk

3 tablespoons flour

1/2 cup light sour cream

Salt and pepper to taste

Cooked egg noodles or rice for serving
Directions
In a large nonstick skillet, cook the meat, onion, garlic, salt and pepper, on medium-high heat, stirring occasionally to break up the meat into small pieces, until the meat is almost cooked through but still slightly pink, about 5 minutes. Drain excess grease. Add sliced mushrooms and cook until the mushrooms are soft and browned and the meat is cooked through, another 5 minutes or so.

Add the cubed cream cheese and let the cream cheese melt over medium heat, about 2-3 minutes, before stirring in. Mix gently until the cream cheese is incorporated throughout the meat mixture. In a large liquid measuring cup, combine the beef broth and milk. Whisk in the flour until the mixture is smooth and there are no lumps of flour remaining.

Stir the beef broth/milk mixture into the meat and cook over medium or medium-high heat, stirring occasionally. Let the mixture bubble and simmer until slightly thickened, 3-4 minutes. Stir in the sour cream and add additional salt and pepper to taste. Serve over cooked egg noodles or hot, cooked rice. Sprinkle each serving with fresh parsley, if desired.
Recipe Source: from Mel's Kitchen Cafe