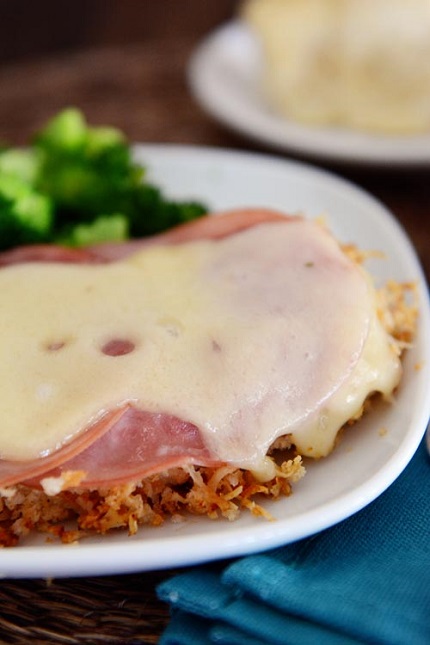 Super short intro for this fabulous recipe:
Make it.
How's that for concise? I'd spend more time waxing poetic except that it's my second son's birthday today and I'm trying to figure out how to make his birthday meal request (we take birthday meal requests very seriously around here) without kitchen countertops or a kitchen sink. Clearly we picked the wrong day to move forward with a few kitchen updates.
Good thing I once upon a time lived in a hotel for weeks on end with our family of seven (was that really two years ago?) and became a superhero expert at making anything (and I mean anything) in the slow cooker. But not this absolutely delicious, crunchy baked chicken topped with ham and Swiss – make it as written (sans crockpot).
It's flavorful, super easy and kind of reminds me of a laid back surfer's version of the more gourmet chicken cordon bleu.
Baked Ham and Swiss Malibu Chicken
Yield: Serves 6
If the chicken breasts you are using aren't thick enough to cut in half (to form two thinner pieces), pound them slightly and consider using a few more chicken breasts to equal the six pieces you would have if following the recipe instructions.
My favorite brand of ham deli meat is Hormel Naturals. The honey ham is delicious and works great in this recipe.
Ingredients:
3 large chicken breasts, cut in half to form two thinner cutlets (see note above)

Salt and pepper to taste

3 large eggs

1 1/2 cups panko bread crumbs

1 cup finely shredded Parmesan cheese

1/2 teaspoon salt

1/4 teaspoon pepper

2 teaspoons garlic powder

12 slices deli ham (see note above)

6 large slices of swiss cheese
Dipping Sauce:
2 tablespoons Dijon mustard

3 tablespoons mayonnaise

1 teaspoon yellow mustard

1 teaspoon honey
Directions:
Preheat the oven to 350 degrees F. Lightly grease a 9X13-inch baking dish.

Pat the chicken dry with paper towels and lightly season both sides with salt and pepper.

Whisk the eggs together in a shallow pie plate or dish. In another shallow dish, toss together the panko, Parmesan, salt, pepper, and garlic powder.

Dip the chicken into the egg mixture and immediately press it into the dry mixture, pressing the mixture into both sides of the chicken. Place the chicken in a single layer in the prepared baking dish.

Bake uncovered for 30 minutes. Remove from the oven and layer two slices of ham across each chicken piece, followed by a slice of Swiss cheese to cover most of the ham/chicken.

Return to the oven and bake for another 5 or so minutes until the cheese is melted.

While the chicken bakes, whisk together the dipping sauce ingredients.

Serve the chicken warm with the dipping sauce on the side.
Recipe Source: adapted from this recipe at Chef-in-Training (simplified the process – eliminated marinating in egg yolks, used slightly more ham and changed a few different ingredient amounts)