Editor's note: I'm running this recipe today in anticipation of running a recipe for Outrageous Eskimo Bars on Tuesday. This recipe is a component of the Eskimo bars, and you're gonna need it. If I forget to run Outrageous Eskimo Bars on Tuesday, feel free to mutiny. The Outrageous Eskimo Bars look truly — well, outrageous.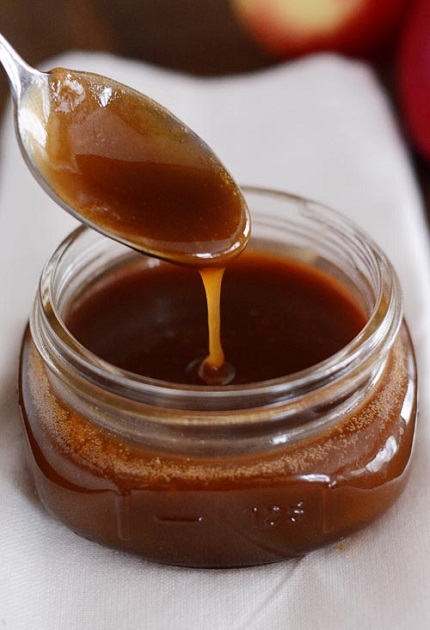 I gave you a sneak peek of this simple and delicious caramel sauce on my website (it appears prominently in this delectable pear crisp), but since I do truly believe it has a mission far greater in life than just fruit desserts, here it is posted in its singular glory.
A few suggestions for enjoying, if I may?
Apples, apples, apples (slightly cooled, the caramel sauce is luxuriously thick and perfect for apple or other fruit dipping)
Ice cream (seems almost too obvious)
To drizzle over these Banana Pudding Caramel Cream Trifles or for this Candy Apple Pie or as a topping for these 30-Second Chocolate Turtle Cookie Ice Cream Sundaes
By the spoonful (you know, on those kind of days that just call for a dip into the caramel sauce jar)
As an accessory to these Caramel Apple Cider Floats (my favorite fall drink)
As you can see: options = endless.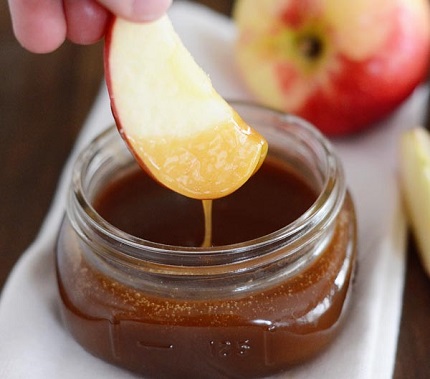 I have another caramel sauce (this divine version; and it is…divine). I'm not turning my back on it, nosiree, but I do have to say that this much easier version gives it a quick run for its money. Both of them are delicious and appropriate for when the time (or lack of time?) is right, but if caramelizing sugar on the stovetop makes you a bit nervous, this easy caramel sauce is for you.
I'm always surprised at the number of times I'm wishing I had caramel sauce at the ready and the number of times it's…well, just not hanging around waiting to be needed. Thanks to this recipe, caramel sauce is pretty much guaranteed to appear anytime, anywhere as long as I can finagle 10 quick little minutes (most of which don't require stirring or fretting).
With about a million ways in which to use it, this super simple caramel sauce has won a permanent place in my heart.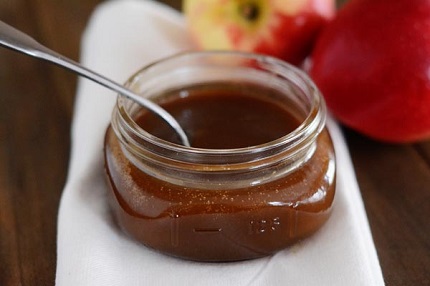 Easy 10-Minute Caramel Sauce
Yield: Makes 2 1/2 - 3 cups sauce
Ingredients
8 tablespoons (1 stick) butter

1 1/2 cups packed light brown sugar

1/4 teaspoon salt

1 cup heavy whipping cream

1 tablespoon vanilla
Directions
In a medium heavy-bottomed saucepan, combine the butter, sugar, salt and cream. Melt over low heat while stirring slowly and gently. Once all ingredients are melted, increase the heat to medium and bring the mixture to a boil. Boil for 10 minutes without stirring. Watch the heat closely. If it seems as though the mixture might be burning on the bottom (which can often happen if you are using a pan that isn't heavy-bottomed), reduce the heat as needed.

Remove the caramel sauce from the heat and carefully stir in the vanilla (stirring vigorously at this point and/or scraping down the sides can cause the caramel sauce to develop a grainy texture). Use immediately or let the sauce cool a bit before pouring into a container to refrigerate. The sauce can be refrigerated for several weeks.
Recipe Source: from Mel's Kitchen Cafe (after many batches of experimenting for a quicker, fuss-free version)