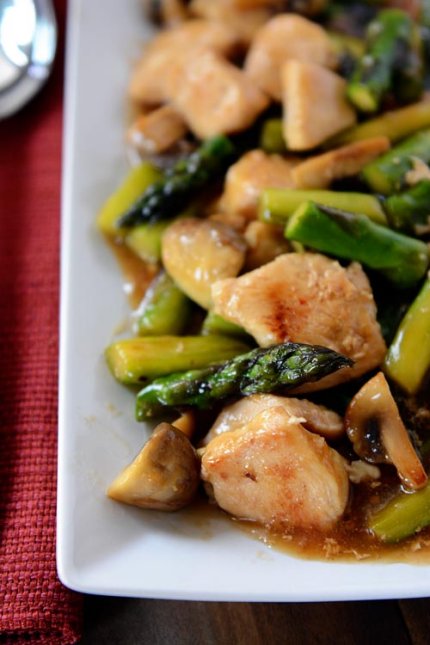 I hate to be bossy but if you like meals that are:
a) fast
b) healthy
c) rockin' with flavor
d) require only a skillet and a stovetop
then you probably should be on your way to the store for ingredients to this ginger chicken and asparagus stir-fry right.this.second (and a million extra credit points to you if you already have asparagus and fresh ginger just hanging out in the fridge like it's a normal thing to do).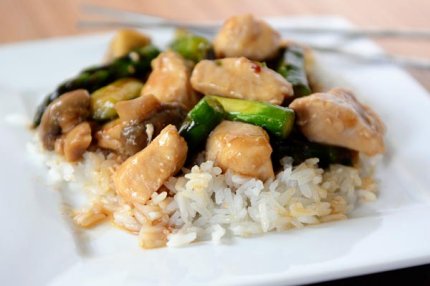 Who knew a little honey, a little ginger and a lot of love (ok, that was corny, sorry) could combine into one of the best meals all summer.
I actually took the time to peel the lower third of the asparagus with a vegetable peeler, even after the really tough ends are trimmed off, which I hardly ever do because I'm lazy and I usually have about 3 1/2 kids hanging on my legs clamoring for attention and/or yogurt instead of dinner and my coping skills are especially low with no time to invest in peeling wee little asparagus ends, but let me tell you, it was the most tender asparagus (as in, goodbye stringy asparagus ends) we've ever had which puts me in a difficult position for the future: continue to be be lazy? So, so, so, so tempting.
Or…change my ways and peel the asparagus stalks forevermore? This upcoming decision will probably be determined by the overall chaos and dirty dish level in my kitchen and any remaining sanity I have left as the dreaded dinner hour rolls forth. I'm not committing either way is what I'm saying.
No matter, because this meal is super-duper stellar regardless. So make it, ok? I love me a good stir-fry and this one is definitely leading the pack as a clear favorite right now. So easy, so delicious, so makeable, it's going to wheedle its way into your food loving heart, too. I just know it.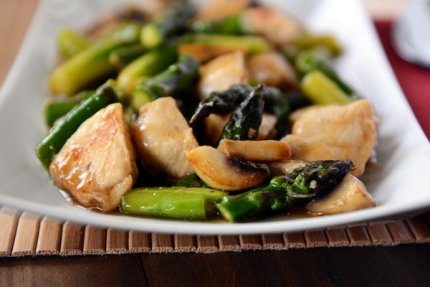 Ginger Chicken and Asparagus Stir-Fry
Yield: Serves 4-6
I mentioned this tip about fresh ginger in a recent post and was surprised at how many people were excited about it so in case you didn't read it before, don't be intimidated by fresh ginger! It's super easy to work with.
Cut the knobby ginger into 1-inch pieces and toss into a quart-sized freezer bag. When needed in a recipe, pull a piece out of the freezer bag and immediately grate it (peel and all) on the small holes of a box grater or on a rasp grater. Super simple!
Ingredients
Stir Fry:
1 tablespoon coconut oil (can use vegetable or canola also), divided, meaning you'll use one teaspoon first and the other 2 teaspoons later in the recipe
1 1/2 - 2 pounds boneless, skinless chicken breasts or thighs, cut into bite-size pieces
Salt and pepper
3 cloves garlic, finely minced or pressed
1 tablespoon grated fresh ginger (see note)
1/2 teaspoon red pepper flakes
1 pound asparagus, tough ends trimmed, cut into 1-inch pieces
8 ounces white button or baby bella mushrooms, cleaned and quartered
Hot, cooked rice or quinoa for serving
Sauce:
3/4 cup low-sodium chicken broth
1/4 cup low-sodium soy sauce
1/4 cup honey
2 teaspoons cornstarch
Directions
1. In a large, 12-inch nonstick skillet, heat one teaspoon of the oil over medium heat. Pat the chicken pieces dry and sprinkle with salt and pepper. Cook the chicken in a single layer in the hot skillet, flipping once or twice, until golden on each side, 2-3 minutes. Scrape the chicken to a plate and set aside (it will finish cooking in a next step).
2. Heat the remaining 2 teaspoons oil in the skillet and add the garlic, ginger and red pepper flakes. Cook, stirring constantly, for about a minute until the mixture smells fragrant. Add the asparagus and mushrooms and cook over medium-high heat, stirring often, for 4-5 minutes, until the asparagus is bright green and the mushrooms have started to brown and soften.
3. Add the chicken and cook for another 1-2 minutes.
4. Combine all the sauce ingredients in a small bowl or liquid measuring cup and whisk into the skillet. Bring the mixture to a simmer for 2-3 minutes, stirring often, until the sauce is has thickened slightly.
5. Season with salt and pepper to taste and serve immediately over rice or quinoa.
Recipe Source: slightly adapted from Cooking Classy (decreased the cornstarch and oil, omitted the onion, increased the chicken just slightly)