One of the challenges in life is finding the motivation you need to accomplish the projects that you desire. As I have traveled the world, I always come home and know that in the USA we are blessed with so many resources all the way from taking classes to reaching out and learning from resources in our communities.
The internet has leveled the field as far as learning is concerned. I used to write books and go on TV to share my ideas with great numbers of people. That was how people learned if they didn't go to the library or purchase books — they got their information from the radio or from watching informational shows on television.
Now a quick trip to the internet will give you more than you can do in a year. The next step is learning how to motivate oneself to accomplish all the ideas that come through. You definitely have to sort through the great amount of available projects and then select and focus on what you want to do. Therein is the challenge.
Writing a book is a massive project. It is not something that most people wake up and say, "Oh, I think I will start writing a book today." For me the motivation came when I had a deadline to meet. Most often that deadline came from a publisher.
I also used to presell books. When I did, I would give the people who bought them a discounted price and a date when I had to have the project done. This was another great motivator for me to write my books.
About six months ago a good friend that hired me to do several projects for Kraft Foods years ago called. I told her about the Timpanogos Storytelling Festival that will take place on August 29th and 30th in Orem, Utah. I told her that this was a world-class event and that she should come.
She took me up on the offer and now she is coming from Illinois to spend the week exploring Utah and all the amazing things that go on here.
Jae Hezlop will arrive on Friday, and I have been going like a busy bee to get my home in order to have a guest. The idea of having a good friend in my home for a week has been a great motivator.
One of my all-time projects got done in this frenzy of activity. About three years ago I decided that I wanted to create a wall grouping of some of my favorite photos. I was so proud that day that I went to the store and selected the frames and brought them home.
I asked another of my friends who is good at decorating to come and help me hang the frames. I taped a few photos to the squares that were set out for photos. Then the frames hung there, with the sample pictures that came in them from the store, waiting for me to get the motivation to finish the project.
I took wildflower photos to put in each of the nine boxes in one frame. They sat on my computer waiting for me to get the motivation to go to the next step. As I would travel I would pull photos that I thought would go well on the wall. I would add them to my file of "wall photos."
Finally Jea's trip to Utah became my motivator. I made an appointment twice at the Apple store where I have lessons to teach me how to use my computer. The young men helping could not have been better. I learned how to crop, how to enhance, and most of all how to order the photos from Costco.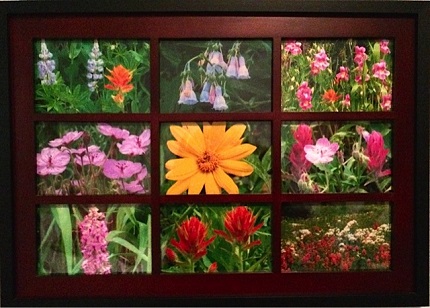 Once they were ordered from Costco, they looked beautiful in their frames.
Soon my little roadblocks were all gone and one of my favorite projects I have ever done in my home is finished. It is a wall of memories, and as the morning light comes into the window I love to lie in bed and go down memory lane.
This project became possible to accomplish when I put it as a priority in my life and broke down the steps to accomplish it. If you have a project you want to accomplish, find a motivator and get started, as it will bring you great joy when it is done.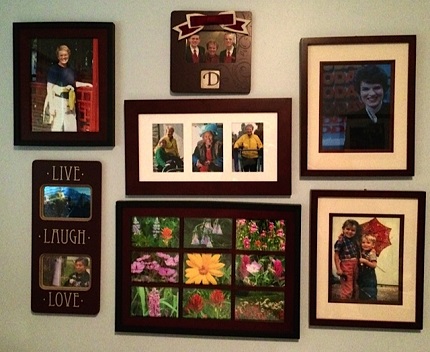 The frames look so much nicer with my pictures in them, rather than the pictures that came in them from the store.

Dian Thomas has spent her life writing books and being in the media demonstrating her creative ideas. Now she is a tour leader, leading adventure trips to such fun places as South Africa, Peru, China, and Europe.
To learn more about her upcoming trip to Peru, watch https://www.youtube.com/watch?v=Zk9J5xnTVMA. To enjoy affordable trips around the world call Dick Jensen at (801) 917-1131 or go to www.dickjensentours.com. For a special discount, tell him Dian sent you.
Dian's books are on special at www.dianthomas.com. She is also a professional speaker and shares her creative ideas with audiences throughout the USA and Canada.