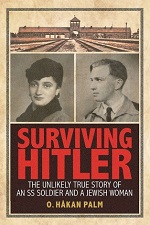 I met O. Hakan Palm, author of Surviving Hitler, in Stockholm in September 2013, as Deseret Book was putting finishing editorial touches on his parents' incredible story. My purpose then wasn't to write their story but the author's for Church News.
Our two-hour interview hinted at something remarkable, but it wasn't until I recently read the book that I understood exactly what Palm was talking about.
The book's subtitle, The Unlikely True Story of an SS Soldier and a Jewish Woman, couldn't be more accurate, unlikely and true being the operative words. Many aspects of Gustav and Agnes Palm's story seem impossibly horrible or incredibly miraculous, yet they did happen.
That the two ended up meeting and marrying and becoming members of The Church of Jesus Christ of Latter-day Saints is absolutely unlikely.
The author strung together his parents' stories from extensive interviews with them and others, along with research, letters, and journals. The photo in the final chapter, with many of their 125 descendants — members of The Church of Jesus Christ of Latter-day Saints — goes beyond proof.
The alternating voices of Agnes and Gustav start with their personal histories, in their own words (translated from the original Swedish). The text is interspersed with boxes providing historical context of what was going on concurrently as Hitler tightened his stranglehold on Europe.
As a family history speckled with personal reminiscences, Surviving Hitler is well done; as a true story of survival — physical, mental, and spiritual — it's truly impressive.
Agnes, born in 1919, was living a privileged life in Hungary when her family was forced into the ghetto in 1944, and then sent to a concentration camp. Although she'd been baptized Catholic, her Jewish descent made her a target.
Gustav, born in 1922, in Norway, was living on his family's farm near the border of Sweden when he was tricked into joining the Nationalist Socialist Party at 27, and found himself in the role of prison guard under German officers. He would later be the prisoner.
Agnes provides a detailed account of conditions and work detail at the Auschwitz, Birkenau, and Bremen camps after her parents perished, while Gustav describes grisly war scenes he witnessed while serving in a Norwegian regiment at the Baltic front. Each of them was clearly living a nightmare.
While Gustav's horrifying experiences rendered him stoic, hopeless, and alone, Agnes often felt peace amidst the horror and reached out to help those she sensed needed someone. "I learned that there are good people everywhere …," she says. "Our female guards were not fanatics or cruel people either. They were just people who had found themselves in unfortunate circumstances caused by this evil war."
Her faith and a forgiving spirit helped her to move on day after day and year after year. As she ministered to the sick and dying after the British liberated her camp at Bergen in April 1945, she became a living embodiment of Matthew 25:40.
Gustav, for all the unthinkable aspects of living in a foxhole and being treated as less than human by other human beings, recalls in this book kind acts and heroism that happened amid the horror. But he was an embittered, miserable soul when Allies captured his camp and then regarded him, a wounded German soldier, as a P.O.W. in their own. His release and return to Sweden was nothing less than miraculous.
Transition to "normal" life was understandably a challenge for Gustav when the unexpected kindness of two people changed his outlook for the future. (Spoiler alert: One of them was Agnes.)
A charming chapter details their romance and courtship from each one's perspective. Another tells of their early encounters with the Church in 1952-53, and sealing in the Switzerland temple in 1957. (Both are now in their 90s.)
The author, their son, devotes the epilogue to showing how his parents' wartime experiences have affected their family and its values in big and small ways, instilling integrity, tolerance, and respect for all people. His love for his parents and admiration for their lives is amply apparent.
"Overcoming Through Love" appears on the family crest, representing the legacy of faith and endurance of Agnes and Gustav Palm.
Surviving Hitler is a remarkable story and an engaging read, whether or not you are LDS (227 pages, $19.99 in hard cover).

Read a feature article from an interview with the author at this link: https://www.lds.org/church/news/print/church-growing-steadily-in-sweden?lang=eng