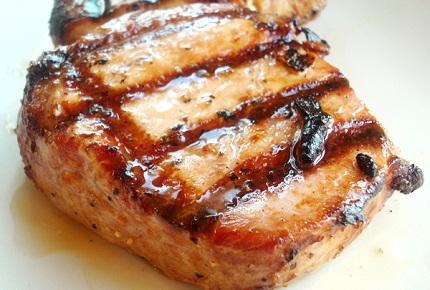 My sister-in-law, Angela, sent me this recipe a while back saying she had made this pork several times (even going so far as to tip-toe out to her grill in the deep snow) and raved about how tasty the pork turned out. I figured if they were fantastic enough for Ang to risk frostbite on her little piggies, I should give them a go, too.
The result? These are definitely some of the most tender chops I've had — and grilling them made them even more succulent (I just love an aesthetically pleasing grill mark, don't you?). The pork chops get a marinade bath for a few hours in three simple ingredients and the result is a juicy, flavorful slice of meat that was tender enough for even my little tots to eat up.
These pork chops would pair beautifully with a simple orzo pilaf, scalloped potatoes, pasta salad, or even a classic baked potato (or try this unique version!), not to mention anyone of these tasty salads.
I marinated eight pork chops, grilled four and froze the other four right in the marinade. I can't wait to pop them out of the freezer and grill them up. Thanks, Ang — a perfect addition to my repertoire of meals I can make without turning on the oven.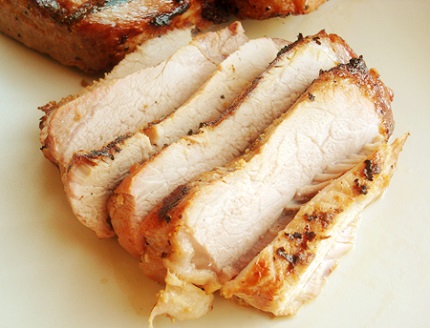 Tender Grilled Pork Chops
Yield: Serves 4 (if you slice them and serve them with other sides, you could probably get away with serving 5 or 6 children/adults)
Ingredients
4 boneless pork loin chops

1/4 cup olive oil

2 1/2 tablespoons soy sauce

1 teaspoon steak seasoning (such as Montreal Steak Seasoning or make your own*)
Directions
Mix olive oil, soy sauce and steak seasoning ingredients in a small bowl and pour into a one-gallon resealable plastic bag. Add the pork chops and set the bag in a baking dish in a way that the pork chops get a healthy dose of the marinade (it may be advantageous to flip the bag over halfway through the marinating time). Marinate in the refrigerator for 3-8 hours (no more than 8).

Heat the grill to medium and grill the chops 6-8 minutes per side (depending on how thick they are) until they are no longer pink in the center. Remove the chops from the grill and tent them with foil and allow them to rest for 5-7 minutes. Slice the chops in 1/4 to 3/8 inch slices across the grain and serve.
*Here is a pretty good copycat recipe I found and seriously adjusted for Montreal Steak Seasoning:
2 tablespoons paprika

2 tablespoons freshly ground black pepper

1 tablespoon kosher/coarse salt

1 tablespoon garlic powder

1 tablespoon onion powder

1 tablespoon coriander

1 tablespoon dill

1/2 tablespoon crushed red pepper flakes
Combine all the spices in a small bowl. Store in an airtight container and use as needed.
Recipe Source: my sister-in-law, Angela