We were faced with the need to give up our home, where we had lived for thirty-three years, and where we had raised our family. I told the story last time of how we came to have that home, and today's story is how we were brought to our next one.
Our original loan was for twenty years, but we had remodeled and refinanced to solve other problems. We had tried to be careful, but life isn't always predictable. If not for lengthy unemployment, we would have been all right.
We met with a friend of mine from the stake who is a realtor, and walked her through the house, then sat down and went over the particulars of our situation. She said, "You know, the house will sell faster if it's empty."
This struck both of us as if we were just awakened. We all know that if you go into default on a mortgage, it takes a long time before you're actually out on the street. The wheels turn slowly, but the chances that you can make a sale that will overcome the arrearages and penalties diminish also.
We wanted to go forward as quickly as we could, but there was an impossible amount of work to do, and we were going to use the time, as short as we could make it, to save up enough money to get into a new place. We decided to start searching anyway, and we had to know where we were going to look.
Where should we go? An apartment was likely our only choice. Where did our Father in Heaven want us? We were only going to manage this with His help. Offering up our willingness to go wherever He wanted us, we count it a tender mercy that His answer was that we were to stay and continue to serve where we were.
How were we going to have the money to move sooner? Out of the blue, a client/friend called and offered a generous retainer for the conclusion of a probate matter that had been winding around for a while, and been paid piecemeal as issues arose. He insisted that he didn't want to worry about it anymore, and he didn't want any money back if it was too much.
Suddenly we had first and last month's rent, and a deposit, on any rental that would be within our budget.
It was my job to find us a place to live, and it was a wearing search. Between the variables of ward boundaries, square footage, and physical access issues, it took time.
On a Saturday night, I had been online, again, for big chunks of the day, and I was tired. My eyes hurt, my head hurt, my whole back shoulder line was in spasm, and I had to stop. I said to myself, partly heavenward, tomorrow is the Sabbath and I'm just not going to even look at anything else until Monday morning. I didn't; I laid all those concerns aside to concentrate on church.
Monday morning, with a groan, I thought I'd better look some more. I spotted a listing for a two-bedroom house, and instead of an email contact it requested that you call this agent. I don't remember if it listed the address. The price was right, but my first thought was to pass it by for the moment. Then I thought, I'd better check it out.
I called and the agent told me that there was an application already pending. She was not sure, however, that it would go through, and suggested that I call her back in the next day or so. Meanwhile I could drive by the property and see what I thought.
I was interested. It was in the ward, and not that far from where we lived, though closer to downtown. I tried to find the listing again, but couldn't — it was taken down that day. The other application did fall through, and I arranged a walkthrough — went home and reported that I thought it was a possibility and my husband should come look. He liked it, and we made our application.
We were assured that a decision would be made in a couple of days. Nothing happened, and when I called the agent to check, she told me that they were still discussing it, and there had been four new inquiries about the property. All we could do was hold fast and know that it was in the Lord's hands.
I refused, as a matter of will, to allow any doubt into my mind, and kept praying. When we did get the call, the owner's decision had taken an extra week, but we got the house.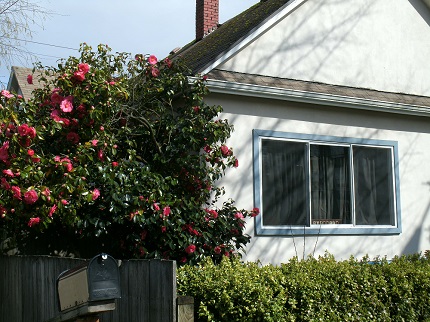 The new house
Now we had a place to move into, but we had not resolved our original problem, which was, can we sell our house?
We had a list of repairs that needed to be made, and friends in the ward who had offered to do them without charge for their labor, if that was necessary for us to be able to put it on the market.
For example, we had a skylight in the attic that had leaked; the skylight had been repaired but the interior damage had not been. The only thing that couldn't be done by someone with basic skills was replacing a section of the main basement drain, for which they gave us an estimate.
Before we had finished sorting through our belongings, before I thought it was time, my husband decided to put up a listing online, indicating that the property was for sale "as-is", with the address, come take a look before an agent's commission is involved. (My realtor friend was okay with that; she would get the listing if we needed her.)
My reaction was, you just went ahead and did that? We were still talking about it, we didn't decide; I don't think we're ready to do that yet. But it was done.
He had an email late that night, from a real estate broker on the lookout for her daughter. She came and took a walkthrough, then her daughter, then the daughter's fiancé, then an inspection from the daughter's dad, because the two men would be doing the work themselves.
Our home was around the corner, down two blocks, from a public elementary school that had established a Montessori program that went all the way through the grades. Their son was enrolled in it, but from outside of the boundary.
At the start of the school year, they had had a baby, and new babies are sleeping, or hungry, or unhappy, with no regard for the set time that you have to load into the car to drive big brother to school. They were looking for something easier.
Not only were we near the school, but our house offered a double lot, already fenced, and twice as much space as they had where they were. Since they had gutted that house down to the studs and rebuilt it, besides having rehabbed several other houses, they were well able to do whatever work was necessary on ours.
Our generous friends did not have to do it first. They also were aware that you never know for sure what you might find, getting into the guts of an older home.
It only took two weeks to have a commitment in principle, and another week to have a contract. That contract was not typical; it was a lease with an option to buy, but the tenant-buyers had permission to do anything they wanted as soon as they took possession, even though we still owned the house.
We had no qualms at all, as they launched into stripping all the floorings and gutting the bathrooms. Their only concern was to ask us to register the contract with their title company, so that we couldn't sell it out from under them, which was reasonable, and we had no problem with that. Our risk was that they might walk away with the work unfinished, but we weren't worried.
Because this was our answer.
Most contracts would provide for the purchase option fee to be apportioned over the months of the lease period, but they were able and willing to put it up front. That was their accommodation as ours was to let them begin tearing things up immediately.
Various contingencies were addressed, and we were set; we called to notify our lender that we would be able to bring our loan current. They had a check in the mail before they could formally place us into foreclosure, and the actual sale went through, as planned, some months later. It's all done now.
The thing that eliminated any doubt, though, was the piano. I had a 1912 Cable "upright grand," which had been an answer to prayer when we bought it. It had a beautiful, full sound, but it was too big to take wherever we were going. I had put the word out, looking to sell it, and prayed for help to find someone, but nothing happened. Only one person came to look at it, and decided against it. I felt no direction at all.
I told our buyers that I was trying to sell the piano, and it would be gone one way or another before they took possession of the house. (I had no idea how I was going to do that.) The young mother loved to play, and wanted a piano someday, but figured that would be ten years down the road.
I had a figure come into my head, loud and clear, and told her I was asking five hundred dollars for it. (I had actually been trying to sell it for a little more.) She turned to her mother and said, "Do you think we could manage that?" So my piano stayed right where it was, and I imagined a brand new family to grow up and learn music on it. We were both delighted.
It is a sweet assurance to know that we are where we're supposed to be, both in the literal and the spiritual senses. This is our home now, with all its quirks. The floors are uneven, and it's drafty in the winter — century-old stucco isn't the best insulation — but we've managed it the best we can.
We have a house, not an apartment, something we didn't think could happen. We are serving in the ward we love, and we know our place there is not by chance, but by direction. We know that we have been worthy enough, though not perfect, to have been blessed and guided to this point, and it makes us intent on not blowing it now.
Every time we took a step, not knowing what would come next, we were given our next need, but not until we had taken that step. He knows the things we need, and He continues to answer.