In the hot summer of 1964, I was poking about the hidden, sooty, and airless corners of Paris seeking out and selecting a small group of French artists.
I was looking for painters of the emerging generation who were already achieving home-town plaudits and merited the wider recognition that could come from exhibitions on a circulating basis in the United States.
Marc Chagall, Pablo Picasso, Jean Dubuffet were of no concern: they were way beyond my financial means. Nor was I interested in the very young.
My objective was genuinely gifted artists who had sufficient stature already that their work graced the permanent collection of the National Museum of Modern Art, Paris; the Tate Gallery, London; and other museums, but had not yet achieved widespread public recognition.
Two good gallery friends arranged for me to see a particular painter in his studio. They gave me a piece of paper with his name and address.
I arched an eyebrow. "Millet?"
"Yes, Millet," was the discreet answer.
"Which Millet?" I asked coldly. As I have written before, I grew up in small-town Carson City, where I think every room in the first eight grades had a terrible reproduction of one of Jean François Millet's most famous paintings, Les Vanneurs (The Gleanors).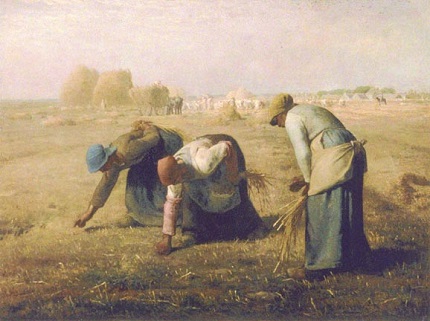 Jean François Millet,
The Gleanors
I loathed it, and it had given me a deep prejudice against Millet, a prejudice that would not have developed had I ever had a single look at such works as The Sailboat or Starry Night.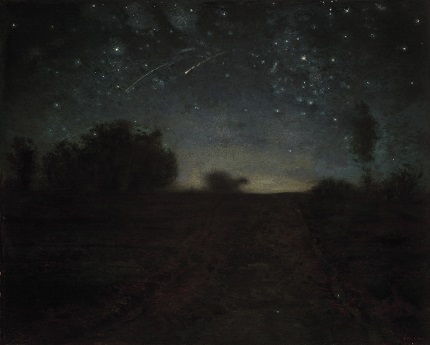 Jean-François Millet,
Nuit Étoilée (Starry Night)
, c. 1851.

In 1824, painters Claude Aligny and Philippe le Dieu wandered out from Fontainebleau looking for woodland material to sketch. They became lost in the forest. A friendly shepherd led them to the hamlet of Barbizon, where he permitted them to sleep in the straw with his sheep. In the morning they were so impressed with the surrounding beauty that they stayed to paint.
A peasant named Ganne fed them and finally took them in as lodgers. The painters' friends began joining them, and soon Ganne built a hotel to accommodate the influx. Such was the humble beginnings of the famous Barbizon school.
By 1830, the lot included Jean Baptiste Camille Corot, Théodore Rousseau, Narcisse Diaz de la Peña, Jules Dupré, and a bit later Jean François Millet, Charles François Daubigny, Constant Troyon, and Charles Jacque.
It was an illustrious group that made art history. They were the flourishing body of painters who preceded Impressionism.
Corot became the most successful of all the Barbizon painters, and his success made him one of the most counterfeited artists of all time. Millet's work, on the other hand, generally defied the skill of later forgers, for it had a certain personality — touch, color, arrangement, and technique — that baffled many would-be imitators.
Jean François Millet (there is a reason I keep using his whole name) learned to draw with burnt sticks on a white wall. Although his parents were Norman peasants, they were interested in their son's potential. The father took some of his son's sketches to nearby Cherbourg to show to a painter who had been taught by Jacques David. The painter took the boy in as his pupil.
In spite of his bucolic origins, Millet became the most urbane and well-informed artist, except for Eugène Delacroix, in mid-century France.
Millet had long periods without income, even though he was quite famous by 1850. His financial troubles did not end until 1865, when he turned from canvases glorifying the moral superiority of hard labor — which the middle class condemned as politically revolutionary — to landscapes. He then produced more than 100 pastels, "which combined his greatest gift, drawing, with a palette of high-toned color."
His range was wider than most people suppose.
While the French were still ignoring him, Millet found an appreciative audience in the United States, where the Puritan ideal of work was a fundamental part of the national mystique. Purchasers included William Vanderbilt, J. P. Morgan, and the Chicago Potter Palmers.
By then fake Millets had already become a problem.
A drawing teacher named Grabon occasionally sold canvases that had been left with him by artists who had used his studios. "Millet," he complained one day to F. Jousseaume "gave me a double of his Angeles. I've sold it five or six times, but each time it has been brought back. You can guess what I think of collectors and experts — to refuse a picture that has been sent by Millet himself!"
This Jousseaume was a notorious collector who amassed more than 2300 fake Corots and claimed that they were genuine.
All by himself a faker named Notlay signed more Millets than Millet ever painted.
The painter Charles Chaplin rests in deserved obscurity. He painted much in the manner of Millet. In 1885, an unscrupulous dealer cleaned Chaplin's name off an oil showing a flock of hogs descending a sharp slope of the Cévennes. He added Millet's signature, an act that must have been perpetrated all too often. In 1934, this particular painting was sold in Amsterdam for 100,000 francs.

"Which Millet?" I asked again.
"The same family as Jean François Millet." My shudder must have been visible, for my informant added quickly. "But you're not supposed to know that. He's very sensitive and doesn't want to be linked with the family. You must never mention it to him."
Young Millet's studio was the top floor of an old barn, which was approached through an unattended courtyard choked with green growth. The painter was tall, thin, hungry-looking. Two painter friends were with him. All three unfolded their work.
It was hideous, nothing that I could ever market in the United States. There certainly was not any Jean François Millet in any of it, neither good nor bad Jean François Millet. I blandly interpreted young Millet's drift from his ancestor's images as a manifestation of his own distaste.
Actually the young artist had a double reason for family dissociation: although Jean François Millet's fame might embarrass the descendant who wanted to win his own reputation, the infamy of one J. C. Millet would be more than sufficient to taint the whole family name in family-conscious France. Why? Jean François Millet's grandson started one of the most notorious fake-art cabals.
That's for next week.

Note: Tsing-fang Chen is one or two of the most important artists working the world scene today. He appropriates images from multiple sources to create fresh visual and philosophical commentaries. To celebrate the centennial of the Statue of Liberty, Tsing-fang painted 100 portraits of the lady in various guises and situations. All 100 paintings were published in a book, most of which I wrote.
In this particular instance, Chen has imported an image of Millet's The Gleanors, only they are on a beach with the World Trade Center towers in the background on the other side of the Hudson. Liberty's pedestal is a huge Coke stand. Instead of grain, the gleanors are harvesting Coke cans for money.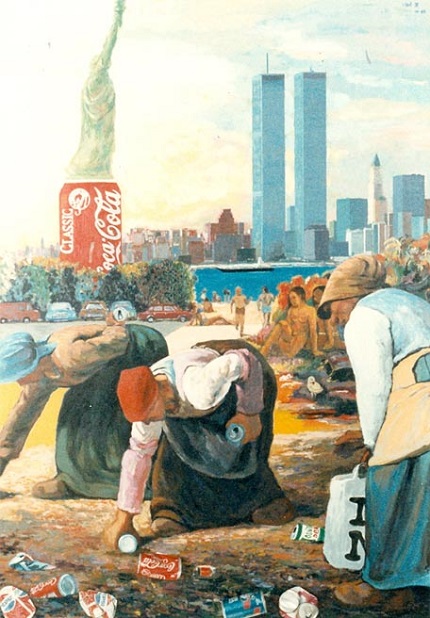 Tsing-fang Chen,
City Gleanors