This week's column reflects a theme of missionary work, especially apropos as my husband and I prepare to leave our post with a branch at the Provo Missionary Training Center and embark on our fourth full-time mission, this time with Public and International Affairs in New York City.
One of the joys of our service at the MTC has been the opportunity I've had to conduct the music at mission conferences (with nearly 4,000 missionaries plus all the ecclesiastical leaders and their wives during the high-water mark in July 2013).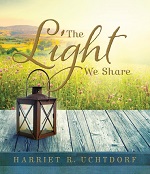 I've also led hundreds of missionaries in "Hark, All Ye Nations" in huge devotional meetings just before they departed for the field. Thus, Harriet R. Uchtdorf's story surrounding the hymn is especially touching. Sister Uchtdorf brightens our perspective in a beautiful book, The Light We Share (Deseret Book 2014, 44 pages in hardcover, $15.99).
She gave this wonderful talk at the 2005 BYU Women's Conference; here, beautiful photographic images and creative layout enhance the text.
After relating some observations about the challenges of adapting to the "transfer" to Salt Lake City from their native Germany when her husband was called to be an apostle in October 2004, Sister Uchtdorf recounts the dark time in her life when she was 12 and her father died from cancer.
Gloom enveloped the household. Eight months later, missionaries brought the light of the gospel and the hope of being a family again.
Making use of the hymn text "Hark, All Ye Nations," which the congregation was singing the first time she attended an LDS meeting, Sister Uchtdorf recalls, "I felt as if I were being wrapped up in a warm and secure blanket of divine love."
Readers will, too. It's a personal story of the power to lift others through sharing the light of the gospel.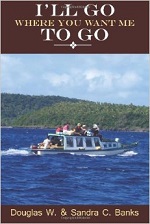 Senior missions are as unique as the couples who serve them, but the mission to Tonga described by Douglas and Sandra Banks in their self-published memoir had some really unique aspects to it. I'll Go Where You Want Me to Go, a self-published memoir, may lack professional polish, but the stories stand out and the message shines through.
Their call, preparation, and adjustment from life in their comfortable Northern Virginia home to the mission field are similar to other couples' stories and will be useful to seniors planning to serve.
But such tales as losing the mission president overboard in the ocean during a turbulent storm, last-minute changes for the visiting king to stay in their bedroom, and the harrowing evacuation of another senior missionary with a broken leg definitely stand out, as do many of their experiences with a different culture and customs.
The Bankses share their stories in book form some 16 years after their "adventure mission," in hopes of encouraging mature members to serve. (Available at amazon.com, $12.67 for 198 pages in paperback.)