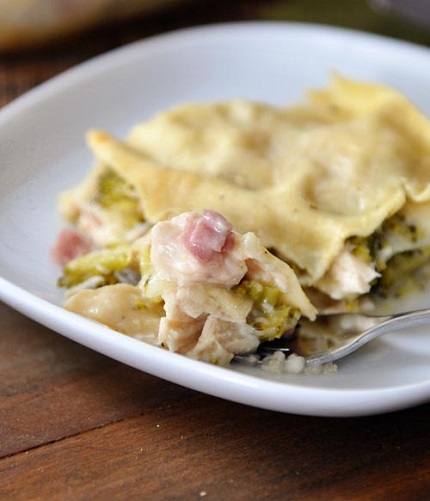 Seriously, I don't think I'll ever get sick of lasagna variations. It would have to take a stellarly weird combo for me to resist trying it (I won't even go there with suggestions)…so of course when my sweet friend, Bonnie, told me she had a chicken cordon bleu lasagna her family loved, I texted her 43 times in a row until she gave me the recipe.
Cause I'm not an obnoxious, overbearing friend at all. Swear.
This cheesy, creamy lasagna is soooooo good. So good. So goooooood.
I've made it 3-4 times in the past month or so and it just hasn't gotten old yet. It's definitely right up there with my favorite lasagnas of all time (I'm not going to pick The Favorite so don't make me; I'm a girl who loves lasagna, what can I say?).
Since many of us will be enjoying ham by the pounds in the next few weeks, this chicken cordon bleu lasagna should be the very first thing on your list to make with the leftovers. No leftovers? Chopped deli ham works great — just make sure to use a brand that, you know, tastes good (not all brands are created equal; my preference is the Hormel Natural lunch meat since it is nitrite/nitrate free and is delicious).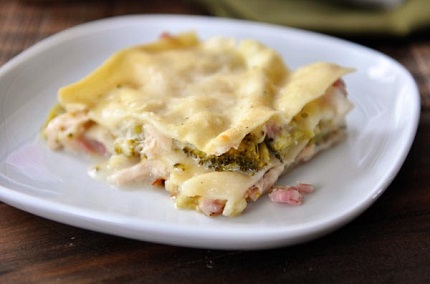 Lasagna Cordon Bleu
Yield: Serves 6-8
I love the Barilla brand of no-boil lasagna noodles but you could use regular lasagna noodles, cooking them al dente before using (I haven't tried this variation myself since I always use no-boil noodles so you may need to play around with sauce amounts and use slightly less with already boiled noodles).
Basically, you want three layers of noodles so plan accordingly depending on the type/brand you are using.
Ingredients:
3 tablespoons butter

1/2 cup finely minced onion

2 cloves garlic, pressed or finely minced

1/3 cup flour

2 cups low-sodium chicken broth

1 2/3 cup milk

1 teaspoon salt

1/2 teaspoon pepper

1/2 cup freshly grated Parmesan cheese + 1/4 cup to sprinkle on top

3 cups broccoli florets, chopped

2 cups cooked, diced chicken

1-2 cups chopped ham

4 ounces mozzarella cheese, shredded

4 ounces Swiss cheese, shredded

1/4 to 1/2 cup freshly grated Parmesan cheese

12 no-boil lasagna noodles (see note)
Directions:
Preheat the oven to 350 degrees F. Lightly grease a 9X13-inch baking dish and set aside.

In a medium saucepan, melt the butter over medium heat. Add the onion and garlic and cook, stirring often, until the onion has softened, 4-5 minutes.

Stir in the flour. The mixture will be crumbly — don't fret! Continue to stir, cooking over medium heat, for 1-2 minutes.

Very slowly, pour in the chicken broth while whisking constantly and quickly, letting each addition incorporate and thicken slightly before adding more. When the broth has been added, gradually pour in the milk, whisking constantly.

Continue to cook the mixture until it simmers. Continue to cook, stirring constantly, until it thickens slightly, 5-10 minutes. Stir in the salt and pepper and remove from the heat.

To assemble, spread a little bit of the sauce (about 1/3 cup) on the bottom of the prepared pan. Add a layer of noodles. Top with half of the broccoli, chicken, and cheeses. Drizzle a cup or so of the sauce over the cheese followed by half of the ham.

Add another layer of noodles over the ham and sprinkle the remaining broccoli, chicken and cheeses over the top. Add sauce (leaving about 1/2 cup or so for the top) followed by the remaining ham.

Add the final layer of noodles and spread the remaining sauce on top. Sprinkle the Parmesan cheese over the sauce.

Cover the dish with lightly greased aluminum foil and bake for 30-35 minutes. Uncover and bake for 10-15 minutes longer, until bubbling and the noodles are tender.

Remove the lasagna from the oven, tent with foil, and let sit for 10-15 minutes before serving.
Recipe Source: adapted from my friend, Bonnie (cut the butter way down, played around with the liquid-to-flour ratio, etc.)