Last week I wrote about the second of the two important documentary painters, George Catlin and Karl Bodmer, who pioneered in accurate descriptions of the native tribes of the Missouri river basin and the way they lived.
Much as I admire them, my favorite painter of the place, George Caleb Bingham, entered the scene a generation later. His focus was not on the natives but upon the new people who were beginning to fill the land.
Bingham (1811-1879) is one of my three favorite American painters of the 19th century. The other two are William Harnett and Winslow Homer. The three are vastly different.
Bingham's career has a parallel to that of Johannes Vermeer, the revered Dutch artist. After his death, Vermeer disappeared from the art picture. Two centuries passed before he was rediscovered and his genius began to be appreciated. Bingham, too, disappeared, his work forgotten. He was not rediscovered until the 1930s.
Bingham was born in Augusta County, Virginia, where his father, Henry, had a mill, 1,180 acres of land and several slaves, all given to him as a wedding present by his father-in-law. Unfortunately, William put up his holdings as security for a friend's debts. When the friend died, all was lost. William moved the family to Franklin, Missouri, for a new start.
When George Caleb was nine, an itinerant portrait artist, Chester Harding, stopped in Franklin looking for commissions. The boy helped Harding at his work. This was the total extent of George Caleb's early artistic training.
When William died of malaria at 38, his widow opened a school for girls. George, 12, worked as a school janitor. At 16, he apprenticed to a cabinetmaker. When the cabinetmaker moved away, George apprenticed to another one. Both journeymen were committed Methodists; George preached at camp revivals and considered joining the ministry. He also thought about becoming a lawyer.
Bingham had a natural gift for art — and for politics. Even without formal training, he was a skilled draftsman and a burgeoning portraitist. By the time he was 19, he could get $20 for painting a portrait, which he could complete in a single day.
George married and had four children before his wife died at 29. He would marry twice more. He lived in Arrow Rock but worked in nearby St. Louis, where he was making a name for himself as an artist. He became a lifelong friend with a James Rollins, a lawyer and politician.
George went off for three months to study in Philadelphia and visit the National Academy of Design in New York City.
Although self-taught, Bingham would not ever be one of those primitive frontier artists. He had long wanted to study the old masters in the Louvre. In 1836, he moved with his second wife to Paris to fulfill that dream.
Their next sojourn was in Dusseldorf, one of the most celebrated art magnets for American art students, including Harnett. He found himself immersed in a colony of American and German artists. The most famous was Emanuel Leutze, whose Washington Crossing the Delaware is one of America's two most important patriotic paintings. Leutze went back and forth between America and Germany.
He and Bingham became close friends.
While in Germany, Bingham worked on commissions from the Missouri State Legislature.
Returning to Missouri, George moved the family to St. Louis. In 1848, he was elected to the Missouri General Assembly. His interest in politics is reflected in some of his best paintings.
He resumed painting portraits, always his bread and butter. The Nelson-Atkins Museum of Art in Kansas City, Missouri, owns 16 of them. His Fur Traders Descending the Missouri, painted about 1845, demonstrates that he was already more than just a portrait painter.
What made George Caleb Bingham great were his depictions of people doing things, like The Country Elections, Stump Speaking, and Verdict of the People.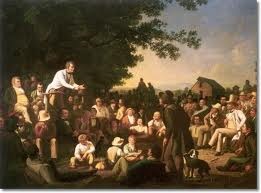 Stump Speaking
, 1853, St. Louis Art Museum
But what always blows me away whenever I see them are his flatboat paintings.
Flatboats and keelboats became famous in American History when they were used by Lewis and Clark to carry expedition and goods up the Missouri River. The craft were designed to navigate shallow rivers and lakes. They could be as much as 80 feet long and 15 feet wide.
Larger ones were often endowed with a deck cabin. Sometimes they were referred to as pole boats because they were propelled by raftsmen using long poles.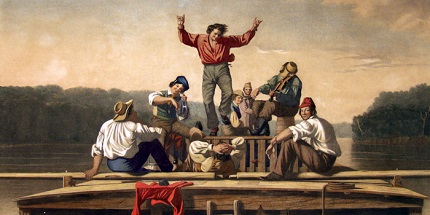 Jolly Flatboatmen
, 1846, St. Louis Art Museum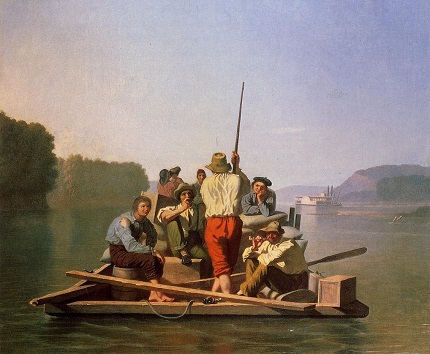 Lighter Relieving the Steamboat Aground
, 1846
The Jolly Flatboatmen,
Manoogian Collection
I must show another. The tonality is quite different, the treatment subtle.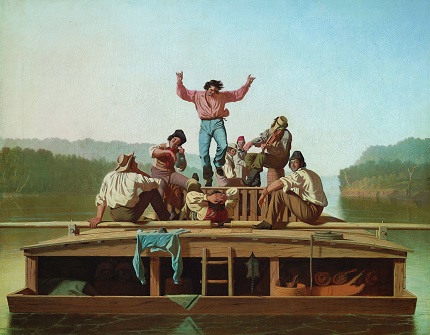 Jolly Flatboatmen
, 1846, Manoogian Collection.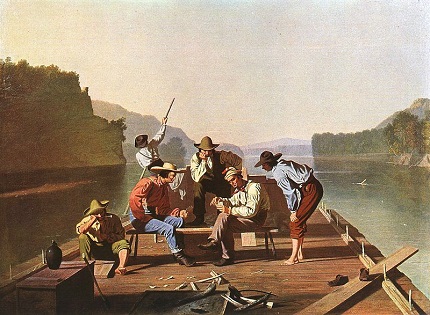 Raftsmen Playing Cards
, St. Louis Art Museum, 1847
Bingham was always more than a painter. He was a politician. Perhaps that is one of the reasons that his art became forgotten. During the Civil War he was appointed State Treasurer of Missouri.
In 1874, he was appointed President of the Kansas City Board of Police, and the next year the governor appointed him state Adjutant General. Thereafter he was referred to as General Bingham. Even with his political distractions, he continued to paint. His wanderings took him to Colorado, where in 1872, he painted View of Pike's Peak.
Shortly before his death he served briefly as the first Professor of Arts at the University of Missouri in Columbus. The best place to see the work of George Caleb Bingham — a lot of it — is the St. Louis Art Museum. I'm sorry it is so far away, but as the French say, it is worth the voyage.