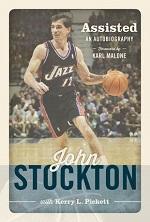 You don't need to be a rabid fan of the Utah Jazz, past or present, or even basketball to enjoy John Stockton's autobiography, Assisted. New on Deseret Book's broader Shadow Mountain imprint (350 pages in hard cover, $25.99), the book is every bit as much a winner as the man whose story it tells.
Just from the introduction and acknowledgments, I knew this was going to be an inspirational read. It's an LDS publisher highlighting the life of a devout Catholic with strong family values, a solid work ethic, and gratitude for his gifts and those who've helped his dreams become reality.
Stockton played with the Jazz for 19 years, becoming known for his skill at passing the ball to those who could make the basket — a play known as an assist. (Many times, the recipient was Karl Malone, who wrote the book's foreword.)
Here's a telling sentence from Stockton: "I have noticed that teams that enjoy passing and like watching their teammates have success tend to be good."
He still holds the career record of 15,806 assists. More than just a clever play on words, Assisted pays tribute to the many people — parents, family, teachers, coaches, friends, teammates, and others — who have played a significant role in Stockton's life and career.
One of those is Kerry L. Pickett, the man who coached Stockton's sixth-grade and junior high sports teams and provided him with "three years of learning about basketball, life, and myself." Pickett was at his side as editor during the four years this book was being written.
"My success was a collaborative effort," Stockton writes, describing in the opening chapter his surprise at being selected for the 2009 Basketball Hall of Fame and his extreme nervousness at having to give an acceptance speech.
The story then backtracks to his beginnings in a tiny Idaho town and goes through school, college ball and a business degree at Gonzaga, an NBA career, and '92 and '96 Olympics, ending near the same place it started, at the Warehouse, a sports facility he owns, runs, plays at, and coaches at in Spokane.
Growing up in the "Little Vatican" neighborhood where hard work, loyalty, and thrift were shared values, Stockton learned lessons that would bless his life and others'. The image of a skinny 5'6" teenager dribbling around bar stools in the basement with the lights off gives some idea of the kind of drive this kid had.
Standing only 6'1" now, he describes himself as "a little man among giants." Acknowledging that he was "born with some gifts that meshed well with athletics and specifically basketball," he notes, "I would have loved to have been 6'5" with a 45-inch vertical reach… [but] Much of my success has come from hard work…I spent many lonely Friday and Saturday nights shooting, sometimes in a snowy driveway."
His almost comically conservative spending habits as an NBA player were also a gift from his childhood.
Stockton's classy demeanor on and off the court was notable, and he speaks here with respect for opponents and teammates alike. He recounts plenty of memorable games and thrilling moments, including pivotal plays that changed the direction of his future, yet the game seems secondary to the person.
The book conveys Stockton's apparent and genuine love for coaches and teammates from junior high through college and NBA and great affection for and devotion to his parents, wife Nada, their six children, and extended family.
There are also some interesting insights as to how the teams and the game have changed since he made his sudden announcement in 2003 that he'd decided to retire, when it became apparent to him that his skills were slipping, "teamwork" was ranking below the individual interests of younger players, his kids were growing up, and his family time was slipping away.
He makes a rare political statement with his views on abortion ("The unborn need a voice") and makes it clear that meeting the obligation to be a good parent "is far more important to me than being a good basketball player ever was."
End notes contain asides and explanatory details, and photos add interest to the life lessons Stockton teaches in this engaging read.