Still looking for just the right book to give? Here are more options. (See previous columns for more suggestions for kids, teens, and adults.)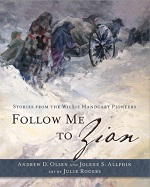 Two new books from Deseret Book offer solid LDS history in formats that will appeal to different readers. Follow Me to Zion is a beautifully illustrated collection of stories from the Willie handcart pioneers. Andrew S. Olsen and Jolene S. Allphin have combined talents with artist Julie Rogers to produce a compelling volume that presents historical fact in an appealing layout.
Olsen is author of The Price We Paid: The Extraordinary Story of the Willie and Martin Handcart Company (2006), and Allphin has published nearly 300 biographical sketches of the 1856 pioneers and rescuers in Tell My Story, Too (eighth edition 2012).
Beyond eye-catching painted scenes of people and wildflowers along the trail and photos from present-day monuments to the pioneers, the book tells the stories of struggle and survival in the words of those who lived them. Detailed documentation, archival photos, and an "epilogue" following each account add to its usefulness.
Inspiration is everywhere. Anyone who's trekked the handcart trail in Wyoming should appreciate the depth as well as the beauty of this nicely done book.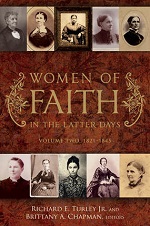 Women of Faith in the Latter Days, Volume Two is the second in a planned series of seven volumes rolled out in 2012 (Deseret Book 2013, 502 pages in hardcover, $34.99). Edited by Assistant Church Historian Richard E. Turley Jr. and Church History Department historian Brittany A. Chapman, Women of Faith is no fluffy pictorial account but, rather, stories researched and written by serious authors and historians, many of whom are sharing the documented experiences of their own ancestors.
While Volume One recounts experiences of women born between 1775 and 1820, Volume Two takes up with the lives of LDS women born 1821-1845. Using the original format, entries move from brief biographical sketches to life experiences, detailing the characteristic challenges and struggles these women faced in their day, including plural marriage and the trek west.
Although there are perhaps a handful of subjects here whose names are recognized by Latter-day Saints, most of the 35 women whose stories are told in Women of Faith were "ordinary" women who had a profound influence in their immediate sphere and on generations to come. Solidly researched and documented, with a brief background on each contributor, Women of Faith in the Latter Days is a treasure.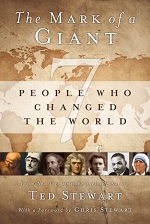 If you're looking for "light" history that's not just for an LDS reader, try The Mark of a Giant: 7 People Who Changed the World (Shadow Mountain 2013, 262 pages in hardcover, $27.99). District Court Judge and history hobbyist Ted Stewart tackles a wide range of figures and time periods in a straightforward narrative on Abraham of Ur, Pericles, Saul/Paul, Isaac Newton, Madame Curie, Dr. Martin Luther King, Jr., and Mother Teresa.
The final chapter is devoted to "ordinary" people like us. It's not David McCullough, but then, it's a lot quicker reading. (And besides, it doesn't have to be heavy for us to learn something.)