Christmas is coming, and it's more commercialized than ever. Get the season started with some of these products that lend themselves to family time, good conversation, and a feeling of peace.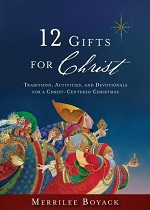 Popular LDS speaker and creative thinker Merilee Boyack helps get the season off to a spiritual start with 12 Gifts for Christ (Deseret Book 2013, 99 pages in soft cover, $11.99). As the subtitle suggests, the book contains Traditions, Activities, and Devotionals for a Christ-Centered Christmas.
Rather than a checklist of items to get done as Dec. 25 approaches, Boyack offers thoughts on what we may give in becoming more Christlike over the following year. Among the gifts: gratitude, obedience, forgiveness, and faithfulness.
The ideas, complete with quotes, songs, and scriptures, are flexible enough to be be implemented immediately in daily devotionals and personal study or used as a resource for family home evening over the next 12 months.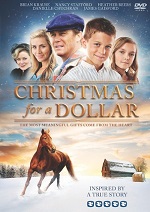 From Covenant Communications and Paulist Films comes a delightful new movie, Christmas for a Dollar (DVD, 2013, $19.99). In 111 minutes, it tells the story a family struggling to make ends meet during the Depression.
It's almost certain there will be no Christmas in the Kamp household, but as one dollar in coins is divided up and pennies are scraped together, they add up to heartfelt gifts and life lessons. Love abounds. (Really, how could it miss, with a widowed father, a crippled boy, and a horse?)
Nicely filmed with appealing characters and situations that make for good post-viewing discussion, Christmas for a Dollar is a sweet movie the family can enjoy watching together — more than once.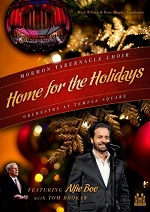 Home for the Holidays, the 2012 Christmas concert by the Tabernacle Choir in the Conference Center, featuring guest tenor Alfie Boe and internationally-renowned broadcaster Tom Brokaw, is another excellent entertainment from Shadow Mountain and the Tabernacle Choir.
Although the CD and book offer different parts of it, the entire 90-minute concert is wrapped up in the DVD ($24.98).
Brokaw's telling of Latter-day Saint military pilot Gail S. Halvorsen's experience during the post-World War II Berlin Airlift is accompanied by music and photos and punctuated with an appearance by Halvorsen himself, now 93. It's always been a notable story, where a prompting to give away two sticks of gum blossomed into a worldwide effort to delight children at Christmastime.
The drops earned Halvorsen the nicknames "Uncle Wiggly Wings" and "The Chocolate Bomber." As recounted here, his story becomes a reminder that bridges to peace between nations are built with simple, kind acts.
The DVD also offers backstage interviews with Brokaw and Boe and additional exclusive footage of the drops. That segment contains some of the best 10 minutes you could spend with your family this season.
The 78-minute CD ($18.98) features all 12 songs performed by the choir and Orchestra at Temple Square, but not the narrative. It's mostly light in nature, from a "Jingle Bells" that changes keys multiple times to waltz-like pop tunes and big-band-style arrangements apropos for the World War II theme.
A couple of tender lullabies, a grand choral piece by Mendelssohn, and organist Richard Elliott's delightful "Sleigh Ride" vary the flavor. Boe's clear tenor shines in "Bring Him Home" and makes a mere backdrop of the choir in what has become the event's standard closer, "Angels from the Realms of Glory."
The classy spinoff book, Christmas from Heaven, includes Brokaw's word-for-word reading of "The True Story of the Berlin Candy Bomber," written by David T. Warner, on compact disc. But kids and adults alike will be enchanted by black-and-white photos as well as the sepia-toned illustrations by Robert T. Barrett depicting the scenes from those historic air drops over West Berlin.
A bonus is a helpful map of post-World War II Berlin and Germany, and instructions for making your own handkerchief parachute (32 sturdy pages in hard cover, $21.99). It's a keeper.