This is one of my most-requested recipes and you will love it! It's both easy and delicious. It's great for appetizers, snacks, brunches, dinners, just about any occasion. Get ready for the stampede.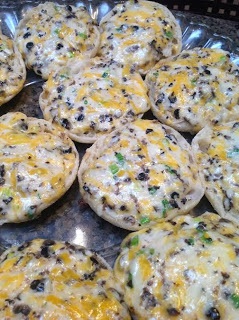 Here's all you need:
1 pkg. of 6 English Muffins, split
4 Cups shredded Cheddar or Colby-Jack cheese (or any cheese you like)
2 green onions, finely chopped
1 (4.5 oz.) can chopped olives
mayonnaise to moisten (about a cup, but use more or less as you prefer)
Preheat oven to 350 degrees. Split the muffins and place the 12 muffin halves on a baking sheet. In a large bowl, stir cheese, onions, olives, and mayonnaise. Spread over muffins and bake 12 minutes, or until cheese is melted. That's it!
Now... for those of you who want to make life more complicated, you can also add chopped artichoke hearts, shrimp, crumbled bacon, or whatever else you like.
And, if you have some leftover mayonnaise mixture, use it in an omelette, or as a sandwich spread. Deee-Lish!