Here's a brand new idea of mine, a treat I'm giving to friends this Christmas, and something I invite you to copy. It's a gift from the kitchen that's a snap to assemble, and keeps in pantry until they're ready to use it. The challenge came from www.LarderLove.com, and I'm happy to contribute this easy recipe. Here's how it looks: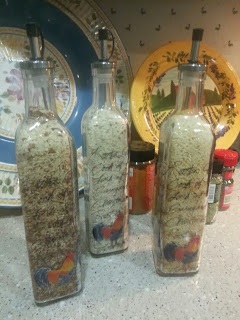 I made three different batches of seasoned rice: An Italian one, a Tex-Mex one, and a savory one that simply includes a great blend of herbs and spices that would go with anything. You can see some of the spices I used, in the background. This recipe is for just 2 cups, but you can double or triple it, to make several gifts.
Here's how to make your rice mixture:
2 cups rice, any kind you choose
4 tablespoons seasoning (look for spice blends of Cajun, Tuscan, Southwest, Garlic-Herb, Caribbean, and so on)
2 teaspoons bouillon granules, optional, if you want the rice to cook in a broth
Just stir it together in a bowl, then pour it into your container. I used a funnel for these bottles. You could use bottles like the ones I chose, mason jars, tins, cellophane bags — whatever you like. Just be sure your container holds at least one cup.
I'm attaching a tag that says, "Seasoned Greetings! Boil 2 cups of water, add one cup of rice mixture, cover and simmer for 20 minutes* to make a tasty side dish! Add butter if you wish. And use the bottle for oil, once it's empty (it holds 2 cups)." Tie on the tag and a fluffy bow, and you have a wonderful Christmas gift!
*Check your rice package to see how long your rice should boil. Brown rice or wild rice takes a lot longer than standard white rice.