Love and marriage are always in season, as are books on the subject.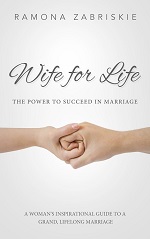 Anyone who knows anything knows that every marriage comes with challenges; no one is exempt from the roller coaster of life. But a couple can enjoy the wild ride if they understand each other's needs and ways of dealing with things, says Ramona Zabriskie, author of Wife for Life: The Power to Succeed in Marriage (Leicester Bay Books 2013, 247 pages in soft cover, $12.95).
The subtitle, A Woman's Inspirational Guide to a Grand Lifelong Marriage, may sound off-putting to some, as some of the fanciful metaphors of knights and castles may also seem. Yet, there's some great practical advice to be found here.
The author is bluntly honest about her own marriage and the challenges she and her husband, professional speaker Dale Zabriskie, have encountered over the past 35 years — and how they've changed things for the better.
The book project grew out of her internationally-read blog as well as her own experience and compassionate counsel to other women. To those real-life examples, she's added findings from academic experts in the field.
Zabriskie is a proponent of the art of gentle negotiation and avoiding alienation. She offers encouragement, hope, positive suggestions, and strategies to recover from the potential of a conversation or situation to distance us from each other.
"Thankfully," she writes, "Dale and I have survived this thing called marriage — unquestionably the most daring undertaking in the human experience — because we did our best to prevent unnecessary conflict, protect the relationship during conflict, persevere despite unsolvable conflict, [and] recover after a conflict."
Zabriskie is LDS, but the sound principles and ideas here are not directed solely at a Latter-day Saint audience; they can be applied on a broad scale. Although Wife for Life is a bit wordy, you get the feeling she would really, truly like to see every couple have a marriage that's not just OK, but "grand."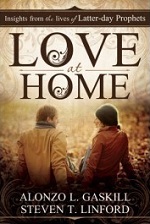 Reality meets spirituality in another book aimed right at the LDS market. Love at Home: Insights form the Lives of Latter-day Prophets is by Alonzo L. Gaskill and Steven T. Linford, a BYU religion professor and Orem University Institute director, respectively (Cedar Fort Press 2013, 100 pages in hardcover, $14.99).
With their backgrounds, you'd expect them to be giving good advice for successful marriages to their young adult students. And they do. But this book speaks to the long-married as well as newlyweds and hope-to-weds. Topics in 12 relatively short chapters include supporting each other as husband and wife, putting the Lord first, having a sense of humor, communicating kindly, setting priorities, and creating unity as a couple.
The authors offer scriptures and quotes from general authorities, plus experiences from the lives of modern-day prophets to flesh out each topic. (Talk about personal glimpses: I had not realized that Joseph F. Smith and his first wife divorced.) What reader couldn't smile at the delightful story of President Kimball going on a family vacation by himself while his wife and children stayed home because they couldn't agree on how to spend (or save) money?
Married couples of all ages can benefit from the insights in Love at Home.