Time for a prize winner, perfect for autumn, great to pin and save for Thanksgiving. This savory tart is creamy and crunchy, sweet and flaky. The only problem is that it is so good that you'll be asked to make it again and again. It won 3rd place in Imperial Sugar's 2012 Homemade Holidays Recipe Contest.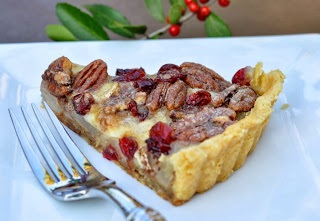 Caramelized Pear & Brie Tart with Cranberries and Candied Pecans
Prep time : 40 minutes
Baking time: 50 minutes
Serves 6
Ingredients
1 cup butter

1 1/2 cups all-purpose flour*

1 tablespoon granulated sugar

1 egg yolk

2 teaspoons chilled water

3 pears

1 tablespoon light brown sugar

1/4 cup heavy cream (or substitute sour cream)

2 eggs

2 teaspoons cinnamon

1 teaspoon salt

1 cup candied pecans

1 cup brie cheese, cut into small chunks

1/2 cup dried cranberries (craisins)
*Spoon & Sweep method: Use a spoon to fill your measuring cup with flour until the required amount is obtained. Scooping your measuring cup directly into the flour bag will firmly pack the flour, resulting in too much flour required for this recipe.
Directions
Process 1/2 cup of the butter, the flour and the white sugar in a food processor or blender, until crumbly. Add egg yolk and water and process until dough begins to form. Knead on lightly floured surface until smooth, then wrap and chill for 30 minutes.
Roll out pastry on a floured surface and place in a tart dish. Trim excess by rolling over top with a rolling pin. Heat oven to 400°F. Peel and slice pears, sprinkle with brown sugar, then sauté in remaining butter, in a skillet over medium-high heat until foaming and caramelized, about 5 minutes. Set aside.

Place pastry weights (or dry beans or rice) on crust and bake, on a baking sheet, for 10 minutes to prevent puffing. Remove weights and bake another 10 minutes. Reduce oven temperature to 325°F.

Beat cream until just beginning to thicken. Beat in eggs, cinnamon and salt. Arrange pears in crust, tucking in pecans, brie cheese, and cranberries as well. Pour cream mixture over all. Bake 30 minutes or until just set. Cool for 5 minutes. Slice into wedges and serve. (Note from Joni: You can substitute apples for pears in any recipe calling for either one.)