Anyone tuning in to General Conference couldn't miss the references to missionary work and members' role in it. (The sister missionary choir from the Provo MTC was a happy bonus the week before.) There are some excellent books out that can help members catch and employ the missionary spirit, and help missionaries-to-be get ready.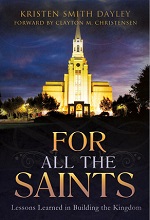 For All the Saints (Cedar Fort 2012, 332 pages in hard cover, $26.99) is possibly the best book on the subject I've ever read. Intended to be a history of the LDS Church in New England, it is far more than that. Subtitled Lessons Learned in Building the Kingdom, it offers a clear picture of the vital role members play.
The book is a result of Clayton M. Christensen's project to interview longtime members of the Church in the Boston Stake when he was serving on the high council more than 17 years ago. Boston-area native Kristen Smith Dayley has done a masterful job of compiling the information into a well edited, highly readable, and motivating book that is of interest and benefit to Church members far beyond New England.
The story of the Church's growth, from early days (1891) to the present, is book-ended with the dedication of the Boston Temple. Gleaned from well-documented personal interviews and historical records, the sometimes amusing and always inspiring stories recounted in this book "are a tribute to the lives of those Saints who made the establishment of many stakes of Zion and the building of a temple in New England a reality today."
They are intimate accounts of prayers answered, leadership prepared, branches organized, and people brought to Jesus Christ through the efforts of "ordinary" members whose individual commitment and combined effort has resulted in sustained growth.
Although the experiences, personal reflections, and testimonies are specific to the members in New England, the principles are universal — "for all the Saints."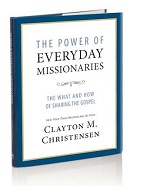 Hooray for Deseret Book, which has brought out its number one hardcover bestseller, Clayton M. Christensen's The Power of Everyday Missionaries, in more affordable softcover (2012, 152 pages, $9.99).
The renowned Harvard business professor and counselor in the Boston Mission presidency shares his first-hand experience in reaching out to nonmembers, convincing readers they can do it.
In a conversational tone and evident sense of humor about his own human foibles, Christensen shares the principles that guide his and his family's efforts to introduce others to the gospel and the Church. The tools and experiences he shares are confidence-inspiring, motivating, and doable.
"Sharing the gospel will not compromise your success or your stature in your profession, your home, or your community," he asserts. But for those who "'seek first the kingdom of God, and his righteousness,' the Spirit of God will magnify you so that you can do things that otherwise you would not be able to do."
This book should be read by every ward mission leader and anyone else who is serious about sharing the gospel.

For youngsters (and their parents), there's a delightful seek-and-find book titled I Want to be Missionary, by LuAnn Nilson, with colorful photographs by daughter-in-law Crystalyn Nilson (Deseret Book 2012, 30 pages, $14.99 in hard cover). The text and photos describe things related to missionary work (study, packing to leave, scriptures and prayer, serving others, etc.) along with small photos of what to look for in each layout. (The world map and flags is one of my favorites, and the letter necklaces and bracelets with the names of latter-day prophets is a clever one.)
A bonus for parents and kids is the section at the back with "Suggested Family Home Evening Ideas," which lists songs and scriptures related to each topic/picture page in the book. A list of additional things to find in each photo is also offered. The author includes a page "Of Special Note," explaining how particular items pictured on the "Follow the Prophets" page relate to individual presidents of the Church. This is a nicely done children's book, one that should provide hours of activity and interaction for young aspiring missionaries.
Deseret Book has a new site for prospective missionaries and their families. There's a wealth of articles, links, and info at MissionHome.com.