Elder David A. Bednar is a favorite speaker among Latter-day Saints of all ages, with good reason. One of the younger members of the Quorum of the Twelve, serving for less than a decade now since his tenure as president of BYU-Idaho, Elder Bednar teaches clearly and directly, with a sense of personal conviction and sincere concern for the listener.
Readers of two volumes, Increase in Learning and Act in Doctrine, will enjoy that same rapport in their pages.
Similarities in the twin volumes include just four chapters each — but they're meaty chapters, chock full of actual examples, additional readings, quotes by modern-day prophets, scriptures, and past talks given by Elder Bednar. Each also includes a DVD with additional learning resources. Sources cited and an index at the back of each book make them useful as a reference for repeated study or talks.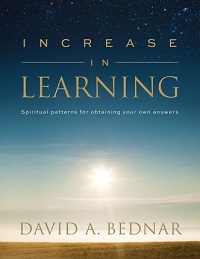 In Increase in Learning, subtitled Spiritual Patterns for Obtaining Your Own Answers, Elder Bednar emphasizes in the first chapter the individual responsibility to learn and continue to learn, acknowledging the Holy Ghost as the most trustworthy teacher. The remaining three chapters focus on "Knowledge, Understanding, and Intelligence," "Prayerful Inquiry," and applying doctrines and principles in "a framework for gospel learning."
The book is not intended as a speedy nor relaxing read, but rather as an invitation to engage in several learning experiences that will help the reader "learn how to find answers to your own questions." Certain passages and principles are coordinated with segments on the accompanying DVD as well as online at the publisher's website, deseretbook.com.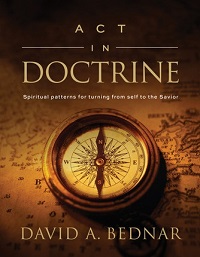 Act in Doctrine, Spiritual Patterns for Turning from Self to the Savior, has a similar format, with basic concepts outlined and explained; however, related readings are referenced rather than printed in full. The four chapters discuss doctrine as it relates to the character of Christ, moral agency, conversion to the Lord, and the role of a teacher. The author — a master teacher himself — invites the reader to ponder well-framed questions and write down impressions and thoughts following each chapter.
The DVD includes a question-and-answer session and an exclusive interview with Elder and Sister Bednar.
Elder Bednar's hope, he writes in the preface, is that "the combination of your faith in the Savior, your willingness to act as an agent, the text, and the learning experiences in which you will engage [will] invite the Holy Ghost to help you more fully understand basic gospel truths and powerful spiritual patterns" to the end that we may "act in doctrine."
List prices are $26.99 for "Increase" (228 pages, 2011) and $23.99 for "Act" (157 pages, 2012), both in hardcover. Each is also available as an enhanced e-book with embedded video content.