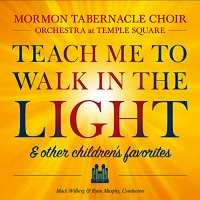 LDS songwriters are almost as prolific as the listeners who enjoy them. Here we review two of the year's best-selling albums in the LDS market.
In Teach Me to Walk in the Light, the Tabernacle Choir sings Primary songs "for the Sunbeam in all of us," in typically lovely arrangements accompanied, of course, by the Orchestra at Temple Square. Mack Wilberg and Ryan Murphy conduct.
I've long thought the Primary songs, although written for children, bear a strong and memorable gospel messages for members of any age. Beneath their simple form lies doctrinal truth. I've carried some of them with me from childhood, including "'Give,' Said the Little Stream," "Tell Me the Stories of Jesus," "I am a Child of God," and the album's title song, "Teach Me to Walk in the Light." (I remember when it was brand new, along with "I Wonder When He Comes Again.")
Along with old favorites are some new favorites: "If the Savior Stood Beside Me," the two-part "Mother, Tell Me the Story," and Janice Kapp Perry's ebullient, rhythmic "Holding Hands around the World."
The Primary program theme song from a few years back, "I Know that My Savior Loves Me," will always have a special place in my heart. I heard it for the first time when young granddaughters sang it for me after we returned from our second mission; our entire family sang it in a private "farewell" meeting before our third.
The opener, "I Think the World is Glorious," reflects the childlike spirit of the album. A buoyant "Called to Serve," long a missionary standard, is contrasted with a gentle "Faith" in this album for all ages (Mormon Tabernacle Choir, $17.98).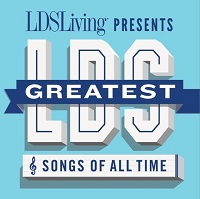 Then there's Greatest LDS Songs of All Time, compiled by LDS Living magazine from a reader survey. You could argue with this list, depending on your age and what songs "spoke to you" at the time, but since the album spans nearly 40 years (okay, not quite all time), you can take your pick.
There's "Line Upon Line" from Saturday's Warrior, which started the Mormon musical as a genre, and "Angel Lullabye" from My Turn on Earth, which followed. The voices of Afterglow return with "The Greatest Gift," John Canaan with Michael McLean's "You're Not Alone," and Kenneth Cope with "His Hands."
For me, Roger Hoffman's vocal rendition of his "Consider the Lilies" remains the only "true" one, and "I Heard him Come" will forever make no sense, no matter its popularity nor who sings it (Alex Boye in this case). Janice Kapp Perry's "A Child's Prayer" in an indisputable winner (sung here by Allyse Smith), and Steven Kapp Perry's "I Never Stand Alone," part of his musical From Cumorah's Hill, illustrates his substantial skills with lyric and melody.
Songs by Julie de Azevedo, Cherie Call, and Hilary Weeks round out the 15 "greatest" (Shadow Mountain, CD $16.98).