When my first book Roughing it Easy came off the press on March 28, 1974, I picked up a copy and as I looked through it the thought flashed through my mind, "I wonder if this will change my life."
A short year after that, I was in Philadelphia in May 10, 1975, where I had just finished taping "The Mike Douglas Show," when I received final word that I was going to appear with Johnny Carson on the NBC "Tonight Show."
I called home with the great news! My father answered. I said, "Dad, guess what I am going to do next?" He responded, "Tell me." "I am going to be on the 'Tonight Show' with Johnny Carson."
There was dead silence on the other end and then I heard him say, "Who is Johnny Carson?"
Even though my father did not know who he was, my mother did and was very excited for me.
It was June 4, 1975, and I arrived at the studio in Burbank California at 3 P.M. for the 5:30 taping. The staff worked with me to make sure that every detail was covered. The backdrop was a huge canvas with an outdoor scene painted on it. They even had a fire pit with hot coals ready for me to cook on.
As I stood waiting back stage, I heard Ed McMahon announce, "Hereeee's Johnny!" The show was off and running. I was the first guest on that night. Right off the top I showed Johnny how to start a fire with two batteries and a fine grade of steel wool. I gave him the batteries and he put them together the way they go into a flashlight. Then he placed the fine grade steel wool on the bottom and brushed it across the top of the batteries. The steel wool burst into flames. This ignited the next 13 minutes with idea after idea.
I showed him how to cook eggs and bacon in a paper sack, how to boil water in a paper cup, how to cook meatloaf in an onion, and how to bake a cake in an orange. I also baked a pineapple upside-down cake in a box with a see-though oven bag wrap window over the top.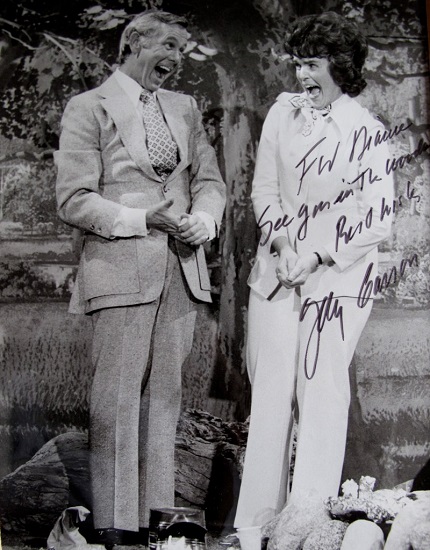 Johnny Carson made every adventure seem like the most exciting thing in the world.
As the segment came to an end, Johnny reached down for the paper bag and put his hand on the bottom. He began jumping around on the stage saying words I cannot repeat. He then laughed and said, "Look at this!" He showed the audience the eggs and bacon, now cooked on the bottom of the bag.
When the segment ended he turned to me and said, "Great Job! I will go back and plug your book." With an opportunity like this, my book Roughing it Easy took off and climbed quickly to the top of the New York Times Best Seller list. These thirteen minutes changed my life forever.
I decide that I would share that special moment with all who may not have seen it. Go to www.dianthomas.com and on the front page you will be able to view that special night that changed my life.
Dian's Outdoor Special: If you would like to add these fun and easy ideas to your list of exciting things to try this summer or during an emergency, check out the special for Roughing it Easy, Recipes from Roughing it Easy with a DVD on how to cook in a Dutch Oven for just 29.99 — regularly $49.97. It is filled with practical and down-to-earth suggestions for wonderful outdoor adventures. Go to www.dianthomas.com.
Dian's book, Tipping the Scales in Your Favor, shares her weight loss journey. For years Dian tried and tried to lose weight but it was not until Jackie Keller said to her in California, "I can help you lose weight," that she caught the vision and lost more than 100 pounds. Most important, she has been able to keep it off. Get Dian's book today and begin the journey to healthy living. Go to www.DianThomas.com to learn more.
Want to travel with Dian? Join one of her trips to China this fall, where you will enjoy a cultural feast and fun adventure. Email Dian at Contact@DianThomas.com or call 801-277-4332 for more information.